Cobra Kai Season 4 - The Loop
Play Sound
To better cover the various aspects of the subject matter, this article has been split into one main page and several subpages. Select which one you wish to read.
This article or section is a stub. You can help the Monster High Wiki by expanding it.
Venus McFlytrap was trademarked on September 22, 2011 and her first doll came out in Early July, 2012. As of January 01, 2015, her doll number totals 11 and makes up 2.79% of the entire Monster High doll collection. Other merchandise of her is not yet available.
Dolls
Between Classes
Venus wears a black tee with bright green and pink writing spread across it, which is made up of skullettes, safety pins, and various other Monster High accents, accentuated by an unbuttoned denim jacket with her skullette adorning it. She also wears a black mini skirt and pink and black checked leggings decorated with yellow and green vines. She wears three vines resembling hoop earrings on her right ear, a dangling spiraled earring in her left, and a curly vine necklace. Her shoes are pink boots with long, spiraled heels with prominent "mouths", each containing a row of menacing teeth and laced with bright green laces. Her eyeshadow and lipstick are bright pink. She has a canvas bag adorned with the letter I, hearts, and the Earth skullette.
Make a Splash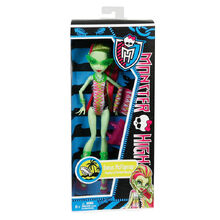 Venus wears a white one-piece swimsuit with a pattern of green, pink and black zigzags, decorated with a neon green vinyl collar. She has a towel with a similar zigzag pattern. She wears neon green triangular sunglasses, neon pink wedge sandals and carries a neon pink tote bag with a fanged design. Her arm and leg vines are made out of translucent neon green plastic. Venus' hair is pulled back in a side ponytail with a bump at the top, and she wears pink lipstick and green eyeshadow.
The first release of this doll recycled her 'Between Classes' makeup, but later shipments feature the correct makeup.
Music Festival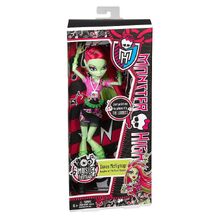 Venus wears her hair down to her wrists, with her hair being layered with pink on the top, green on the bottom, and the left front quarter of her hair being shaved. The shaved part is pink, with green zig zags painted on it. Her makeup is purple with light pink lipstick, and her earring is green "piercings" that go all the way up her ear. She wears a pink crop top with purple skullettes on it over her black dress with pink triangles. Peeking out from underneath the skirt is black netting. Her vines are a brighter green than normal. She wears black boots with pink wedges and heels and a neon green spiky belt. She comes with a V.I.M. backstage necklace pass, a pink spiky bracelet. No brush or stand is included.
Ghoul's Night Out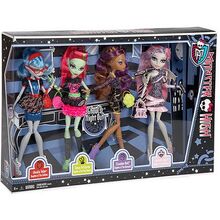 Venus is rocking in a hot pink dress covered in a black bramble pattern, with a black and green dotted top half of the dress (with a single sleeve), a black and green dotted bottom half with four pink ruffles underneath. She has the same black and green patterned leg warmers. Her shoes are green, covered with pink roses with wrapped vine heels. She accessories with a green studded belt, green studded bracelet, three pink rose earrings, and her basic vine earring. Her bag is a pink rose with a thorny handle; she also comes with a green iCoffin. She has soft pink eyeshadow and brighter pink lipstick. Her hair is shaved on one side and pulled up into a ponytail.
Ghoul Spirit
Doll: The hair is long and worn down as she traditionally wears it, to about a little above her knees. The entire right side of her head is shaved. Her bangs are cut at an arch and rest just above her left eye. Her hair is a reddish-pink with subtle ivy green streaks running through it. Her lipstick is dark magenta, while her eye shadow is done very dramatically - it is in shades of dark gray with small streaks of purple.
Clothes: Venus is dressed to show her spirit for school, she wears a mock-fearleader's uniform with her signature spin on it. Her outfit consists of a short sleeve shirt and mini skirt. The shirt is black with a reddish pink trim around the neck. It is cut jagged at the end of the sleeves and at the bottom to give it that 'torn look'. The school's crest is on the front of the shirt with a green vine print layered beneath it. The shirt has a large pocket/pouch on the midriff with more vine print. Her mini skirt repeats the same print used on her shirt pocket and reuses the same reddish pink trim.
Accessories: She wears a pair of vine shaped earrings, one long and green - and the other short and black. On her wrists are her signature ivy green vines. Her shoes are faded red open-toe wedge heels with vines molded onto the soles and heels. It has many studded straps that wrap around and secure the shoes. In her hand she holds a bold blue skullette megaphone.
Extras: She does not include any extra pieces.
Notes: There is nothing of note about this doll's availability or stockphoto.
Zombie Shake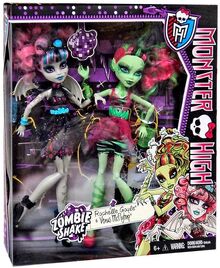 Doll: This Venus has very dramatic "zombie" style makeup, featuring multiple layers of green eyeshadow that make her eyes look sunken in, dark green lipstick, and vines coming out of her left eye. Her hair is done in a wavy side up-do, featuring streaks of black in with her usual pink and green. Her shaved side features a brain design drawn on it. Her fingers are molded into a clawed pose.
Clothes: Venus wears a metallic green dress featuring jungle stripes and frayed edges. It is covered with a layer of pink glittery tulle that resembles petals. Her shoes are bright pink invert heels with fangs molded onto them.
Accessories: This Venus is absolutely covered in thorny, transparent green vines. She has vines wrapped around her ponytail, neck, arms, and legs. She has a translucent green vine earring in her right ear, and a wears a green leaf-like belt around her waist. She wears a black spiked cuff on her right wrist and carries a bright green pocketbook purse.
Extras: This 2 pack comes with 2 doll stands and one brush, as well as a diary that details how the Zombie Shake broke out.
Notes:
Freaky Fusion - Freaky Fusions

Doll: Clawvenus has bright purple and lime green long hair tied into a ponytail that reaches her waist, with the front parts being shaved and hot pink. She also has dramatic eyeshadow, being pink at the base with large purple wing like accents, and underneath her eyes are pink cheetah prints. She also has bright pink lips with many fangs facing multiple directions.
Clothes: Clawvenus wears a bold green and pink fur jacket along with a tight sleeveless purple and green dress with black patterns. She also wears open toed black heels with bright pink anklets attached to them.
Accessories: Clawvenus has gold hoop earrings along with a large gold statement belt and a matching bracelet. She also has golden vines on her wrists and a bright lime green bag.
Extras: Clawvenus comes with a diary, black brush, and matching doll stand.
Notes: There is nothing of note about this doll's availability or stockphoto.
Coffin Bean

Doll: Venus has much curlier than usual light green and hot pink hair that is shaved hot pink on the right side. She has bright pink and green eyeshadow along with soft green lipstick with her many fangs.
Clothes: Venus wears a bright pink dress with a ripped black dress overtop of it, and she also wears neon pink solid colored high heels.
Accessories: Venus has her usual lime green wrist and ankle vines along with a clear yellow-green glass with a gray cap.
Extras: Venus does not come with any extras.
Notes: There is nothing of note about this doll's availability or stockphoto.
I Heart Fashion

Doll: Venus has shirt hair that is cut angularly, being its usual pink and green color. The left side is also shaved and has a black checkerboard pattern to it. Her makeup is dark and she has deep colored lips.
Clothes: Venus, for her main outfit, wears a long sleeved black dress with many vine patterns on it and dark pink and black patterned capri leggings.
Accessories: Venus comes with many accessories and outfits, including black earrings and vines, a bright pink and green purse, and two black pairs of shoes. One of her outfits is a hot pink and green tank top and tie-dye shorts, while her other outfit is a checkerboard sleeveless dress with pink mesh at the bottoms.
Extras: Venus comes with a black brush and matching stand.
Notes: This doll is shown wearing her checkerboard dress in her stockphoto, but the real doll shows her in her black dress, and she also has more jaggedly cut hair. This doll is exclusive to Toys"R"Us.
Gloom and Bloom
Doll: This Venus is ready for a garden party with a new look. This time, Venus is sporting an undercut at the back of her head, instead of having her classical flocking on the side of her head. With her hair styled in a high ponytail that reaches up to her shoulders, Venus also has two additional black streaks of her in each side of her head. Her makeup is really dramatic, with cyan blue in the crease, and a thick layer of pink with a finer layer of yellow in her browbone. Her lipstick is soft pink is hot pink.
Clothes: She's wearing a short an over-the-knee long dress with long fishnet sleeves, in black, that around the shoulder have a little puff, to give some shape to the outfit. The dress pattern consists of various black vines and venus flytraps spread around randomly on a soft pink background, with some occasional rose petals. The dress has a thick strand of black material around the waist too, acting as a belt.
Accessories: This doll is highly accessorized, with a range of flower themed things. From top to bottom, this Venus wears a hair clip on her head, holding her ponytail, that is shaped like a venus flytrap with molded vines in green and a painted pink spot where the mouth is. Her earrings a simple black swirly vines and she also wears a pair of green vine bracelets that wrap around her wrists. In her neck she also has a shoker necklace, with molded vines similar to her earrings. She's wearring simple shoes with a pointy shape and studded heels, in shiny black, and in the ankles she's wearing an accessory common to all Gloom and Bloom dolls, a leg bracelet. Hers are venus flytraps similar to her headpiece, with vines that wrap around her legs.
Extras: She comes with a stand and a black brush, and with an additional orange vase of venus flytraps and a turquose studded watering tool, with flowery designs.
Notes:
Fangtastic Fitness

Doll: Venus has her usual pink and green hair tied up in a short ponytail, and she also has the right side shaved. Her eyeshadow is a light brown color and her lipstick is deep fuchsia.
Clothes: Venus wears a sleeveless black shirt with a green diamond pattern and black, pink, and green shorts.
Accessories: Venus comes with a hot pink vine like resistance band.
Extras: Venus does not come with any extras.
Notes: There is nothing of note about this doll's availability or stockphoto.
Fierce Rockers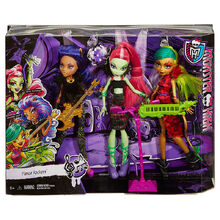 Doll: Venus Sports a ponytail Mohawk in pink, with lighter pink streaks at the hairline. The flocking is pink.
Clothes: Venus sports a black bandeau top with a pink halter style strap. Attached to it is a black plastic cuff detail. Her skirt is a high waist pencil skirt in pink with a green swirling vine pattern.
Her shoes are a purple recast of her Gloom & Bloom ankle boots.
Accessories: Venus comes with Her vine decorations in a darker green wrapped around her arms and legs. She sports a recast of Draculaura's Safety pin earrings in pink. She sports a pair of black drunksticks with vine details.
Extras: Venus comes with a pink dru, set decorated in vines. The drums are removable from the base
Notes: In the stock photos, Venus is shown with green drumsticks, the actual doll has black drumsticks. Venus is also shown to be wearing pink Zipper earrings, but features instead with Pink Safety Pin earrings.
Party Ghouls
Doll: Venus has
Clothes: Venus wears
Accessories: Venus comes
Extras: Venus does not come with any extras.
Notes: There is nothing of note about this doll's availability or stockphoto.
Gallery