Snape headmaster? Snape in Dumbledore's Office? Merlin's Pants!
—'Hermione Granger'
I'M NOT REALLY ONLINE ANYMORE. I'VE KEPT THIS PROFILE AND ACCOUNT FOR CERTAIN REASONS, MAYBE I'LL DELETE IT ONE DAY, I HAVEN'T REALLY DECIDED...

PLEASE FEEL FREE TO READ THIS PROFILE BUT I WON'T BE ANSWERING TALK PAGE MESSAGES OR THINGS LIKE THAT SO PLEASE BEAR THAT IN MIND.

This wiki meant a lot to me when I first joined, I don't feel as dedicated now and think it may be time to leave it here. It's been great guys, thanks for everything.

xx IamFrankiestein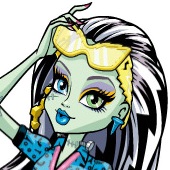 My Profile

IamFrankiestein:

I am a hyper, bubbly teenager and enjoy Harry Potter, The Hunger games, Anime and MONSTER HIGH!

Killer Style:

Checkered T's, Jeggings, Boots, Converse…TYpical clothes. I usually accessorise with hats and necklaces too

Freaky Flaw:

My Sensitivity and quick thinking. I can sometimes say things that other people don't understand and I sometimes take it the wrong way…:(

Favourite colour:

Black and white stripes!(and I am also growing on pale pink, pale blue and cream…)

Favourite food:

Bean casserole and lemon meringue pie <3

Biggest pet peeve:

People who judge on height, popularity and prettiness

Favourite activity:

Arts (singing, dancing, art etc…)

Pet:

My fabulous cat Bourbon. He is lazy and has an obsession with food

Things to remember:

1) Monster Miku Potter Clannad Wiki 2) Cat's are awesome 3) Please check out my wiki :)
</p>
Welome to the party!
Welcome to my lair of hyperness and awesomeness Freaky Fabulousness (bit of a mouthful...)
My profile will decide your fate of friendship with me...So let's get started! (also read my side profile for more info)
My life
want to know me better? Then read on!
N/A
I live in the 'Wizarding world of harry Potter' more than reality...(I listen to the audio books 24/7)
I try to be as honest as humanily possible :)
N/A
N/A
I sing
N/A 
I have a unique taste in fashion (In other words...It isn't really a style...more like a mish mash...)
I dislike bacon
I dislike Twilight (The series and Films...)
N/A
N/A
N/A
xxxFrankiexxx (talk) 07:31, April 13, 2013 (UTC)xxxFrankiexxxxxxFrankiexxx (talk) 07:31, April 13, 2013 (UTC)
Community content is available under
CC-BY-SA
unless otherwise noted.