Wiki Targeted (Entertainment)
Play Sound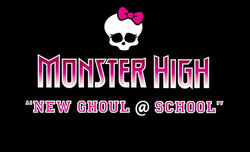 Though by far not as frequent an occurrence as the webisodes, around half of the total run time of the Monster High cartoon is provided by the TV specials. While the webisodes usually debut online on the Monster High YouTube channel and the Monster High website, the TV specials debut on TV, in the USA on Nickelodeon. Until mid-February 2012, the TV specials would be uploaded on both sites sometime after their TV debut, but since then the practice has ended and all but the "New Ghoul @ School" upload have been removed.
For 2010 and 2011, there was only one TV special per year, both released on Halloween. They were produced by W!LDBRAIN and Top Drawn Animation like the webisodes still are. Starting in 2012, multiple TV specials were released per year and the animation job was handed over to Nerd Corps Entertainment and DHX Media. This has caused an art shift from 2D animation to 3D animation for the TV specials only. The sound for all TV specials remains the work of Salami Studios, which is also responsible for the sound of the webisodes.
Unlike the webisodes, each of the TV specials specifically ties in with one or more doll lines, which generally are released a few months prior to their respective TV special. So far, each year of TV specials has featured a different way for them to tie in with the webisodes: "New Ghoul @ School" represents an alternative to at least the first half of and possibly the entirety of Volume 1 - a volume still experimenting with the characters and its storytelling; "Fright On!" neatly fits at the end of the storyline-heavy Volume 2 and ties it to Volume 3; and the 2012 TV specials have no specific ties to the Volume 3 webisodes, which those webisodes also don't have to one another.
In 2016, TV specials were released the new 3D animation produced by Flaunt Productions.
Monster High TV specials
Volume
TV special
Run time
Air date
DVD date
Volume 1
"New Ghoul @ School"
23:00
October 31, 2010
Late June, 2011
Volume 2
"Fright On!"
46:00
October 30, 2011
July 01, 2014
Volume 3
"Why Do Ghouls Fall in Love?"
46:00
February 12, 2012
February 05, 2013
"Escape From Skull Shores"
46:00
April 13, 2012
July 01, 2014
"Ghouls Rule"
71:00
October 26, 2012
October 09, 2012
"Friday Night Frights"
46:00
September 06, 2013
February 05, 2013
"Scaris: City of Frights"
44:00
March 03, 2013
July 07, 2015
"From Fear to Eternity"
15:00
March 03, 2013
July 07, 2015
"13 Wishes"
73:00
October 25, 2013
October 08, 2013
Volume 4
"Frights, Camera, Action!"
73:00
April 18, 2014
March 25, 2014
"Freaky Fusion"
73:00
October 24, 2014
September 30, 2014
Volume 5
"Haunted"
75:00
April 17, 2015
March 24, 2015
Volume 6
"Boo York, Boo York"
71:00
October 25, 2015
September 29, 2015
"Great Scarrier Reef"
71:00
February 12, 2016
March 22, 2016
"Feary Tale"
N/A
Late 2016
Late 2016
Generation 2
"Welcome to Monster High"
73:00
August 27, 2016
September 27, 2016
"Electrified"
73:00
March 14, 2017
March 28, 2017
"Adventures of the Ghoul Squad: Howliday Edition"
44:00
October 29, 2017
TBA
Trailers
Trailers have been used to announce the TV specials since "New Ghoul @ School", some being a mere collection of scenes, others having an overarching narration, often provided by Grant George. Starting in 2013 with the promotion of "Frights, Camera, Action!", TV specials became introduced by a teaser trailer. The teaser trailers of Monster High contain unique animation and usually present the characters as breaking the fourth wall to announce the TV special and provide a few details on the content. The cast of a teaser trailer is only partially representative of the one of the respective TV special: it contains the old characters who'll have a big role in the TV special, but also old ones who'll barely be present and the new characters to be introduced in the TV special are never present in the teaser trailer.
External links