To better cover the various aspects of the subject matter, this article has been split into one main page and several subpages. Select which one you wish to read.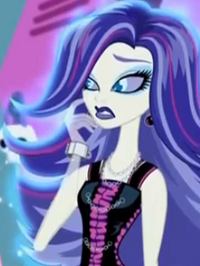 Spectra Vondergeist debuted in the cartoon series in the Volume 2 webisode "Miss Infearmation", which premiered on June 16, 2011. She is voiced by Erin Fitzgerald in the English version of the cartoon.
Volume 2
Webisodes
TBA Miss Infearmation Hyde and Shriek Back-to-Ghoul Hyde Your Heart Ghostly Gossip Hiss-teria Phantom of the Opry Monster Mashionals Part 1 Monster Mashionals Part 2
Special webisodes
TV specials
TBA Fright On!
Volume 3
Webisodes
TBA Ghosts with Dirty Faces The Nine Lives of Toralei Unlife to Live Night of a Thousand Dots Best Ghoulfriend Aba-Kiss Me Deadly Bean Scare, Done That Hiss-toria Boo Year's Eve Defending Your Lagoona Tree of Unlife Tortoise and The Scare Invasion of the Ghoul Snatchers Flowers for Slow Moe Ready, Wheeling and Able Clawbacks Field of Screams Angry Ghouls The Stich-uation
Special webisodes
TBA Super Fan
TV specials
TBA Why Do Ghouls Fall in Love? Escape From Skull Shores Friday Night Frights Ghouls Rule Scaris: City of Frights From Fear to Eternity
Volume 4
Webisodes
TBA Happy Howlidays Just One of the Ghouls Join the Scream Just Ghost to Show Ya Jungle Boo-gie Scream Spirit We are Monster High Stage Frightened Who's the Boo Girl? Zombie Shake (webisode)
TV specials
Volume 5
Webisodes
TBA I Casta Spell On You Lochness Lorna Gloom and Bloom, Part 1 Gloom and Bloom, Part 2
TV specials
During a swim meet between Monster High and a rival school, Spectra floats about the audience, trying to find a new scoop for her blog as she has not posted anything in a while. Toralei, angered at being suspended from the Fear Squad due to cheating on an essay, lies to Spectra with the gossip that the Wolf siblings have were-fleas. The moment the other students read this as soon as Spectra posts it, the Wolf siblings become alienated from everyone, and Clawdeen is furious with Spectra over that blatant lie she heard. When Spectra is confronted by Clawdeen later, Clawdeen offers her help with having Spectra post honest news in her blog and no more gossip. Before Spectra can agree, Draculaura arrives with Sirena, Twyla, and Rochelle, explaining that she's being haunted by a ghost. Spectra becomes unnerved by this, and leaves without explaining why. When the others ghouls follow her, Spectra reveals the passageway between Monster High, and her old school, Haunted High, causing the other ghouls to follow her and meet some of her fellow ghosts, like Vandala, River, Porter, and Kiyomi. Unfortunately, Spectra runs afoul of Principal Revenant and her Hall Moanitors who, after punishing Porter for painting graffiti again, ask her where she's from. When Spectra mentions she's visiting from Monster High, Revenant exposes Draculaura, Clawdeen, Twyla, and Rochelle to the Haunted High students as solids, the feared monsters whom Revenant told her students to be afraid of, forcing the ghouls, with a distraction from Porter, to escape back to Monster High. Despite making it back to their own school, Spectra is captured by the Hall Moanitors and taken back to Haunted High to face punishment for bringing non-ghosts to the school, a new rule that Revenant had added to the rule book after learning there was no rule in it previously. Spectra explains about the other ghost students at Monster High, then is hit with having to write 10,000 essays twice before she is able to get out of her Detention Chain. However, when she mentions Draculaura's ghost haunting to Revenant, Revenant fiercely denies any knowledge of there being another haunting since that of the Red Lady. With no other choice, Spectra goes to deal with her punishment, while still attempting to work on her blog at the same time. She soon begins to develop a relationship with Porter, who asks for her help with finding info on Revenant as he is concerned that she is up to something sinister. When their research comes up empty, as they leave the library, Spectra is horrified to see many of her fellow ghost students from Monster High, like Operetta, Johnny, and Scarah, having been captured by the Hall Moanitors to serve detention in Haunted High. After Spectra goes to talk to them and promises to get everyone free of their Detention Chains and back home to Monster High, she overhears some ghosts talking gossip about the Monster World, and after snapping at them in anger, realizes what Clawdeen meant earlier about gossip. She is soon reunited with Draculaura and the others, who have used some of Twyla's father's Boogey Sand to become ghosts themselves, bypassing Revenant's no non-ghosts allowed rule to come back and rescue her. The plan falls apart when the Hall Moanitors attempt to bust Kiyomi for a silly rule, and summon Revenant. Thanks to Porter, Spectra and the others find refuge in Porter's secret room where Spectra is amazed by Porter's artwork, and an old desk that he found when he first discovered the room. It's not long before Spectra decides to go talk to Revenant, but as she eavesdrops on Revenant as she discusses her next plan with the Hall Moanitors, she is caught and discovers Revenant having dozens of Detention Chains on herself. Before Revenant can pass any onto Spectra, she is rescued by Porter. However, before Spectra can explain her discovery to the others, Porter has apparently sold them out as they are soon found by Revenant and shackled with Detention Chains. When Clawdeen reveals the notes she's been taking to help Spectra with her blog, Revenant learns of the Boogey Sand and sends the Hall Moanitors to retrieve it. With the fear that Monster High will now be under Revenant's control once she turns all the students there into ghosts, Spectra takes her fury out on Porter, only to forgive him when he reveals he swiped the key Revenant uses on her chains, taking all of the ghouls' chains onto himself as punishment for his actions. Touched by his sacrifice, Spectra takes the key and frees all of the Monster High ghosts of their chains, allowing them to return to Monster High on Vandala's ship. However, Spectra remains behind as she realizes a critical piece of info regarding Revenant and her chains, returning to the library to find the book with the research she was looking for. Aided by Porter, who had restored the old desk in his hideout, Spectra reveals to the Haunted High students that Revenant is the Red Lady of legend, having used them to work off her own chains she received for her crimes so she did not have to. Revenant confronts Spectra afterwards, revealing that she was telling the truth, and prepares to punish Spectra with giving her the rest of her chains. A well-timed transport of River's hijacked skiff and the Hall Moanitors aboard by Kiyomi and the others at Monster High spares Spectra as the skiff and Hall Moanitors get shackled instead, and Spectra then reveals the truth to Revenant that every unjust action she took against the Haunted High students and Monster High has only further punished Revenant with more chains to work off. Spectra has learned a valuable lesson from the experience, and promises to never write gossip in her blog again. Revenant realizes her error as well, and thanks Spectra for her help, promising to work off her chains honestly from that point on. With Revenant having reformed and repented, Spectra decides to celebrate the new-found friendship between Monster High and Haunted High with a huge party for both schools. Spectra also seems to have had her relationship with Porter blossom into a romance as they paint a new art piece together during the celebrations. Haunted
Volume 6
Webisodes
TBA Decomposition Class Freak Du Chic Act 3
Gallery
Webisode gallery
TV special gallery
Community content is available under
CC-BY-SA
unless otherwise noted.