Hawkeye Is Here To Amaze - The Loop
Play Sound
To better cover the various aspects of the subject matter, this article has been split into one main page and several subpages. Select which one you wish to read.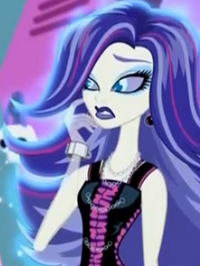 This article or section is a stub. You can help the Monster High Wiki by expanding it.
Spectra Vondergeist debuted in the cartoon series in the Volume 2 webisode "Miss Infearmation", which premiered on June 16, 2011. She is voiced by Erin Fitzgerald in the English version of the cartoon.
Volume 2
Webisodes
A ghostly hand appears from the wall and snaps a photo of them with an iCoffin. Elsewhere, Draculaura, Frankie, and Clawdeen are all busy clearing out their lockers when Draculaura comments that she has subscribed to the Ghostly Gossip, a Monster High rumor blog, to keep up with anything happening during the holidays. She then receives an update from the Ghostly Gossip about Gil and Lagoona and the survival chances of their relationship during the summer vacation.
The ghostly entity behind the Ghostly Gossip overhears Cleo, but only partly, and sends out an announcement that Cleo's father is out of town and that there'll be a party at the de Nile residence that night. Miss Infearmation
The party at the de Nile residence is going strong, much to the delight of Cleo. Clawd is locked in a pizza-eating competition with a hydra. He wins, but rather than congratulate him, Draculaura refuses his company and runs away. Elsewhere, Slo Mo prevents Heath's attempt at music by destroying his guitar. Both events are witnessed and reported on by Spectra Vondergeist on the Ghostly Gossip. Hyde and Shriek
At their lockers, the ghouls discuss being back in school when another text from the Ghostly Gossip, showing a picture of a frozen Heath. When the first bell rings, Frankie questions where Lagoona is, which Cleo replies that she's probably with Gil, as the two haven't seen each other all summer.
Meanwhile, Toralei is assigned to an advanced math class by the guidance counselor, much to the joy of the Fear Squad. Clawdeen asks Toralei outside the counselor's office a very advanced math question, which Toralei answers. The ghouls cannot help but laugh at her. As Toralei makes her exit, Lagoona walks out of the girl's bathroom, sobbing. She states that Gil's parents sent him to another school and runs off crying. Jackson comes out of the boys bathroom he nervously shrugs off Frankie's questions about Cleo's party, saying that he didn't go because he needed to "change" he then walks back into the boys bathroom leaving Frankie a bit confused, as she walks off, slightly disappointed, Spectra snaps a picture of her. Back-to-Ghoul
Frankie, Cleo, Clawdeen, and Draculaura are at the Coffin Bean talking about a party last night. Draculaura informs the ghouls they didn't miss anything because the Ghostly Gossip was there. Hyde Your Heart
Spectra is taking pictures of Deuce and Cleo, Draculaura and Clawd, and Heath Burns. She then retreats back to her hiding place in a closet to make up her gossip.
Frankie notices Jackson in the hallway, but she is blown off yet again, leaving her confused and slightly hurt. Then Toralei shows her a text from the Ghostly Gossip stating that she was dating two boys at once (Jackson and Holt) and that there was the possibility of a third. This leads her to accuse Draculaura of being the Ghostly Gossip, which turns into a fight between the ghouls until Lagoona shows up and tells them that the Ghostly Gossip is the one tearing them apart.
They hatch an idea to leave their diaries on the ground, and the one that remains untouched is the traitors. As they turn around, Spectra floats in from under the ground and attempts to snap a few photos before Lagoona and Ghoulia, who had been hiding in the bleachers, point her out. The girls question her motives, but Spectra explains that she wasn't even trying to hurt them.
She says that she idolizes them, and writing stories about them was her way of showing it. She wanted to let others live their lives through their exploits, and because she only heard half of what they said, it was up to her artistic side to make up the rest. Frankie says that she could've just asked them, to which Spectra replies that she was much too shy for that. They decide to be Spectra's friend but just as long as she didn't write anything about them anymore.
As Frankie shrugs off the rumor of her dating three boys and not even having one, a heartbroken Hoodude appears and beats on his chest, hurting many other male students in the process behind him. Ghostly Gossip
Spectra presents a documentary that reflects on the ups and downs of the fusion of Monster High, Belfry Prep, and Crescent Moon High. With vampires and werewolves having a century-old feud between them, it did not start well, but the ideals of Monster High managed to win out.
For the documentary, Spectra sits down with Bram Devein and Gory Fangtell, the leaders of the Belfry Prep students, Romulus, the leader of the Crescent Moon High students, and Frankie Stein who had worked the hardest to make the fusion a success. They each recall events of the early days of the fusion that almost made it fail, taking blame where proper.
Spectra concludes her documentary by repeating the introduction: the fusion worked out because Monster High's ideals bring monsters of all kinds together. To illustrate the current quality of vampire-werewolf relations, she draws special attention to Draculaura and Clawd. Ironically, they are just in the middle of an argument. Hiss-teria
Operetta puts her plan into action by comlimenting Deuce on his music and sharing a few laughs together. Deuce finds out how much they have in common, but is put off when Operetta finally asks him out. When she questions his and Cleo's relationship, he says that Cleo sort of completes him, and that they were very serious. Operetta is genuinely touched, moreover moved to tears, by his story and abandons her attempt to steal him. She then agrees to help him write a song for Cleo to show her just how much she means to him. However, Spectra snaps a picture of the two together and sends it to Cleo, complicating the situation even further. Phantom of the Opry
Monster Mashionals Part 1 Monster Mashionals Part 2
Special webisodes
She makes a cameo appearance. Kind: The Shockumentary
TV specials
TBA Fright On!
Volume 3
Webisodes
Her name is Spectra Vondergeist, and she's one of the many fish swimming in a sea of trouble. She thought her shift would be easy but easy's never around when a man is involved. Heath Burns, the local trouble on the double, stepped into her office that night, begging for help. It seemed that someone was trying to set him up and bring down the blame on him for something he had no part in.
The case was forehead-deep in mystery goop. One statue was taken from the hallways, with only a few scorch marks left to point at the perpetrator. Heath had been a smart kid to seek aid with Spectra, and this was a case only her sixth sense for scoops could get to the bottom of. With long, lone years of experience, she went down the list of witnesses efficiently.
Finding many with a pale bone yet to pick with the burning bother, Spectra invited them all to the office of Headless Headmistress Bloodgood, the dame who would decide on Heath's fate. Her audience was reluctant, but Spectra was no quitter but a deliverer. With a face cast in steel, she interrogated those present on their grudges against Heath, proving that each of them was just likely to have done away with the statue.
Feeding the tension, Spectra waited for the bubble to burst when Bloodgood received a phone call. Something about statue cleaners, blowtorches and Monday. When the Headless Headmistress was ready to acknowledge the rest of the room again, she gave everyone permission to leave. Spectra left the room content, secure in the knowledge that justice always got the lion's share while she was around. Ghosts with Dirty Faces
MH True Monster Stories, produced and hosted by Spectra Vondergeist, brings the lowdown on the history of one of Monster High's most notorious students: Toralei Stripe.
Toralei was born as the smallest of a litter of six, which in its entirety was abandoned at a young age. Toralei's siblings got adopted soon enough by a troll couple, but Toralei was left to fend for herself. Being an adoptive kitty, Toralei did just that until her mid-teenage years, when she was arrested and placed into the pound. There she met Meowlody and Purrsephone, her best friends in life ever since, and worked her way to the top of the pound's food chain. Eventually, this situation came to an end when the werecat trio received a visit from Headless Headmistress Bloodgood of Monster High, who invited them to enroll in her school. The trio eagerly accepted, glad to leave the pound and ready to tackle the school's food chain the same way they did the pound's.
The program comes to an end and Spectra anxiously asks Toralei for her opinion on it. Toralei proclaims that she loves it. The Nine Lives of Toralei
She makes a cameo appearance at the end of the webisode dancing at the party. Night of a Thousand Dots
Spectra floats through school, sadly mentioning that it is a slow news day and that she needs a new story when she suddenly overhears Frankie on her phone saying she has tickets to a concert. Not refusing a gossip chance, Spectra reports the story, she says as she is speaking aloud before her laptop computer: "She gets to take her best friend", then while typing says: "Her choice to go with will reveal her BFF."
Once the gossip goes live, Cleo assumes it is her, but Clawdeen and Draculaura assume the same thing, following up with Ghoulia, Jackson, Lagoona, and Abbey. An argument starts between them, and they confront Frankie, all saying that they are her best friend and should go to the concert with her.
Confused, Frankie states she's not her best friend, which they all groan sadly to, and Frankie then says she's taking her best friends. Thus ending the feud between all of them, the ghouls then confront Spectra, who admits she only heard half the story and, like always, forgot to hear the important facts, the infamous reporter of the Ghostly Gossip disappears through the wall. Best Ghoulfriend
Aba-Kiss Me Deadly Bean Scare, Done That
Spectra presents a documentary that reflects on the ups and downs of the fusion of Monster High, Belfry Prep, and Crescent Moon High. With vampires and werewolves having a century-old feud between them, it did not start well, but the ideals of Monster High managed to win out.
For the documentary, Spectra sits down with Bram Devein and Gory Fangtell, the leaders of the Belfry Prep students, Romulus, the leader of the Crescent Moon High students, and Frankie Stein who had worked the hardest to make the fusion a success. They each recall events of the early days of the fusion that almost made it fail, taking blame where proper.
Spectra concludes her documentary by repeating the introduction: the fusion worked out because Monster High's ideals bring monsters of all kinds together. To illustrate the current quality of vampire-werewolf relations, she draws special attention to Draculaura and Clawd. Ironically, they are just in the middle of an argument. Hiss-toria
All the guys and ghouls of Monster high are frightfully ready for a night of celebration; everybody seems to have a plan for the new year. Everyone except Frankie.
Frankie is sitting on her own, worrying about her non-existent plans, when suddenly her bolts go slightly array with only four seconds left till midnight, and she freezes everybody in time. Getting up, she sees Heath entering the room, apparently exiting the bathroom, and asks Frankie, "What is going on?" Frankie immediately tells Heath not to touch anything, and Heath falls into two pots, ending up with one on his head and the other on his right hand.
Frankie then walks over to her friends, marveling that they are so excited for the upcoming year. She wishes that she was too and sparks on Clawdeen, who bursts into life and claims how excited she is about launching her own clothing line and quickly falls back into submission. Frankie then zaps Cleo, who announces 'her word of 2013', then finally Frankie moves onto Ghoulia, who moans and Frankie translates "Of course you're gonna cure Skulliosis" and giggles. She then angrily glares at Heath and asks what he is doing. Heath declares that he is building a fort out of zombies, creates an imaginary finger gun, and pretends to shoot some 'frozen' friends.
Frankie then walks around describing what other monsters will be doing including Operetta, Venus and Robecca. However, Frankie still feels upset that she has no plans and Heath cheers her up by saying that the idea of 2013 means that there are so many surprises waiting for her. Frankie suddenly feels much better and wonders how Heath suddenly became so smart and Heath tells her that is was a secret. Finally, Frankie is ready for the new year and reverses the freezing by feeling so happy. The students count down from three and all shout Happy boo year! Heath salutes and promptly falls over as Spectra catches a picture of him falling. Boo Year's Eve
The students are initially skeptical about their need to be there for the tree, until Venus reminds them that the tree symbolizes their history. Spectra remembers the great stories she wrote under the tree, Manny notes he lost five soccer balls to the tree's branches, Ghoulia thinks back on all the times she studied under the tree, and Draculaura and Clawd recall how the tree was part of their first date. As the students share their individual experiences with the tree, his roots plunge back into the soil and leaves sprout from his branches. With no doubt that the tree has been revitalized, the students celebrate. Tree of Unlife
Ghoulia's friends contemplate how they can help Ghoulia win the race and if they have a right to interfere, but before they can reach a conclusion, Ghoulia has already left. She makes her way to the catacombs, while aboveground the werecats have run out of breath and decide to walk the rest of the way, as even then a zombie can't possibly be faster than they are. They even take the time to discuss a headline for the race as it can be written about in the Ghostly Gossip with Spectra. Meanwhile, Ghoulia reaches the zombies' highway in the catacombs, where the zombies tickle large dragons' noses so the resulting sneeze will launch them in a pre-decided direction to elsewhere in the school. As such, Ghoulia easily reaches the classroom before the werecats do, much to their horror. Tortoise and The Scare
Invasion of the Ghoul Snatchers Flowers for Slow Moe Ready, Wheeling and Able Clawbacks
Manny is crying to himself and, when asked why, confesses that he is the only one in his whole family who cannot find his way out of a maze. Also, he's terrified of the creatures lurking in the maze. Just then, the canines catch up with the group and Manny runs for his life right though the corn walls out of the maze. The group quickly takes the path he cleared and leave the maze, setting a new record of twenty-nine minutes. While the group has their picture taken by Spectra, the canines within the maze turn on the werecats. Field of Screams
Special webisodes
TBA Super Fan
TV specials
TBA Why Do Ghouls Fall in Love?
With Spring Break over, Frankie and her friends try to make Andy feel at home at their school, which becomes more work than initially thought. Due to Andy's long-time isolation, he is unfamiliar with 21st-century technology. At one point, Headless Headmistress Bloodgood announces something over the intercom, prompting Andy to believe there's a woman stuck in 'that box', which he promptly rips from the wall. The students and teachers take it in stride, though, laughing about Andy's antics at worst. Andy starts feeling welcomed but remains doubtful that the others would like him if they knew about his true nature.
After some days, Headless Headmistress Bloodgood orders everyone to the auditorium for a speech about tolerance by a human guest speaker. While the man appears merely eccentric at first, the realization hits when he starts calling the individual students "specimens" and "oddities". He appears particularly intent to torment Andy with his derogative words, leading to Bloodgood demanding he leaves as his speech has nothing to do with tolerance. The man joyously explains he must have misspoken: he didn't mean to lecture about tolerance but about intolerance. Pestering Andy further, he is slammed away by the boy and finally reveals that he is Farnum. This revelation first draws the ire of the Wolf siblings, who prepare to attack, but Farnum pulls out a dog whistle to keep them at bay. Next, Deuce tries to petrify him, but Farnum pulls out a mirror from his cane, petrifying Deuce instead. Other students have similar success.
Andy, pushed by the chaos, transforms and bursts through the roof, sending the other students and teachers fleeing for their lives as the ceiling comes down on them. Frankie stays and tries to calm Andy, but he picks her up and climbs one of Monster High's towers with her to escape the chaos. Farnum and Kipling show up on the bridge between the towers, and Farnum convinces Andy that, just as with Kipling, a freak like him has nowhere else to turn to than a man like Farnum. Though Frankie tells him not to listen, Andy does and agrees with Farnum's reasoning. Kipling, though, finally realizes he's been wrong to let Farnum's abuse crush his self-confidence. He takes off his hood, revealing his ears are deformed in the form of an elephant's and picks up Farnum. Spotting one of the carnival stands not yet removed (which contains a tar pit), he throws Farnum into it. During his fall, Farnum crosses paths with a flock of birds, causing him to end up not only tarred but feathered too. Aghast about his own freaky look, Farnum runs off, only to be captured by many humans he probably had called himself to capture Andy.
As Andy, Frankie, and Kipling join the students below, Frankie tells Kipling to stay. While freed from Farnum's influence, Kipling isn't sure he'll be accepted until he spots two monster girls who have elephant ears too and clearly think he's a looker. The happy end seems to be gone with that when Headless Headmistress Bloodgood announces she has grave news. Due to the damages done to the school, Spring Break is extended with a week to get reparations done. As Headless Headmistress Bloodgood ends in an upbeat tone of voice, the students cheer. On recommendation by Abbey, the entire student body decides to enjoy the extra vacation on Skull Shores, much to the Tikis' delight too. Escape From Skull Shores
Frankie bumps into Spectra as the latter returns from the old library in the catacombs. Spectra wants to write a story about Halloween, but Abbey notices a map among the books she's got with her; a map to the Hall of Halloween. The trio go see Operetta to ask if she, the resident catacombs expert, knows anything about this place, which Operetta doesn't but is willing to help look for. With the aid of the map, the four actually find the place and learn the true story of Halloween from the mechanical tour guide. Originally, Halloween was a way for humans and monsters to celebrate their friendship.
Armed with this new knowledge, the four return above ground, finding their friends gathered outside around a mildly gruesome pumpkin display—another attack by the humans. Heath takes it lightly, believing the humans to be out of ideas, and picks up a pumpkin. This activates a mechanism that has all the students outside the target of a rain of pumpkins. Abbey moves in to protect Heath, which he is initially grateful for until Manny mocks him for being saved by a girl. The worst victim of the pumpkin rain is, once more, Cleo. Bloodgood announces an emergency meeting in the auditorium, where she advises the students to not go outside without human disguise until Halloween is over. Frankie protests and holds a speech about being proud of who you are and that she has discovered that Halloween used to be a holiday to celebrate monsters. Ghouls Rule
Scaris: City of Frights From Fear to Eternity 13 Wishes Frights, Camera, Action!
Volume 4
Webisodes
Spectra meets Lagoona and Sirena in a corridor, where Lagoona is about to ask Sirena if she's excited for New Tide's Eve. Sirena states that she doesn't know what New Tide's Eve is, which confuses Lagoona since all mermaids celebrate it. Sirena explains that since she's a Hybrid, her parents decided not to force her to choose one of their scaritages over the other.
Lagoona explains that New Tide's Eve is a popular holiday for mermaids, where they play the sport of Finball and go dancing underwater. Sirena admits that it does sound fun. Manny stops by to point out that minotaurs have an even better holiday: Minotaurial Day, where they spend the day headbutting each other. Despite that, Sirena decides that New Tide's Eve sounds better.
Spectra notes that it reminds her of Chainsgiving, a holiday for ghosts where they decorate a tree with lights, attempt to break a pinata, and have a huge feast. Sirena is delighted that she has two great holidays she can celebrate, and Lagoona and Spectra invite her to join them in their respective celebrations. There's only one problem: Both of them take place on the same night. Both Lagoona and Spectra graciously suggest Sirena join in the other's celebration.
That night, Lagoona and Spectra are waiting outside the school for Sirena, but there's no sign of her. They search inside the school, and find Sirena in the swimming pool, where she has a surprise for them. She reveals she has combined the New Tide's Eve and Chainsgiving festivities into one party, with a finball court set up in the pool and a Chainsgiving tree set in the middle. This way, they can all celebrate together. The ghouls immediately dive in and start having fun. Happy Howlidays
Just One of the Ghouls Join the Scream Just Ghost to Show Ya Jungle Boo-gie
Only three students are willing to help out: Venus, Spectra, and Slo Mo—and they are noticeably inexperienced. Positive as always, Frankie believes all they need is some practice, but she is forced to reconsider when she witnesses the trio in action. Spectra has trouble staying solid, Slo Mo reacts and moves too slowly, and Venus keeps getting distracted by plants. Despite the disastrous practice, Frankie refuses to give up and reworks the routine to utilize their flaws as strengths.
At the pep rally, the audience gives a lackluster applause to the new Fear Squad. The official team is horrified, but Frankie pays them no mind as she instructs the substitute team to start the new routine. Spectra flies through the crowd to urge everyone on their feet, while Slo Mo jumps on a seesaw to catapult Frankie and Venus into the air. The two perform a cheer in the air, sprinkling water from their pom-poms to cause a large flowerbed to grow. The two fall down on it and bounce up in the air again, giving Slo Mo time to catch them in a reverse-pyramid. When Spectra joins them to finalize the performance, the crowd cheers louder than the cheer-mometer can even handle and it consequently explodes. Scream Spirit
This would seem like a good start of their time at Monster High, but both Catrine and the viewer don't feel like everything is as it seems. It is almost like their new schoolmates are hiding something from them and that can't be good, right? But as they share their worst fears, Frankie runs up to them and tells them to follow her. She takes them to the main entrance of the school building, where just outside the headmistress and many students are gathered with a banner that reads "Welcome!". As they chant their welcome, the fearleading team joins them with the routine Clawdeen interrupted us from seeing earlier. Catrine and the viewer are both relieved that they were wrong and honored that all this was organized just for them. As the entire school assures them, they are Monster High. We are Monster High
Stage Frightened Who's the Boo Girl? Zombie Shake (webisode)
TV specials
TBA Freaky Fusion
Volume 5
Webisodes
TBA I Casta Spell On You Lochness Lorna Gloom and Bloom, Part 1 Gloom and Bloom, Part 2
TV specials
During a swim meet between Monster High and a rival school, Spectra floats about the audience, trying to find a new scoop for her blog as she has not posted anything in a while. Toralei angered at being suspended from the Fear Squad due to cheating on an essay, lies to Spectra with the gossip that the Wolf siblings have were-fleas. The moment the other students read this as soon as Spectra posts it, the Wolf siblings become alienated from everyone, and Clawdeen is furious with Spectra over that blatant lie she heard. When Spectra is confronted by Clawdeen later, Clawdeen offers her help with having Spectra post honest news in her blog and no more gossip. Before Spectra can agree, Draculaura arrives with Sirena, Twyla, and Rochelle, explaining that she's haunted by a ghost. Spectra becomes unnerved by this and leaves without explaining why. When the others ghouls follow her, Spectra reveals the passageway between Monster High, and her old school, Haunted High, causing the other ghouls to follow her and meet some of her fellow ghosts, like Vandala, River, Porter, and Kiyomi. Unfortunately, Spectra runs afoul of Principal Revenant and her Hall Moanitors, who, after punishing Porter for painting graffiti again, ask her where she's from. When Spectra mentions she's visiting from Monster High, Revenant exposes Draculaura, Clawdeen, Twyla, and Rochelle to the Haunted High students as solids, the feared monsters whom Revenant told her students to be afraid of, forcing the ghouls, with a distraction from Porter, to escape back to Monster High. Despite making it back to their own school, Spectra is captured by the Hall Moanitors and taken back to Haunted High to face punishment for bringing non-ghosts to the school, a new rule that Revenant had added to the rule book after learning there was no rule in it previously. Spectra explains about the other ghost students at Monster High, then is hit with writing 10,000 essays twice before she can get out of her Detention Chain. However, when she mentions Draculaura's ghost haunting to Revenant, Revenant fiercely denies any knowledge of another haunting since that of the Red Lady. With no other choice, Spectra goes to deal with her punishment while still attempting to work on her blog at the same time. She soon begins to develop a relationship with Porter, who asks for her help finding info on Revenant as he is concerned that she is up to something sinister. When their research comes up empty, as they leave the library, Spectra is horrified to see many of her fellow ghost students from Monster High, like Operetta, Johnny, and Scarah, having been captured by the Hall Moanitors to serve detention in Haunted High. After Spectra talks to them and promises to get everyone free of their Detention Chains and back home to Monster High, she overhears some ghosts talking gossip about the Monster World, and after snapping at them in anger, realizes what Clawdeen meant earlier about gossip. She is soon reunited with Draculaura and the others, who have used some of Twyla's father's Boogey Sand to become ghosts themselves, bypassing Revenant's no non-ghosts allowed rule to come back and rescue her. The plan falls apart when the Hall Moanitors attempt to bust Kiyomi for a silly rule and summon Revenant. Thanks to Porter, Spectra and the others find refuge in Porter's secret room, where Spectra is amazed by Porter's artwork and an old desk that he found when he first discovered the room. It's not long before Spectra decides to go talk to Revenant, but as she eavesdrops on Revenant as she discusses her next plan with the Hall Moanitors, she is caught and discovers Revenant having dozens of Detention Chains on herself. Before Revenant can pass any onto Spectra, she is rescued by Porter. However, before Spectra can explain her discovery to the others, Porter has apparently sold them out as they are soon found by Revenant and shackled with Detention Chains. When Clawdeen reveals the notes she's been taking to help Spectra with her blog, Revenant learns of the Boogey Sand and sends the Hall Moanitors to retrieve it. With the fear that Monster High will now be under Revenant's control once she turns all the students there into ghosts, Spectra takes her fury out on Porter, only to forgive him when he reveals he swiped the key Revenant uses on her chains, taking all of the ghouls' chains onto himself as punishment for his actions. Touched by his sacrifice, Spectra takes the key and frees all of the Monster High ghosts of their chains, allowing them to return to Monster High on Vandala's ship. However, Spectra remains behind as she realizes a critical piece of info regarding Revenant and her chains, returning to the library to find the book with the research she was looking for. Aided by Porter, who had restored the old desk in his hideout, Spectra reveals to the Haunted High students that Revenant is the Red Lady of legend, having used them to work off her own chains she received for her crimes, so she did not have to. Revenant confronts Spectra afterward, revealing that she was telling the truth, and prepares to punish Spectra by giving her the rest of her chains. A well-timed transport of River's hijacked skiff and the Hall Moanitors aboard by Kiyomi and the others at Monster High spares Spectra as the skiff, and Hall Moanitors get shackled instead, and Spectra then reveals the truth to Revenant that every unjust action she took against the Haunted High students and Monster High has only further punished Revenant with more chains to work off. Spectra has learned a valuable lesson from the experience and promises to never write gossip in her blog again. Revenant realizes her error and thanks Spectra for her help, promising to work off her chains honestly from that point on. With Revenant having reformed and repented, Spectra decides to celebrate the newfound friendship between Monster High and Haunted High with a huge party for both schools. Spectra also seems to have had her relationship with Porter blossom into a romance as they paint a new art piece together during the celebrations. Haunted
Volume 6
Webisodes
TBA Decomposition Class Freak Du Chic Act 3
Gallery
Webisode gallery
TV special gallery