To better cover the various aspects of the subject matter, this article has been split into one main page and several subpages. Select which one you wish to read.
This article or section is a stub. You can help the Monster High Wiki by expanding it.
Skelita Calaveras was trademarked on June 26, 2012 and her first doll came out in Mid November, 2012 — in time of old franchise. As of January 01, 2015, her doll number totals 3 and makes up 0.88% of the entire Monster High doll collection. There is little other merchandise of her.
Dolls
Scaris: City of Frights
| | |
| --- | --- |
| | |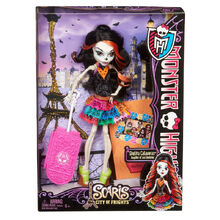 Doll: Light blue eye shadow surrounds her eyes, and she has small black flowers painted underneath. She has pink lips intersected by black. Her hair is lightly curled at the ends with a high bun.
Clothes: Skelita's fashion tour top is a long black halterneck covered in grey stripe patterns, which curl around and form flowers. One sleeve opening is pink, while the other is purple. Her skirt is multi-tiered with pink, orange, cyan, blue, red, yellow, purple and green patterned sections, each decorated with a different pattern such as spiders, flowers, spiderwebs, skulls and bows.
Accessories: Skelita has a brown leather type belt covered in imprints the same pattern as her top, she has a matching style bracelet. Her shoes are wedges, with a brown wedge the same pattern as her belt, and green ribcages on the front. Her travel case is pink, covered in flower and candle patterns, a large white skull with black decorations is located in the centre. The handle is white and designed to look like a human spine.
Extras: She comes with a black stand, doll sized hairbrush and a journal detailing her travels and some of her fantastic designs.
Notes: There is nothing of note about this doll's availability or stockphoto.
Art Class
| | |
| --- | --- |
| | |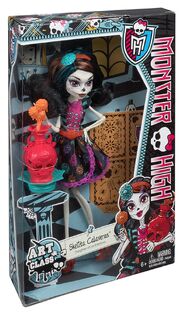 Doll: The hair is worn at about shoulder-length, it is styled so that it flares up at the ends. Her bangs are parted and swept to the sides of her head. Her hair is mainly black with bright blue and orange streaks running through it. Her lipstick is brick red, while her eye shadow is again a bright blue applied all around the eyes. She has dotted flower designs in the same color painted below her eyes.
Clothes: Skelita wears a decorative ensemble with skeletal and floral designs to compliment her pottery project. She wears a teal vest-sweater over her dress with short flared sleeves and black stripes. The top of the dress is a lovely pink with a skeletal rib cage print, while the skirt is layered and black with a frilly pink lace trim. It has teal, pink, and orange flowers decorated across it with skullettes in them.
Accessories: She wears a burnt orange headband with molded floral accents. Fixed on the end of the headband is a beautiful teal flower with a skullette in the centre. Her belt matches her headband, repeating the same color and molded floral accents, while its flower buckle is a darker shade of orange. She wears pumpkin orange high heel sandal pumps. They have repeating zigzags along the soles and skulls molded into the heels. Decorating the straps of the shoes are teal floral accents like the one on her headband.
Extras: She comes with her pottery urn, a black doll and brush, and a class notebook.
Notes: There is nothing of note about this doll's availability or stockphoto.
I Heart Accessories
Doll: This Skelita has medium-length black hair with a slight wave, and has pink and teal streaks in the front. Her Calavera make-up features aqua-green eye shadow and deep red lipstick.
Clothes: Her outfit is simple but striking. She wears a poncho-like black shirt with teal stitching and a rose design. She wears a simple a-line skirt with a pattern of colorful stripes. Her shoes are bright pink with a lucha libre mask shape on the toes.
Accessories: This Skelita is all about the accessories, and they feature a luchadore (Mexican wrestling) theme. She wears a bone-shaped belt around her waist. She wears a teal and pink "flower crown" like headpiece as well as lucha mask-shaped teal sunglasses. Her handbag is a teal skullete with a lucha mask and floral decorations, as well as a spine-shaped handle.
Extras: She comes with a black brush and doll stand.
Notes:
Scarnival
| | |
| --- | --- |
| | |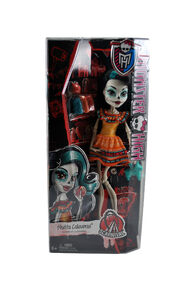 Doll: Skelita sports around shoulder-length black hair, with curls in the ends, and bangs pulled to the side, with a part to the side. She also sports a turquoise thick streak of hair, in her side pulled bangs. Her make-up is, is like usually, Sugar Skull inspired, with red lips and blue paint around the eyes and blue flowers.
Clothes: This Skelita wears a short simple dress, with ruffles folded down the neckline, that falls down the shoulders, and a skirt flowing from the waist line. The dress is mostly mustard and orange, with miscellaneous themes, such as roses, skulls and papel picado detail. The end of the dress and of the ruffles at the neck are finished with orange seams.
Accessories: Skelita has no accesories, besides her wedges in brick red with a ribcage like pattern in the front and a blue pinata purse.
Extras: This doll includes a Down With A Clown game set, with three figures with luchador molded faces and hair, in blue, red and orange, and a red ball with a molded skull face and a bow.
Notes:
Collector
Doll: This Skelita features her signature Día de los Muertos makeup, however seeing how this is a deluxe special edition doll, the make-up defies the regular mold and instead consists of a powdery fading spot of grey with white designs of spots and flowers around the eyes, in her forehead and across her nose ridges. Similarly, her nose is painted white, reflecting the skeleton's lack of nose. The design is more photo realistic as a whole, with more light colors and faded, and that reflects in the eyebrows, which are lighter, the lips, which are pink and still maintain the lines resembling teeth, yet in a toned down grey, and she is wearing simple turquoise eyeliner. Her hair is styled in a middle part that is pulled out into two ponytails, long that curl at the ends. It is mostly black, however, several spread teal highlights are also present in the outer surfaces of the overall do.
Clothes: Her dress attire is heavily inspired on the Mexican culture, specifically that of the region of Oaxaca. Her dress is divided into two complex parts: the top and bottom. The top has very short sleeves, in a fabric that consists of several randomly displayed flowers, in colours of purple, blue, orange and pink, with green leaves and stems. The collar is finished with coral pink seams and the perimeter of the best has a thread of blue lace sown on. The skirt of the dress is black too, the same fabric as the top, and it's just above the knees, poofy at the top, with blue seam finishes at the bottom. It has a stamped picture of a design of flower embroidery, with vibrat colours of all kinds, and imegery such as roses, leaves, marigolds and other flora. The dress also has an underskirt of white lace, in a intercate design of skulls, hearts, swirls and other designs, all relating to the Mexican tradictions.
Accessories: Skelita is accessorized with a pair of teal blue plataform wedges, with molded braids that tie around the heal and the front of the shoe, where they all meet at a design of a heart with molded marigolds, skulletes, swirls, pearls and and 'H' for Hexico. Her ponytails are held by two chunky hair pieces, with molded dripping marigolds with skullettes and other flowers, in shades of magenta and custard. Her head is also adorned by a big headband, a flower crown, with the same molded features and colours, but now with bright green too.
Extras: This doll includes a highly decorated stand, with molded studs and stitches, with a Dia de los Muertos inspiration, and the actual stand is shapes like a backbone, with swirls and flowers sprouting from it.
Notes:
Merchandise
Vinyl Figure
Skelita received a Basic/Scaris Vinyl Figure that was showcased at New York Toy Fair and was released in early March. The Basic Vinyl shows Skelita Calaveras wearing her fashion from Scaris: City of Frights, also considered her Basic fashion, featuring her colourful skirt, her black top and her long wavy hair. The vinyl is very detailed. The pose of the Vinyl shows Skelita standing with her knees touching, her left arm straight sideways and her right arm starigh next to her body. Her bones are showcased with little indentments in the vinyl.
Notes
Gallery
Community content is available under
CC-BY-SA
unless otherwise noted.