To better cover the various aspects of the subject matter, this article has been split into one main page and several subpages. Select which one you wish to read.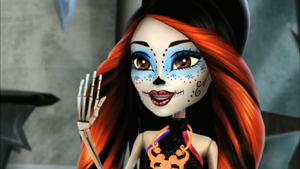 Skelita Calaveras debuted in the cartoon series in the Volume 3 TV special "Scaris: City of Frights", which premiered on March 3, 2013. She is voiced by Laura Bailey in the English version of the cartoon.
Volume 3
Webisodes
Hackington has his students, among which Skelita, bring their most precious possession to school and give a presentation about it. Skelita chooses to talk about her necklace, which is a centuries' old heirloom passed down along the female line. Her presentation is so moving that it even impresses Heath and Manny. Scare-itage
TV specials
Scaris: City of Frights From Fear to Eternity 13 Wishes
Volume 4
Webisodes
Skelita is participating in the art competetion, sculpting a vase, and gets annoyed everytime Heath turns the fire taps on. She even lectures him telling him how art is serious buissness. When they announce the winner Skelita, and the others, is shock to learn its Heath and leaves with the other ghouls. Eye of the Boo-holder Zombie Shake Skelita is entering Monster High with Jinafire. Later, still with Jinafire, she salutes Catrine. [[We Are Monster High |We Are Monster High ]] She compliments Ghoulia's collection as both enter in the Student Lounge. Creatures Creepers Pt.2 Stage Frightned
TV specials
Volume 6
Webisodes
Skelita watches the Freak du Chic acts during the flash-forward. Freak du Chic Act 1
Gallery
Webisode gallery
TV special gallery
Community content is available under
CC-BY-SA
unless otherwise noted.