To better cover the various aspects of the subject matter, this article has been split into one main page and several subpages. Select which one you wish to read.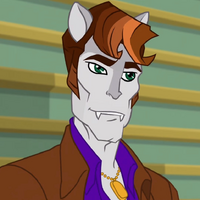 Romulus is a 2011-introduced and cartoon-only character. He is a werewolf and a student at Monster High. He used to attend Crescent Moon High before the school merged with Monster High and though the transition wasn't easy, no one would consider him and his fellow werewolves not a part of the school these days. At Crescent Moon High, Romulus was a highly influential student and he continues to be so at Monster High. Through circumstances, he has become the mentor of Howleen Wolf, his old friend Clawd's youngest sister.
Portrayers
He is voiced by Cam Clarke in English.
Character
Appearance
Romulus has brown hair (highlighted in softer shades towards his forehead), green eyes, and grayish-white fur. He wears a brown jacket over a dark purple shirt which is tucked into his deep grey jean pants. He also sports a gold dog tag hanging from a chain around his neck, and an earring of matching color on his left ear.
Personality
He is a very proud werewolf, always saying how the "pack is life". When Howleen Wolf gave him the cooties he calls her "a traitor to your pack". In "Fright On!" he was a first a bit off put that Clawd Wolf is dating Draculaura. In "A Perfect Match", he's shown to be timid and sheepish. 
Relationships
Family
Romulus reveals in "Sibling Rivalry" that he has sisters who "can turn anything into a competition", just like Clawd's sisters. Romulus must have at least two sisters, and probably has a big family like Clawd does.
Friends
Romulus and Clawd were childhood friends, so once he came to Monster High the two picked up their friendship where it had left off. Another good friend of Romulus is Dee O'Gee, who backs him up whenever Romulus needs some extra muscle. He is also seen hanging out with Deuce in Sibling Rivalry, suggesting that the two have formed a friendship as well.
Romance
Romulus danced with Clawdeen Wolf during the party in "Fright On!"
In "A Perfect Match," Romulus showed up to the speed date the ghouls put together for Abbey Bominable. Because he acted timid and sheepish, Abbey rejected him.
In "Fierce Crush", he hugged the dark pink haired werewolf girl, who is presumably his girlfriend.
Fiction
Comics
In "Hot Couture", Romulus is one of the many who manage to get their hands on Clawdeen's new fashion line: Hot Mess.
Notes
Romulus's name comes from the Roman myth of Romulus and Remus. Romulus and Remus were raised by a female wolf when they were very young.
Community content is available under
CC-BY-SA
unless otherwise noted.