To better cover the various aspects of the subject matter, this article has been split into one main page and several subpages. Select which one you wish to read.
Robecca Steam was trademarked on September 22, 2011 and her first doll came out in Early July, 2012. As of January 01, 2015, her doll number totals 8 and makes up 2.21% of the entire Monster High doll collection. Other merchandise of her is not yet available.
Dolls
Between Classes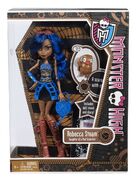 Robecca wears a sleeveless dress with blue patterned fabric at her chest area and black pleather that covers her abdomen and a black skirt. The blue fabric has an alternating pattern of vertical copper-colored dotted lines and diamond shapes. Designs on the black pleather include zippers, cogs, and blue stripes. She also wears a black pleather bolero jacket with trimmed with gold ribbons at the sleeves. She has a cage with gear and rivets over her skirt, an armband with multiple watches on it, and a clock-shaped handbag, with a pendulum, all of the same royal blue color. Her shoes are copper, knee-high, lace-up rocket boots and she wears a pair of copper flight goggles with an antenna on her head. Her eyeshadow and lipstick are purple and burgundy and she wears a pair of dangling copper earrings in the shape of gears and clocks.
She comes with a Captain Penny figurine.
Dance Class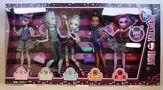 Robecca wears a electric blue collared leotard, covered in patterns of clock faces and gears. She wears a ruffled light purple wrap over top of this which is the same sheet metal and rivet pattern as her skin, held together by a purple bow. Her shoes are short bronze boots with a purple bow at the front, the tap heels are cogs and gears of various sizes. She accessorises with a bronze headband of gears with a little top hat, a lavender halfcuff covered in more clockfaces and a lavender bag designed to look like the boiler of a steam train. Her hair is in a high ponytail. Her make-up is lavender and silver eyeshadow and light lavender lipstick. It should be noted that in her stockphoto, her bracelet is on her left wrist, while on her actual doll and in the artwork, she has it on her right.
My Wardrobe and I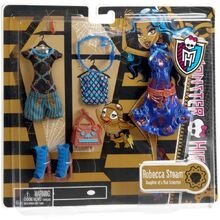 The Deluxe Fashion Pack comes with two outfits for Robecca. The first outfit is a royal blue dress with swirling copper and sky blue patterns of cogs, clockfaces and skullettes, a blue ribbon adorns the ruffled neckline. The second outfit consists of a black t-shirt with blue and copper connected cogs and shorts with vertical bronze, blue and black stripes with cogs. Accessories include a blue monocle headband, bronze studded belt with chains and clocks, a singlular bronze cog earring and a bronze bag styled to look like a vintage radio and smiley face. Her shoes are bronze, open-toed pop rivet heels, with a blue front covered in screws. Note that in the photo that the monocle headband is bronze and functions as a belt, while in the fashion pack it is blue and is used as an eyepiece/headband/earring.
Dead Tired
Ready for a slumber party, Robecca wears a baby blue tank top with black straps, gear designs, and three organza ruffles across it. Her royal blue shorts has blue and black gear patterns, rivet stripes, a black bow adorning the top, and black organza ruffles lining the sides and hem. Her slippers are metallic copper with flight goggles. She accessorises with a black and copper gramophone that acts as a docking station for her iCoffin, and a copper eyemask with black gears on the eye area. Her straight hair is tied into a side ponytail, and her makeup is purple eyeshadow with metallic vermillion lipstick.
Art Class
| | |
| --- | --- |
| | |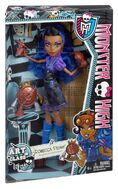 Doll: The hair is long and curly, it is worn down to a little above her midriff. Her hair is two-tone, the primary color being blue with some parts black and very subtle streaks of purple in it. Her lipstick is light red, while her eye shadow is a soft pink applied all around the eyes.
Clothes: Robecca decides to dress up for the part for her metalworking art project by wearing a sophisticated two-part dress from a more technologically-advanced era in time. Her antiquated inspired dress consists of a long pencil skirt that begins right below her chest, and a puffed short sleeve top with a flared collar. The top of the dress is vertically striped with shades of purple. Down the middle of it are two metallic buttons. Connecting the top of the dress to the skirt are two purple straps secured by more metallic buttons. The skirt is black with purple wires printed all around it and bronze gears with inner-skullettes layered above. The trim of the dress is a frilly purple sheer.
Accessories: She wears copper welding goggles with a bat wing spiderweb bow accent on the top. Her earrings a pair of dangling copper clocks. She wears exceedingly tall purple boots with very high copper heels. Each boot has many rows of straps running all the way down, each of them decorated with various metalworking accents such as gears and other bits. In her hand she holds a small bronze blowtorch.
Extras: She comes with her robotic clock, a hairbrush, and a class notebook.
Notes: There is nothing of note about this doll's availability or stockphoto.
Freaky Fusion - Freaky Fusions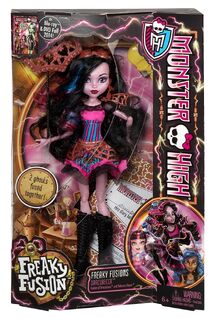 Doll: This doll is a fused version of Draculaura & Robecca, featuring Robecca's metal panels and a slightly pearlescent version of Draculaura's pink skintone. The doll features slots for wings, a unique feature to Dracubecca, not present in either Draculaura or Robecca. The face looks more like Draculaura, featuring her pointed ears and softer facial features, with the exception of her eyes, which are Robecca's gear shaped irises, combined with Draculaura's eye colour.
Her eyebrows are dark brown, her hair is mostly black with two sets of blue and pink streaks. Her hair is styled into a left parted loose curled hairstyle with a small bang curled over her face.
Her makeup consists of Cranberry coloured lipstick, with Draculaura's fangs detailing the lips. She wears light shimmery purple on the lid and outer eye with a violet contour, and a shimmery white in the brow.
Clothes: She wears a puff sleeved circle skirted dress, with black mesh sleeves, Black mesh ruffle under pink ruffles. The bodice is black lace trimmed with a pink start and a pink, blue and black vertically striped pattern on the front. The skirt is blue with a pattern consisting of upside down brown heart shaped gears with black trimming and pink center detailing The pattern also consists of brown chain detailing trimmed in black and pink scrollwork trimmed in purple.
Accessories: She accessorizes with a modified version of Robecca's Signature boots, featuring bat wing details, a gear buckle in the shape of a heart and batwing motifs on the toe area. The boots are black with Pink trimming on the buckle and rockets. She features a modified version of Robecca's Basic goggles, with heart shaped goggles in a light copper colour. Her Overskirt piece is the same colour, with three heart shaped closures down the back and a heart motif on the front. The riveted straps are set up in a detailed spiderweb style pattern that forms bat wings. Her earrings are a cascading chain with a heart shaped gear stud, a heart clock with bat wings in the middle and a dangling gear hanging low. Unique to Dracubecca, she features a pair of bat wings with rods forming the wing base, straps crossing over the wings and a scroll detail in the wings.
Extras: Like the other Freaky Fusions, She comes with a Electric Yellow Stand and Brush. She also comes with a unique diary, co-written by Draculaura & Robecca.

Notes:
Coffin Bean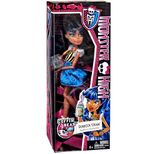 Doll:
Clothes:
Accessories:
Extras:
Notes:
Ghoul's Alive!
Doll:
Clothes:
Accessories:
Extras:
Notes:
Gore-geous Accessories
Doll:
Clothes:
Accessories:
Extras:
Notes:
San Diego Comic Con International Dolls
Doll: In this special edition, Robecca has been completely modified. Her head (Exception of the scalp) and her body are casted with a harder plastic. her hands, while articulated come off at the wrist instead of just the hand, and this robecca is a high gloss copper colour. She is fully articulated except for the head, which can only move from side to side.
Robecca's eyebrows are black and she features a white eyeshadow in the lid, a contour of dark brown, and a thin strip of silver on the brow. her lower lid features orange. She accents with deep red lipstick. Her hair is curly, left parted and blue with black underneath.
Clothes: Robecca wears a knee length puff sleeved bustle dress in blue with purple trim and a purple ruffle on the skirt. Her dress is patterned with a pipe and gear motif, going from the bodice and down to the skirt.
Accessories: Robecca wears a stove pipe hat with three gears and a beaded chain decorating the front. She wears a pair of beaded chain earrings with a gear dangling from it. She has a purple steam gauge arm band on her right arm. Her heels are two pieces. The first piece is a studded ankle bracelet with dangling gears, while the main heel is a studded and gear motif stiletto, both in blue. Her overskirt is brown and features studded straps, gears, buckles and beaded chains.
Extras: Robecca comes with a stand and a diary.
Notes: Robecca is only available in a two pack with her father, Hexiciah Steam, which is exclusive to San Diego Comic-Con International 2016
Gallery
Community content is available under
CC-BY-SA
unless otherwise noted.