Hawkeye Is Here To Amaze - The Loop
Play Sound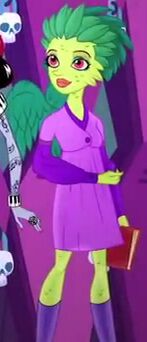 Quill Talyntino is a 2011 backgrounder-turned-character in 2014. She is the daughter of a harpy.
Character
Personality
Quill's active screen-time or mention in fiction is very little; however, she is shy and soft-spoken, always stuttering like she's afraid of saying something wrong. She is also a hoarder, as she collects shiny things, a collection she is very self-conscious about, despite her friends supporting her with everything.
Appearance
Quill has neon-green feathers covering most of her body, but her wings and the feathers on her head are dark-green in color. She has red eyes and a pointy nose. She wears dark purple boots and a plain purple dress with long sleeves and a button at the chest.
Cartoon
Quill appears in Falling Spirits, Fatal Error, Fear Pressure and Hyde and Shriek, Nefera Again, Frost Friends, Monster Mashionals Part 1, Fright On!, Kind: The Shockumentary, Super Fan, Dodgeskull, Abyss Adventure, Unearthed Day, Decomposition Class and Creepfast Club. She is a background character for the most part.
In "Decomposition Class", Quill Talyntino says she collects shiny things. She says she belongs at Monster High, because when she thought people were going to laugh, they didn't. Next up is Rider, who says he belongs because people get him. He says if he sets his mind to it, he can do anything, and Finnegan says this while spinning around in his wheelchair crazily. Frankie is then up, saying "we" belong at Monster High because every monster is welcome, freaky flaws and all. Mr Rotter at the end gives A's to everyone after watching that heartfelt, warm video.
Fiction 
Comics
I Only Have Eye for You
In "Shadow of a Doubt", Quill makes a cameo talking to other monsters about how Clawd Wolf may have forgotten about the dance. Shadow of a Doubt  
Timeline
Notes
Gallery