To better cover the various aspects of the subject matter, this article has been split into one main page and several subpages. Select which one you wish to read.
This article or section is a stub. You can help the Monster High Wiki by expanding it.
Monster Family Vampire Kitchen Playset
The Monster Family Vampire Kitchen Playset includes Draculaura, her father Dracula, 2 chairs, an oven, a cabinet, a sink, a mini fridge, an extended counter, a chandelier, an oven mitt, a rolling pin, an apron for Dracula, a skillet, a cake, a mixer, a dish towel, a bubbly cover for the sink, a pot, ice cream cones, muffins, a baking tray, a bowl, and a recipe book.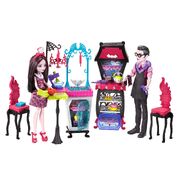 Monster Family Wolf Bunk Bed Playset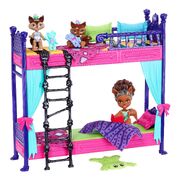 The Monster Family Wolf Bunk Bed Playset includes Pawla Wolf, two werepups, a bunkbed, 3 pillows, 3 blankets, 2 teddy bears, 1 rug, and 1 book. The Pawla doll is 5.5 inches tall and the werepups are 2 inches tall. The bunks are long enough to fit regular size dolls like Clawdeen. The ladder is black and made of claws and bones. The bone theme is repeated around the edge of the beds. The pillows are pink, green, and blue respectively. The rug is green and monster shaped.
Monster High Deluxe Bus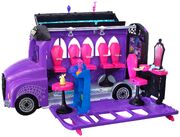 The Monster High Deluxe Bus is a black and purple school bus that also turns into a spa playset. The bus can fit six dolls. The roof opens to become a spa tub. The seats swivel. The bus includes a pull out mirrored vanity and a smoothie bar. There is a shallow trench in the floor full of "pirrhanas" to give your ghouls a pirrhana pedicure. The set also includes a brush, blender, blow dryer, smoothie drinks, and fruit.
Community content is available under
CC-BY-SA
unless otherwise noted.