To better cover the various aspects of the subject matter, this article has been split into one main page and several subpages. Select which one you wish to read.
Playsets
Ghoul-la-la Locker
Big pieces:
Small pieces:
Notes:
Surf-to-Turf Scooter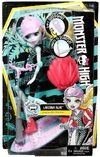 Big pieces:
Small pieces:
Notes:
Deadluxe Monster High School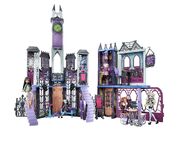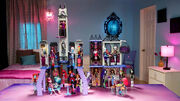 The Deadluxe Monster High School Playset has eight rooms. There is a classroom, a creepateria, a bathroom, a library, and Headmistress Bloodgoods office among others. One room has a radio booth inside and another has clips so that you can hang your doll or the chair upside down from the cieling. The library has a revolving bookcase so that your dolls can leave through the "secret passegeway". Headmistress Bloodgoods office is hidden in the clocktower. Furniture pieces are included in the playset. These include a highbacked chair, a school desk for the classroom, a lunch table for the creepateria, and a small sofa and table for the common room. One of the lockers opens to reveal a suprise tentacle seat. The playset also has two staircases. Dolls are not included in this playset.
Fright Roast Cafe
The Fright Roast Cafe Playset includes two chairs, a coffee maker, a display stand for the desserts, a to-go box, two mugs, two saucers, three desserts, a menu sign, and the cafe cart.
Dance The Fright Away
The Dance The Fright Away Playset has a school dance theme. There is a dance floor that has 2 doll stands on it so you can put your dolls on it, turn the knob, and watch them twirl around the dance floor together. There is a "photo booth" backdrop wall with a pink heart balloon arch on top of it. There is a purple Monster High banner streched between the photo wall and the dance floor. The set also includes a black and purple table, a camera on a green stand, a punch bowl, 3 masks to use at the photo wall, and a tray with treats on top of it. The dance floor has a stage attached to it that has a green microphone on a stand on it. The green microphone has bat wings. This set also includes a Draculaura Doll.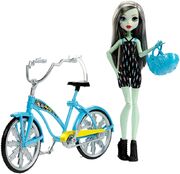 Boltin Bicycle
The Boltin Bicycle is a Frankie Stein themed bicycle. It is mostly blue in color. The spokes in the wheels are silver and lightning shaped. The bike set includes a Frankie Stein Doll and a blue bike helmet.
Skulltimate Science Class
The Skulltimate Science Class playset has a blue and black school desk, a color change whiteboard, a pink shelf, a frog in a jar, a table with experiments on it, a beaker, a potted plant, and a Frankie Stein Doll. Frankie is wearing a lab coat and blue saftey goggles. The frog jumps up and down in the jar when you push the button on top.
Community content is available under
CC-BY-SA
unless otherwise noted.