Spider-Man: No Way Home Trailer Dropped - The Loop
Play Sound
To better cover the various aspects of the subject matter, this article has been split into one main page and several subpages. Select which one you wish to read.
This article or section is a stub. You can help the Monster High Wiki by expanding it.
Playsets
Circus Scaregrounds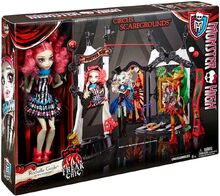 Big pieces: This playset includes a circus swing. The swing is hooked to a little circus tent in white that is positioned over a mini-stage with two golden wooden nails nailed into it, with ropes molded on them. The white curtains also have molded black ropes, as well as various swirly plastic pieces, with the function of storage. The swing hooks by a big bar and it is styled with swirls, all in black. The swing includes a stand clip, so a doll can sit and swing on it. On the top of the tent there is a plaque that read Monster High in black in a circus poster-like background, as well as a round red balloon held by a skeleton hand and two flags, one of which not only has a molded skulette but it also attached to a long red tightrope. The tightrope attaches to another section of the playset: a stage. The stage looks like a tent, much like the one in the swing, and has a floor with black and white stripes in glittery material. The wall of the stage showcases ling black bars with swirls but also has a removable golden frame, with an artwork of Rochelle, which can be switched to showcase other dolls artworks. The top of the tent also has a big long black swirled bar and two balloons, a red and a white one. Attached to the playset there is a Manny Taur silhouete, with a cutout in the face, where the dolls can peek through. The picture is framed by more black bars and studs. Along with it comes a playhouse mirror, with a red frame. It is not straight, to give a distorted image.
Small pieces: The playset includes various masks and face ornaments: one in black with solely a molded moustache and a long handle, one with a swirly handle and glass like features, with funky eyebrows, all in lilac, and a pair of fake glasses, in yellow, with a silly pink clown nose. The playset also comes with an old fashioned camera and camera roll, in black plastic.
Notes: The playset comes with a Freak Du Chic Rochelle Goyle.
Floatation Station
Big pieces: The station's base is set on a cloud like structure. It then has black barriers around the cloud with details like skulls. At the back of the centre fence there is a pole with 2 bat wings on it. The pole is behind a cloud one which connects to a comet that lights up when it senses music (most likely sound.)
Small pieces: It comes with a purple accessory for Astranova
Notes: This playset comes with an Astranova doll
Deadluxe Highschool
Fiction