Wiki Targeted (Entertainment)
Play Sound
To better cover the various aspects of the subject matter, this article has been split into one main page and several subpages. Select which one you wish to read.
This article or section is a stub. You can help the Monster High Wiki by expanding it.
Playsets
Powder Room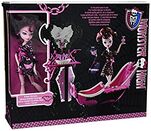 Draculaura's Powder Room includes a vanity and a bathtub, but unlike Cleo's vanity, her mirror is fake and instead includes a picture of her clothes since Draculaura can't see her reflection. It also comes with a doll-sized toothbrush, tube of toothpaste, makeup, towel, bottle of bubblebath and tray to hold the items on the side of the bathtub.
The set was later re-released for Toys"R"Us with a Draculaura doll and Count Fabulous figurine.
Scooter


The set comes with a scooter for Ghoulia, along with a doll-sized helmet, bag, and soda, and also a helmet for Sir Hoots-A-Lot as well.
The set was later re-released for Toys"R"Us with a Ghoulia doll and Sir Hoots A Lot figurine.
Coffin Bean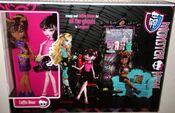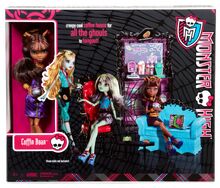 Big pieces: TBA
Small pieces: TBA
Notes: There are two versions of the Coffin Bean playset. The first release contains only a Clawdeen Wolf doll, but the second both a Clawdeen Wolf and a Draculaura doll. The second release was exclusive to Costco.
High School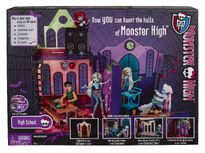 Parts of the school represented in the set are the front doors, a classroom, the creepateria with a number of lockers, and a second floor with sound equipment. The classroom includes 2 desks, several trophies, 2 doll-sized diaries and pens, a cart, a frog and a portfolio. The creepateria is located right next to the classroom, and inbetween is a hallway with openable lockers. The creepateria includes a table, a Skullete discoball and several bowls of food and drinks. Above the creepateria is a sound booth that includes speakers for Operetta and Holt Hyde. A laptop is also included. On the outside is a casketball court that features a doll-sized ball and net. You can try to toss the ball in the net by your doll's hands or grab the ball and pop it in.
Roadster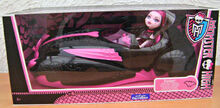 Big pieces: The Roadster is a black car with pink accents, heart imagery and batwing/cobweb decoration. It has pink seats, black seat belts, a pink steering wheel, a pink GPS, a black dashboard, and pink windscreen. Small pink tailfins are located on the back, and on the front are pink heart-shaped headlights and a pink heart-shaped grille. On top is a pink bat-shaped hood ornament, behind which a pink line stretches over the hood up into a heart just in front of the windscreen.
Small pieces: There are no small accessories included with the Roadster.
Notes: The Roadster comes with a Draculaura doll. The Roadster was re-released from 2011.
Bed

Big pieces: The bed's frame made from a transparent ice-like materiel. A denim colour is visibly shown through the ice. At the end of the bed is a frame-like structure with denim blue bricks. At one end of the bed is a TV made of ice-like materiel. The bed comes with a white blanket with blue, pink and black accents on it.
Small pieces: The play set comes with a teal alarm clock made of ice, a book that possibly belongs to Abbey, a magenta ice lamp and a purple cup with vanilla frosting in it.
Notes: The bed does does not come with a doll, but the best recommended doll would probably be dead tired Abbey Bominable.
Vanity

Big pieces: TBA
Small pieces: TBA
Notes: TBA
Convertible

Big pieces: TBA
Small pieces: TBA
Notes: TBA
Café cart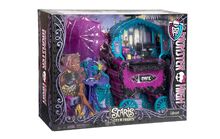 Big pieces: TBA
Small pieces: TBA
Notes: TBA
Assortment relations
TBA
Doll logs
Main article: Doll logs: Playsets
Fiction
Notes
Both the Scooter Ghoulia Yelps doll and the Powder Room Draculaura doll reuse their respective Gloom Beach earrings, but in new colors. Early versions of both dolls, though, come with earrings in the same colors as the Gloom Beach ones.