To better cover the various aspects of the subject matter, this article has been split into one main page and several subpages. Select which one you wish to read.
This article or section is a stub. You can help the Monster High Wiki by expanding it.
Playsets
Hydration Station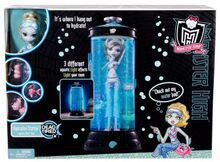 Big pieces:
Small pieces:
Notes:
Room to Howl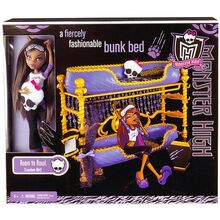 Big pieces:
Small pieces:
Notes:
Vanity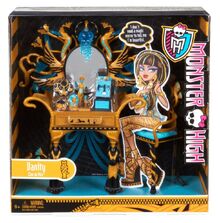 Big pieces:
Small pieces:
Notes:
Roadster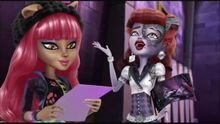 Big pieces: The Roadster is a black car with pink accents, heart imagery and batwing/cobweb decoration. It has pink seats, black seat belts, a pink steering wheel, a pink GPS, a black dashboard, and pink windscreen. Small pink tailfins are located on the back, and on the front are pink heart-shaped headlights and a pink heart-shaped grille. On top is a pink bat-shaped hood ornament, behind which a pink line stretches over the hood up into a heart just in front of the windscreen.
Small pieces: There are no small accessories included with the Roadster.
Notes: The Roadster does not come with a doll, but Sweet 1600 Draculaura, released in Late November, 2011, is the suggested match. The Roadster was re-released in 2012.
Assortment relations
Doll logs
Fiction
Community content is available under
CC-BY-SA
unless otherwise noted.