To better cover the various aspects of the subject matter, this article has been split into one main page and several subpages. Select which one you wish to read.
Mr. Where debuted in the cartoon series in the Volume 1 webisode "Copy Canine", which premiered on May 28, 2010. His voice actor is unknown.
Volume 1
Webisodes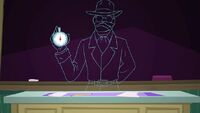 Where surveys during the Scary Aptitude Test. Copy Canine Mr. Where and Frankie Stein collide in the hallways. Where helps her get up, advising her to pay attention next time and ignoring that he was invisble when Frankie bumped into him. Bad Scare Day With a school production of Hamlet coming up, Where is looking for actors. They all disappoint, except his very own assistant Draculaura, who gives a moving Shakespearian performance about mercy. Without another doubt, he gives her the part of leading lady. Clawditions The result of the Scream Queen election is announced by Where. Rumor Run Wild
Volume 2
Webisodes
Mr. Where hosts the debate contest between Belfry Prep and Monster High. Fear-A-Mid Power
Volume 3
Webisodes
Assisted by Venus McFlytrap, Mr. Where holds a dance-off to select the lead dancer for an upcoming play. He is particularly impressed by Rochelle Goyle's performance and gives her the part. Fright Dance At an intra-school debate contest, Where is the host. Flowers for Slow Moe Mr. Where does not win the Creature of the Year award. Creature of the Year Clawbacks Angry Ghouls
Volume 4
TV specials
Mr. Where was holding pratices for the Monster High play.Freaky Fusion
Notes
Mr. Where has two animation models. The one commonly used for him wears a buttoned-up trench coat and a fedora, while the other wears an open jacket and a beret. The latter one only appeared in the Volume 1 webisode "Clawditions".
Gallery
Webisode gallery
Community content is available under
CC-BY-SA
unless otherwise noted.