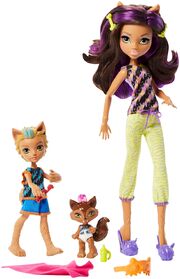 The Monster High Family Doll Packs are released as part of a new line meant to "help bring the ghouls' home lives to life". The packs typically include one of the original monster high girls and a younger sibling though the amount of siblings and gender of siblings tends to vary. As of yet the line is limited to Clawdeen Wolf, Cleo DeNile, Lagoona Blue, Frankie Stein, and Draculaura although Draculaura comes with her father instead of a younger sibling.
Clawdeen Wolf Family Pack
The Clawdeen Wolf Family Pack includes Clawdeen, her younger brother Barker Wolf, and her younger sister Weredith Wolf. The Barker doll is 5.5 inches tall and the Weredith doll is 2 inches tall. Both siblings are more wolflike than Clawdeen, with Barker having oversized furry hands and feet and a tail and Weredith being completely woflike which suggests that they are born wolves and become more human-like as they grow up. Clawdeen's Family Pack is bedtime themed. All dolls are wearing pajamas and the pack includes a toothbrush, a bottle, a blanket, and a sleeping mask.
Lagoona Blue Family Pack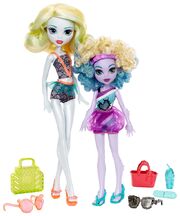 The Lagoona Blue Family Pack includes Lagoona and her younger sister Kelpie Blue. The Kelpie doll is 7 inches tall. Kelpie has purple skin and curly blond and blue hair. Lagoona's Family Pack is beach themed. Both dolls are wearing swimsuits and sandals. The pack includes 2 pairs of sunglasses, 2 tote bags, and a drink.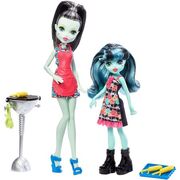 Frankie Stein Family Pack
The Frankie Stein Family Pack includes Frankie and her sister Alivia Stein. The Alivia Doll is 5.5 inches tall. Alivia has blue skin and blue streaks in her hair. Frankie and her sister are barbequing. The pack includes a barbeque, 3 corns on the cob, a blue serving tray, green tongs, and an apron for Frankie.
Cleo DeNile Family Pack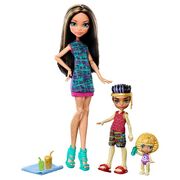 The Cleo DeNile Family Pack includes Cleo, her younger brother Lux DeNile, and her younger sister Sandy DeNile. Cleo's siblings are more mummy-like than her. Both siblings are wrapped in thick bandages from feet to neck. The pack includes a baby bottle for Sandy, a juice box for Lux, a drink for Cleo, and a blue cloth. 
Community content is available under
CC-BY-SA
unless otherwise noted.