Wiki Targeted (Entertainment)
Play Sound
To better cover the various aspects of the subject matter, this article has been split into one main page and several subpages. Select which one you wish to read.
This article or section is a stub. You can help the Monster High Wiki by expanding it.
Meowlody was trademarked on July 22, 2012 and her first doll came out in Late February, 2012. As of April 25, 2021, her doll number totals 5 and makes up 0.88% of the entire Monster High doll collection. Few other merchandise of her is available.
Dolls
Campus Stroll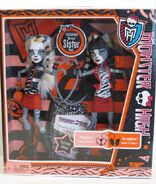 Meowlody wears a sleeveless, tiger print shirt in horizontal black and white. She combines this with an orange skirt and a black, sleeveless jacket. The jacket features a high collar, crimson lining, and two silver horizontal stripes. On her left hand, she wears a crimson glove, and on her left arm she wears a studded black and crimson bracelet. On her right wrist, she has a studded orange bracelet. Her shoes are black boots reaching almost to her knees. They feature crimson wedge heels, bows over the entire length, studs at the top, and open toes.
The doll comes with an orange, ball of yarn-shaped purse, and one diary which she shares with her sister.
Meowlody's doll is only available in a 2-pack with Purrsephone. They lack a brush and stand, and are the only dolls of the 'Campus Stroll' line of which the stockphoto doesn't suggest otherwise.
Go Monster High Team!!!
Doll: TBA
Clothes: TBA
Accessories: TBA
Extras: TBA
Notes: The doll is only available in a 3-pack with Toralei Stripe and Purrsephone, which is exclusive to Toys"R"Us.
Zombie Shake

Doll: TBA
Clothes: TBA
Accessories: TBA
Extras: TBA
Notes: This doll is only available in a 2-pack with Purrsephone.
Wheelin' Werecats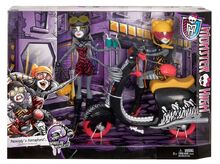 Doll: This Meowlody has waist long white hair, loose and straight, with her classical black and white striped streak of hair. Her lipstick is a pinkish red and her eyeshadow is thick yellow.
Clothes: Meowlody is wearing a simple black romper with red cat shread markings scattered all around. The straps of the romper are in an elaborated design, consisting of four straps where two intersect before the go around the shoulders and the other two just spread and pass over the shoulders like regular stripes.
Accessories: With long black boots with straps and yellow wedges with molded cat toys, she also includes a black helmet with molded ears and a strap around the chin, with yellow sunglasses that attach to the helmet and have cat ears, as well as a big yellow purse.
Extras: She comes with a detailed scooter and teal drinks.
Notes: TBA
Ghouls' Getaway
Doll: Meowlody has almost entirely white hair that is straight and pulled back into a ponytail, having one faint black and white striped streak. As for makeup she has simple teal eyeshadow and bright coral lipstick.
Clothes: Meowlody wears a sleeveless black dress with many warm colored accents and fish skeleton patterns on it, and she also wears orange open toed heels.
Accessories: Meowlody comes with a large orange flower head dress with skeletal designs, and a deep red earring on her left ear only. She also has a large orange collar that resembles her flower crown, and deep red arm bands that rest just above her elbows.
Extras: Meowlody does not come with any extras.
Notes: This is the first and only time Meowlody has been released separately.
Gallery