The Maul is the second most prominent location in Monster High canon, being the place where Monster High's student body hangs out when school's out. Several students have jobs there. Its name is a pun on the word "mall" and the word "maul".
Layout
Arcade
The Arcade is where the students of Monster High go to play arcade games. It was the first store shown in "Fright On". As seen in the intro, there is a game with a purple octopus. What it is called and how it is played are both unknown.
Cinema
This is where the ghouls go to watch the latest movies. In 'Fright On', Frankie, Draculaura, Clawdeen, Lagoona, Clawd, Cleo and Ghoulia go to see the movie "TwiHard 4: Abs Of Intrigue", but as there was a fight over the werewolves and the vampires who was going to get the best seat, they decided to catch a later show.
Clothes Shop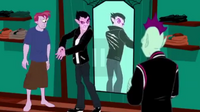 This is where the ghouls of Monster High buy their clothes. There is also a clothing shop for mansters. The monster designers that sell clothes at the Clothes Shop are Furberry, Barks Macobs, Jean Maul Ghostier, Bouis Buibbon, Ghoulbana, Ghoulace, Cadaver.
Coffin Bean
The Coffin Bean is a coffee shop Lagoona Blue works at, as shown in the "Nefera Again" and "Hyde Your Heart". The outside of the Coffin Bean store was shown in all three episodes. Milkshakes, tea, and coffee are all drinks known to be sold at the Coffin Bean.
Notice Board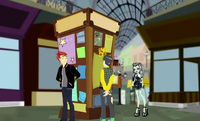 The notice board is outside the Coffin Bean shop. It informs monsters about the latest events and concerts. The notice board is brown, with notes of various colors on it.
Sasquatory & Cadaver
Sasquatory & Cadaver is a designer clothes shop. The only time it appeared was in the "Mauled " webisode.
Dolls
In 2011, Day at the Maul, a Maul-themed fashion pack, was released. A doll line called 'Killer Style I' has also been released in 2011. 'Killer Style I' is not officially Maul-themed, but the clothes the dolls wear are simplified versions of the Day at the Maul clothes, so it is considered Maul-themed. The next year, 'Maul Session' and its own 'Killer Style II' were released.
Along the fashion packs, there's also a Maul-related playset 2012 release: the Coffin Bean. The set comprises a chair, a couch, a table, and a cabinet, and includes an exclusive Clawdeen Wolf doll, available only in the set. Later in 2012, Costco sold an exclusive version of the playset that comes with an extra Draculaura. For 2013, the Die-ner is believed to be Maul-related.
Community content is available under
CC-BY-SA
unless otherwise noted.