To better cover the various aspects of the subject matter, this article has been split into one main page and several subpages. Select which one you wish to read.
This article or section is a stub. You can help the Monster High Wiki by expanding it.
Lagoona Blue was trademarked on October 08, 2008 and her first doll came out in Early July, 2010. As of January 01, 2015, her doll number totals 23 and makes up 6.62% of the entire Monster High doll collection. As a main character, there is a decent variety of other merchandise of her available.
Dolls
Basic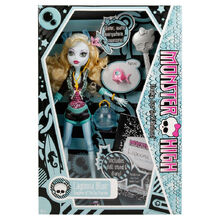 Doll: The hair is worn loose in light curls that reach a little past the torso. The haircut further features bangs curled to the right. Her lipstick is hot pink, while her eye shadow is lilac.
Clothes: Lagoona wears a pink scale bathing suit, with a teal scaly, black jacket with a hoodie attached to it. The hood has blue mesh fins on it, and black and teal board shorts with blue fishnet tights.
Accessories: Her shoes are black flip flops, with black and white striped soles. She also wears gold earrings with coral and sand dollars on them, a gold beaded necklace with a seahorse, a gold beaded bracelet, and a pink lily barette in her hair. Her purse is in the shape of a fishbowl.
Extras: She comes with a Neptuna figurine, a white doll stand and brush, and a diary.
Notes: There is nothing of note about this doll's availability or stockphoto.
Scream Uniform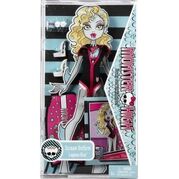 Doll: There exists no Scream Uniform Lagoona Blue doll.
Clothes: Lagoona's swim team uniform includes a low cut one piece swimsuit with a collar, a pink and green bikini top.
Accessories: She wears white and green platform sandals, and also comes with white skullette earrings and a pink and green wristband.
Extras: The outfit comes with a pink and green boogie board with a bite taken out of the corner.
Notes: There is nothing of note about this fashion pack's availability or stockphoto.
Dead Tired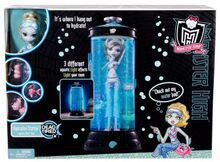 Doll: Her hair is in a ponytail and her make-up is soft pink and blue. She doesn't have much make-up on as she does usually because she's going to sleep.
Clothes: For bed, Lagoona wears a white fish-scale pajama top, adorned with her trademark pink flowers, with a matching sleeping mask. Her pajama pant bottoms are the same design as her top and sleeping mask, but blue, with rippled ribbon pockets.
Accessories: Her slippers are pink with Neptuna's face on them. There are little spikes on her slippers.
Extras: Her bed set comes with: a Neptuna figurine with a sleeping mask, one bottle of monsturizer, one water bottle, a blue shell shaped make-up compact, and a doll-sized diary with a doll-sized pen.
Notes: There is nothing of note about this doll's availability or stockphoto. She also comes with a blue bubble designed stand and a blue comb.
| | |
| --- | --- |
| | |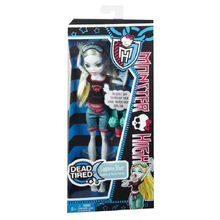 Doll: Her hair is straightened, and her makeup is teal eyeshadow and salmon pink lipstick.
Clothes: Prepared for a slumber party, Lagoona's sleepwear consists of a off-shoulder black shirt with white straps, hot pink trimming, and Lagoona's skullette with a sleep mask emblazoned on the front; bubble and fish scale turquoise sweat pants with pale neon pink trimming and drawstring. Her eyemask is turquoise with a white and pink bubble design.
Accessories: Her slippers are teal piranhas with yellow eyes, fangs, and pink fins.
Extras: She also comes with a ridged, pink mug containing a white liquid and marshmallows, with blue seaweed hanging from the rim.
Notes: Initial shipments of Lagoona's second doll include a variant that has shoes without fins, which are repaints of Ghoulia's shoes rather than Lagoona's first doll's shoes.
Dawn of the Dance


Doll: Her curly long blonde hair is tied back to create a Mohawk style and her blue highlights in her hair are more noticeable, giving her hair a sort of seahorse style.
Clothes: Lagoona wears a sea-green striped sleeveless mermaid style dress with transparent pink ruffles at the bodice and a cascading pink hem, with matching transparent shoes that sport a seashell motif. Embracing the dres is gold transparent wrap, held together by a gold seashell.
Accessories: She accessorizes with a golden kelp-styled armband, earrings and a necklace made to look like bubbles, and a seashell style purse.
Extras: The doll comes with an aqua iCoffin.
Notes: There is nothing of note about this doll's availability or stockphoto.
School's Out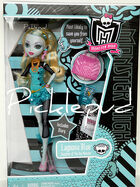 Doll: Her hair is wavy
Clothes: Lagoona wears a sea green long top and shorts with fishnets covering her upper chest with one strap on the right and fishnets going down to her elbow and the other strapless and long sleeved. The top has black buttons going down one side, a scale-like pattern and a fringe. She has fishnet stockings, one side going down to her calf like leggings and the other an ankle length sock.
Accessories: She has pink translucent high-heeled sandals, a gold and pink watch with a blue clock, a gold layered necklace, a gold braided hairband, blue pearl earrings with a pink fishbone dangling from each one, and a yellow belt as well. The outfit is finalized with a pink, translucent purse and a striped light blue folder with stickers.
Extras: She comes with a aquamarine doll stand and brush, and a diary.
Notes: There is nothing of note about this doll's availability or stockphoto.
Classroom
For Mad Science, she wears a white labcoat with a teal dress with a bubble pattern and black lining under it, a pink necklace and bracelet as well as yellow anchor earrings, on her feet she has teal high heels with yellow straps that run up her leg and tie at the top. Her hair is wavy with part of it braided and tied back.
Her extra outfit is an off the shoulder teal shirt with bubble patterns on along with teal shorts with black lining.
She includes a beaker, gargoyle egg, journal/class survival guide, pen, and a three-eyed frog figurine as well. In the stockphoto her fins in the legs are not shown.
Skull Shores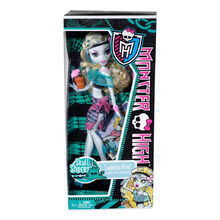 Ready for the island, Lagoona wears black tank-top with thin blue and pink stripes, with pink straps that tie behind her neck and a translucent bubbly blue cover-up. She also wears a pink, scaly patterned wrap over a pair of shorts. Her shoes are ocean blue platforms with a wavy pattern and bubble heels. Her accessories include a black headband with a pink flower on it, a pair of mismatched earrings; one being a pink octopus and the other being a turquoise tentacle and a pink octopus bracelet. She comes with an algae smoothie in a brown tiki cup with a pink umbrella and a green straw, a pink comb, pink stand, and a map of Skull Shores.
Maul Session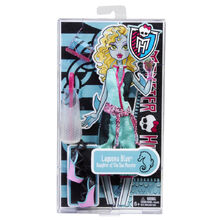 Lagoona wears a turquoise bubble patterned jumpsuit with a pink trim and bits of fishnet on the hip and left shoulder. She accessorises with a fishscale belt with blue bubble beads on the ends. Her shoes are turquoise and pink wedge heels of a fishscale motif, with black lace running around her foot. She comes with an open ended bubble bag with a single pink strap, a green drink and straw in a pink glass and pink bubble glasses which magnify her eyes.
Skultimate Roller Maze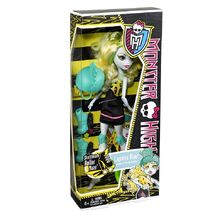 Lagoona wears a yellow one shoulder t-shirt with pink piranhas and black anglerfish printed onto it along with a black dress with a pink trim at the bottom. Her skates are green with a fish scale on the side and bubbles for laces. She has the same style helmet with a fish fin on the top and bubble strap and shell clamps, her knee pads are green and her her is pulled into two curls on the top of her head. Her right hand is posed in the shaka sign.
Dot Dead Gorgeous
| | |
| --- | --- |
| | |
Lagoona wears a strapless sheath dress with a light blue bodice that has a bubble and kelp pattern and black lining on the top, the skirt is layered with pink chiffon fabric on top, a layer of chiffon that has the same color and pattern as the bodice, and several other sheets of the same pink chiffon fabric and the actual skirt itself is underneath and has black lining on the hem as well as being part of the actual dress due to having the same pattern and coloration, she also wears a blue belt with a pink starfish buckle. Her shoes are pink and blue wedges with pearls on the straps and a conch shell motif. Her accessories include a two layer bracelet with four different charms dangling from it, a blue arm warmer, a pink and blue layered necklace that has a coral motif, a pair of mismatched earrings, one being a large pearl with a short string of pearls dangling from it and two shorter strings of pearls wrapped around it and the other being the same thing only it has nothing dangling from it, an aqua iCoffin, an orange purse with light orange kelp dangling from it and a blue shell-shaped makeup pallet, the doll comes with a picture and a silver brush and stand. Her hair is curly and pulled into a side ponytail except for one lock that is curled and hangs off the side. She also has a hot pink oyster and white pearl hairclip. Her lips are bright pink as well as her eyeshadow and wears dark green eyeliner.
Dance Class
Wearing a black leotard with designs of hot pink coral and blue bubbles on it. Her leotard has a sweetheart neckline and is secured by pink straps that start form the middle of her neckline and loops around her shoulders. Her tutu is a translucent teal fabric with tangled pink octopus tentacles and green seaweed strands. Her ballet "flats" are high-heeled and neon pink, with seaweed ribbon binding that twists around her legs, up to her knees. There is a starfish at the front of her shoes and pearls line the top of the soles which is of seaweed . She accessorises with a neon pink coral bracelet and a baby blue handbag shaped like a scuba tank which is decorated with seaweed and shell details. A segment of her hair is tied off into a tiny ponytail. Her eyeshadow is turquoise and lavender, and her lipstick is deep pink.
To Howl For
Inspired by the deep blue sea, Lagoona wears a crochet-strapped summer dress with the bodice in black with abstract green fish patterns, and the bottom being black with pink coral and teal seahorses patterning. She comes with all recoloured accessories, a white 'Basic' pearl bracelet, a translucent green 'School's Out' bag and translucent green shoes from her 'Classroom' doll. The artwork has her hair styled in a fishtail plait.
Make a Splash
For her latest beach ensemble, Lagoona wears a white-coloured swimsuit which is patterned with black, blue and pink coloured paisley swirls that resemble tentacles. On the top hem, the swimsuit features a turquoise double frill with coral pink dots, ruffling across her right shoulder. A pink plastic covers the seam of the hem, and the same pink plastic is on the bottom of the swimsuit. She wears a pair of translucent pink sandals, the same mold as her Wave 1 basic shoes. Her hair is straighter than usual, with the parting hair pulled back and swirled. She wears a translucent tentacle-shaped pink headband, and a pair of translucent aqua green round sunglasses with tentacle designs at the edges.
Her doll comes with a translucent aqua green seashell purse adorned with a braided handle and seahorses, as well as a towel with a similar pattern to her swimsuit. She does not come packaged with a doll stand or hairbrush.
Scaris: City of Frights
Setting her sights on Scaris, Lagoona dresses in a light blue sheath dress, with a long black sweater-shirt, covered in a vertical pink coral pattern, with a pink trim and pink sleeves. Her shoes are a soft pink wedge, with a bead collar, light blue octopus on the front, and tentacles on the wedge part of the shoe. She has a light aqua octopus hair clip, and a necklace of the same color, with an octopus pendant, she has a bracelet on her left arm, which is made of pink tentacles. Her bag is made of transparent turquoise bubbles, held together by a soft pink tentacle handle. Her hair is loose and curled at the base, with a very high ponytail. Her lipstick is a reddy-pink, and her eyeshadow is light blue, with a more vivid pink. The doll also comes with a scarf the same pattern as her Dance Class leotard, a black shopping bag with a pink Eiffel Terror diagonally across it, as well as a pair of her School's Out shoes, recoloured light teal.   
Picture Day
| | |
| --- | --- |
| | |
Lagoona's latest camera ensemble is made up of a teal/aqua green dress which is patterned with a water design filled with fish skeletons, sea horses and other aquatic life. It is hemmed with yellow lace at the bottom, and accompanied by a pink sheer 'shell' bikini which is attached with ribbon around the neck, as well as a black fishnet jacket. She wears a gold ball bracelet (reused from her first wave doll) around her right wrist and a set of pink bangles around her left wrist. She wears a molded gold rope as a belt, and carries a pink sea-urchin style purse adorned with a twisted canary yellow strap. She wears pink fishnet leggings and translucent turquoise sandals, which have bead chains and seahorse heels. She wears a red translucent shell chain earring on her right ear and a yellow translucent hoop earring on her left ear. Her hair is waist-length and curled, while she wears light pink lipstick and different shades of pink eyeshadow, as well as turquoise bottom lid eyeshadow.
She comes with a black hairbrush, turquoise doll-size folder with bubble decals and seahorse buckle, a Fearbook with blue title text and a black doll stand.
13 Wishes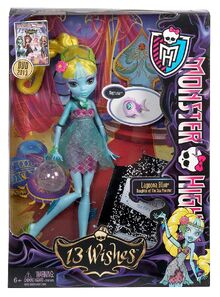 Doll: The doll's hair is tied up and is full yellow except for a blue streak in her fringe. Her skin is darker as she is now freshwater. Lagoona sports purple eyeshadow and blue-green lipstick.
Clothes: Her dress is maroon with pink and black scale shaped lines on it. It has one light aqua sleeve with a black trim. The top half has a light aqua gauze overskirt. Her shoes are clear blue with green reed designs. Her mask is also clear blue with lily pad and pond weed designs on the side.
Accessories: Her earrings are clear pink dragonflys, and her necklace and bracelet are both clear green turtle pendants. She comes a fish bowl to carry Neptuna.
Extras: She comes with a Neptuna figurine, a black doll stand and brush, and a diary.
Notes: There is nothing of note about this doll's availability or stockphoto.
Ghoul's Night Out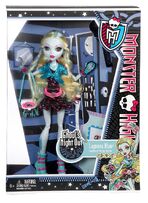 Ready for a fright to remember, Lagoona wears a black dress patterned with pink fish and sharks and white bubbles, with flounces at the bottom, paired with a sequined turquoise tied up jacket with a hot pink collar and pink shoulder patches with gold buttons. Her shoes are aqua blue with bubbles, hot pink straps and buckles, and shark jaws as heels. She accessorises with a pink belt with a silver shark buckle; an aqua shell necklace; silver shark earrings; sparkly pink fingerless gloves trimmed with blue, a messenger bag with a black body printed with aqua seaweed and bubble motifs, a pink flap edged with white teeth, and the black silhouette of a fish within the teeth, and an aqua strap. Her wavy hair is in a low ponytail, with ringlets flowing from her ears. Her makeup is pastel pink eyeshadow and cerise pink lipstick. She comes with a touchscreen iCoffin with teal wallpaper, a perfume bottle, a makeup case containing aqua and pink eyeshadows, plus a Ghoul's Night Out booklet.
Frights, Camera, Action! - Black Carpet
| | |
| --- | --- |
| | |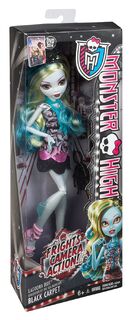 Doll: The hair is long and wavy, it is worn down to below the waist. It is parted at the left side and swept to the sides of her face. It varies in color with both a bright blonde and a bold ocean blue. Her lipstick is burgundy, while her eye shadow is a shimmery pink.
Clothes: Lagoona is dressed lavishly in Art Deco inspired garb. She wears a sophisticated dress with a square neckline. It is held up by wide silvery straps, and has black and pink swirls printed on it. Across the waist the dress is fitted with a black ribbon. Beneath her dress she wears two additional layers, in a metallic silvery pink and black, with a scallop cut.
Accessories: She wears a stylish black beaded headband with a nautilus perched on the end. Around her neck she wears different jeweled and beaded blue necklaces varying in length to give it a 'busy look'. The necklaces have various oceanic charms decorating them. Her shoes are pale pink high heel pumps. They are decorated in pearls molded all around the straps, while the heels are shaped like seashells. A black jewel is fixed onto the tips of each shoe. In her hand she holds a beaded black jellyfish purse.
Extras: She does not include any extra pieces.
Notes: The accessories pictured in the stockphoto are different in color.
Freaky Fusion - Freaky Fusions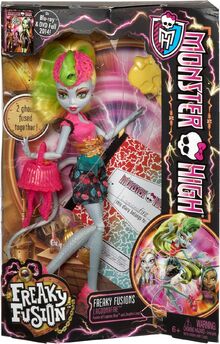 Doll: Spliced with Jinafire Long, this doll combines elements of both. Her hair is yellow with pink streaks and a lime green curl. She has gold and pink eyeshadow. Her fins are clear white with a more flame like design.
Clothes: Her top is coral pink and extends up to her neck, there are s. Her skirt is black with teal and pink jellyfish and sanddollar/parasol designs on it. The dress has teal peplums on the side. Her shoes are pink flames with a fin heel.
Accessories: She comes with a clear pink jellyfish bag, a solid pink fin headpiece with bead patterns and three golden flame belts which extends from waist to breast.
Extras: The doll comes with a brush, diary and stand.
Notes:
We Are Monster High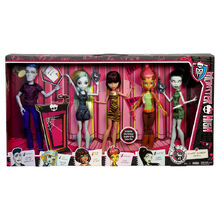 Doll: Her hair is loose with light blue and dark blue streaks.
Clothes: Her dress is black with purple, dark and light blue tentacle designs.
Accessories: Her necklace is aqua with a seahorse pendant. Her shoes are indigo sneakers.
Extras:
Notes: The doll comes in a five pack with the other Ghoul Spirit dolls.
Monster Exchange
| | |
| --- | --- |
| | |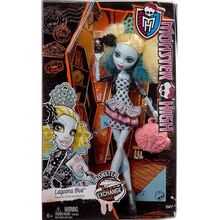 Doll: This Lagoona's hair features her classical blonde with blue streaks but this time she is wearing very tight curls in a afro. Her lipstick is a pinkish red colour. She also has some solid teal eyeshadow and black mascara. This specific Lagoona has blue eyebrows instead of her natural purple.
Clothes: This Lagoona is wearing a modern take at the classical flamenco dancer dress. This dress is a short tube dress in white with pink and blue polkadots and two layers of ruffles in her waist, the upper layer is white with black polkadots and seamed ends and the lower ruffle is pink with thin lines. Over the dress she wears a black bolero jacket, with a sea polkadot theme that looks like octupus tentacles.
Accessories: She wears a sea inspired blue mantia in the to pf her head, with molded pearls and bubbles, as well as a big black plastic rose in her head. She has dangly pink earrings with molded octupii. She is also wearing gravity heels in a black greyish transparent plastic, with molded swirls and a big pink rose at each side, as well as a strap that wraps around her lower leg.
Extras: This doll comes with a regular black stand and brush but also comes with her passport /diary: Lagoona Blue's Monster Exchange diary
Notes:
Wheel Love
Doll: Her hair this time around features tight blonde curls in a side afro bun, with a coral streak. Her lipstick is light pink and her eyeshadow is pink under the crease and blue along the browbone.
Clothes: Her outfit is a simple short romper with shells and bubbles printed in it. The romper is sleevless and it features a ruffled collar around her neck, to secure it. It also has a twisted braided rope in pink, around her waist.
Accessories: She wears a gold helmet with a big molded fin in the top and molded little fins all across it. The handle to secure the helmet to the head is bubbles and shells. She also wears skating gear, like elbow and knee pads, in gold with molded skullettes, and skating heel boots, with wheels in the sole and molded gold fins, as well as a big blue fin for the heel. She also comes with a bracelet mad of golden pearls.
Extras: This Lagoona comes with a black brush, a black female stand and a black male stand, the Wheel Love Gil Webber doll and a diary for the two.
Notes: This doll is only available in a two-pack with Gil.
Fangtastic Fitness
Doll: This Lagoona's hair features a big blonde bun in the top of her head, with coral streaks in each side of her hair. She is also wearing coral orange lipstick and very light blue and pink eyeshadow.
Clothes: This Lagoona is inspired by yoga practices. With a sporty look, she is wearing a top t-shirt with sleeves falling around her shoulders. This shirt is made of a pink scaled pattern, whith printed white fish skeletons, outlined in black. This top is seamed in blue in the neck line. She is wearing sport shorts as well, in simple pink with seams at the bottom. These shorts seems to have a print similar to real life shells.
Accessories: She only comes with one accessory, a blue yoga mat. She is not wearing any shoes.
Extras: This doll does not come with any extras.
Notes:
Great Scarrier Reef - Glowsome Ghoulfish
Doll: This Lagoona has been turned into a mermaid, and displays completely different features from her regular design. She now has a deep blue tail with molded scales and a fun design at the top of the fin, with pink details in a crescent moon shape and yellow stripes around. At the end of her tail, a removable fin sprouts, in, yet again, a crescent moon like shape, with swirls at the edge, all in translucent blue. This fin allows her to stand on her own. Her arm fins are chunkier and glittery and she also sports a pair of articulated wings in translucent light blue, that resemble fish fins. Her makeup is neon and tropical, with a combination of bright pink, yellow and orange spot design around her eyes and her lips are a bright blue. Her hair is her regular blonde, styled in a side ponytail with a twist knotted around the ponytail, from her hairline. Her hair features thick bright blue and pink highlights.
Clothes: This Lagoona does not have legs, resulting in a simplistic outfit. All she wears is a wrap around her bust, exposing her stomach, that wraps around her neck, in a dark blue fabric with pink starfish designs.
Accessories: Lagoona wears a translucent pink body wrap-like accessory that wraps around her neck and flows down her bust, breaking into a translucent pink thread of pearls, along with an arm band in the same color. She also wears a pink ruffled belt around her waist.
Extras: This doll does not come with any extras.
Notes: The doll can stand on its own
Playsets
For organizational purposes, information on the playsets associated with Lagoona Blue, either because the playsets are made for their dolls or because one of their dolls is included with them, is only available elsewhere on the Monster High Wiki.
Costumes
Basic
Merchandise
Friends
Apptivity
Pen
Gallery
Community content is available under
CC-BY-SA
unless otherwise noted.