Hawkeye Is Here To Amaze - The Loop
Play Sound
To better cover the various aspects of the subject matter, this article has been split into one main page and several subpages. Select which one you wish to read.
This article or section is a stub. You can help the Monster High Wiki by expanding it.
Lagoona Blue debuted in the cartoon series in the Volume 1 webisode "Jaundice Brothers", which premiered on May 5, 2010. She is voiced by Laura Bailey in Generation 1 of the English version, and by Larissa Gallagher in Generation 2.
Volume 1
Webisodes
When Radio KBLOOD announces a contest of which the prize is that the Jaundice Brothers come play at the winner's school's homecoming dance, Lagoona helps Frankie put together a tape to sent in. As luck has it, they win the contest. Jaundice Brothers
Lagoona, Draculaura, and Frankie attend Monster High's 1361st Annual Charity Talon Show to root for Clawdeen, who gives a killer performance. Talon Show
Lagoona tries out for the Fear Squad, where she needs to impress the demanding captain: Cleo. Fear Squad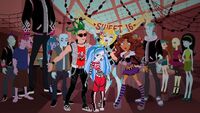 Lagoona's Trigular Calcometry 101 class is hosted by a substitute teacher, Lou Zarr, who does not get along with the class. A conflict with Deuce leaves him petrified, upon which Lagoona and the other students consider the class dismissed. Substitute Creature
Lagoona and her friends organize a double-surprise party for Frankie and Draculaura, who are respectively having their Sweet 16 (days) and Sweet 1600. As part of the organization, Lagoona and the others have to reject invitations by both Frankie and Draculaura for a single-surprise party for the other. While not fun, the double-surprise party makes it all worth it. Party Planners
Lagoona has a crush on Gillington "Gil" Webber, but rather than act, she is too insecure and clueless to talk to him. When she goes into another daydream about Gil, he takes her Clawculus book containing a drawing of the two of them. The sound of the school bell awakens Lagoona from her reverie to find her book missing. Her moment of panic is broken when Gil hands it back to her, along with an invitation to meet at the fountain. Blue Lagoona
Lagoona is one of the people Clawdeen confides to that she hasn't studied for the SAT. She is later seen taking the SAT in Mr. Where's class. Copy Canine
Lagoona supports Frankie when she develops a zit on her cheek, though it isn't easy. She tries to quietly share with her friends that she thinks that Gil is cute, but because Frankie carries a mask to hide her zit and thus doesn't hear very well, Draculaura repeats Lagoona's words loud enough for Gil, who's sitting a table away, to hear. Bad Zituation
There's a school's production of Hamlet coming up and Lagoona tries to land a role. Her frog orchestra, however, is not a success. Clawditions
Mr. Hackington wants the class to dissect frogs, but Lagoona is horrified by this idea. She gets Frankie to cause a distraction so she can make off with the frogs. She finds them a new home in the girls' bathroom. Freedom Fight
It is both Friday the 13th and Halloween, a rare occurrence that spells bad luck galore until three o'clock. Lagoona and her friends panic, but Cleo assures them that her amulet will protect them. However, Ghoulia's carrying the amulet and she just walked off. The girls chase after her to be safe, only to find her use the amulet to get to the big clock and adjust the time to three o'clock. Freakout Friday
Lagoona and Frankie attend the Mad Science Fair, where they find Cleo to have stolen Ghoulia's project. They try to get her to get it back, but Ghoulia declines. Cleo wins the fair and claims the 'throne', which actually is Lagoona's project: a rehydration chamber. Lagoona dunks Cleo, then hands Ghoulia the remote of the rehydration chamber. Mad Science Fair
When Frankie's friends discover she's never seen a movie, they promptly take her to the auditorium to watch the entire TwiHard series. In preparing for the movie session, they overtax the room's electricity net. To solve this, the group hooks up the equipment to Frankie, allowing the movie session to go through but Frankie not to watch anything. Shock and Awesome
Clawdeen tells Lagoona about the upcoming track meet. Rumor Run Wild
Heath Burns challenges Clawdeen to two laps on the track, with the loser having to clean the Pit of Horror. Since it's full moon, Clawdeen wins with ease and she, Lagoona, and Draculaura come to laugh at Heath during cleaning duty. Fur Will Fly
Draculaura has a chance to meet her perfect guy, but she has to get into contact with him before school's out. Lagoona attempts to stop him by siccing her frogs on him, but he just steps over them. Horrorscope
Cleo utilizes her mind-control idol more and more, despite Lagoona's concern. Idol Threat
Lagoona partners up with Gil to take care of an egg for a whole week as an assignment for Mr. Hackington's class. Hackington, however, suggests they switch partners because "everyone knows that sea monsters are bad parents." Angered, Lagoona and Gil vow to be the best caretakers of the class. A week later, their egg is the only one that hatches. Hatch Me If You Can
Lagoona attends a sleepover at Clawdeen's home. A Scare of a Dare
In regards to an essay, Lagoona is asked to contact her parents so the teacher can talk with them. She is certain she's messed up her work, so her friends try to help her by dressing Slo Mo up as her aunt Lantic and get him to talk to the teacher. Lagoona is mortified when she learns of the plan, but relieved when it turns out the parent-teacher conference is about how brilliant her essay is. Parent-Creature Conference
TV specials
Lagoona meets Frankie on the Wednesday of Frankie's first week at Monster High, offering her some friendly advice on how to get into the Fear Squad. She later sees Frankie completely forget her advice upon learning of an interview with Cleo regarding the Fear Squad. The next day, Thursday, when Frankie flees to the pool after ruining her interview by making Cleo believe her boyfriend, Deuce, cheated on her, Lagoona shows her disappointment in Frankie not taking her advice, and gives her the cold shoulder for it. Come Friday, once Frankie finds a way to apologize to Cleo, Lagoona is impressed by her having taken her advice to heart this time to make amends and show her new friends a good time. New Ghoul @ School
Volume 2
Webisodes
Lagoona is discussing makeup with Clawdeen and Draculaura in the hallway Frankie drops by. They skeptically ask her about the Fear Squad, which Frankie asserts is doing well. Scream Building
Lagoona has been made captain of the Swim Team, which is why she has to turn down membership of the Fear Squad. Why We Fright
Lagoona fulfills her Swim Captain duties at the Spirit Rally and later hangs out with the Fear Squad. Varsity Boos
Lagoona consoles the Fear Squad when it seems their chances of getting into Gloom Beach are over. Gloomsday
The Fear Squad's video has barely gotten any hits, so the team and Lagoona try to promote it. With Ghoulia's help, they manage to lure in a big audience and reach 999,999 hits. However, FrightTube chooses that moment to crash. Falling Spirits
The Fear Squad and Lagoona anxiously look on as Ghoulia tries to do something about the crash. Despite her best efforts, the clock strikes 3:00 PM before she succeeds. Cleo tearfully thanks her friends for all they've done, but the mood is promptly improved when Deuce delivers the news that FrightTube crashed because of all the traffic to their video. Rather than a million hits, they've got twn million hits. Their Gloom Beach invitation follows soon after. Fatal Error
As many students do, Lagoona goes to spend her Spring Break at Gloom Beach. During the ride, she has a dream of rescuing Gil from suffocating. Screech to the Beach
Lagoona participates in a game of water polo. Witch Trials
Lagoona invites Gil for another game of water polo, but he dejectedly refuses. Lagoona pushes for a reason, and he admits there's a problem and that telling her would hurt her feelings. Don't Cheer the Reaper
Gil confesses to Lagoona that his parents object to him hanging out with a salt water monster and that he doesn't know if he should go against their wish. Lagoona is left crying, though recovers by the evening to root for her friends at the Gloom Beach competition. Road to Monster Mashionals
Gil tries to talk to Lagoona, but she refuses to listen if he is not willing to stand up for his own beliefs. Queen of the Scammed
Lagoona joins Cleo in spending the night of Friday the 13th at Monster High. They encounter a monster roaming through the school, but it turns out to only seek people to celebrate its birthday with. Frightday the 13th
Lagoona makes the werecats her enemies too by standing up for her friends, then joins her friends for lunch. The topic moves to relationships and Frankie lies she has a boyfriend. The girls want to meet him, so Frankie brings a life-sized voodoo doll to school the next day. Weirded out, the girls assure Frankie she does not need a boyfriend to fit in. HooDoo You Like?
Lagoona and Gil win a swimming contest, at the end of which Toralei takes a picture of them holding hands for the fearbook. Fear Pressure
Lagoona is overjoyed with a spread of just her and Gil in the fearbook until Gil confesses he lied about his parents being okay with them dating. Lagoona angrily avoids Gil for hours, telling him to stand up for himself whenever he does catch up with her. Fear the Book
Gil chooses to be loyal to Lagoona. He calls his parents to tell them of the amazing sea water girl he has met at Monster High, which they don't respond well too. Lagoona, on the other hand, couldn't be happier. Desperate Hours
It's the end of the school year and Gil and Lagoona talk about how they hope they'll see each other over the summer and that Gil's parents will start to accept their relationship. As they embrace, a ghostly hand appears from the wall and snaps a photo of them with an iCoffin. Elsewhere, Draculaura, Frankie, and Clawdeen are all busy clearing out their lockers when Draculaura comments that she has subscribed to the Ghostly Gossip, a Monster High rumor blog, to keep up with anything happening during the holidays. She then receives an update from the Ghostly Gossip about Gil and Lagoona and the survival chances of their relationship during the summer vacation. Miss Infearmation
The party at the de Nile residence is going strong, much to the delight of Cleo. Clawd is locked in a pizza-eating competition with a hydra. He wins, but rather than congratulate him, Draculaura refuses his company and runs away. Elsewhere, Slo Mo prevents Heath's attempt at music by destroying his guitar. Both events are witnessed and reported on by Spectra Vondergeist on the Ghostly Gossip.
Clawdeen goes to chat with Lagoona and asks her if Gil is enjoying his summer vacation. Lagoona replies that he isn't returning any of her messages and that she fears it has to do with his parents' wrath. As Clawdeen attempts to reassure Lagoona that Gil likely is just busy right now, elsewhere, Frankie Stein is upset because Jackson hasn't yet arrived. His cousin, Heath, doesn't know where he is either, but suggests that humans simply can't be trusted. Hyde and Shriek
The girls then notice that Toralei, Purrsephone, and Meowlody are back from the Trigular Calculometry Summer Math Camp, and Clawdeen overhears them saying that Nefera is always wearing the newest trends, so they want to follow her and copy her look. The girls then get the idea of finding a new 'style' to show to Nefera.
Cleo attaches plungers to her heels, Clawdeen wears toiletpaper holders as earrings, Lagoona wears a garbage can as a dress, Frankie wears a bee hive on her head and Draculaura uses roadkill as a purse. Nefera returns and says that they look ridiculous, but they tell her that they are brand new fashion statements, and surely Nefera must have heard about them, since she's a famous model.
Nefera is embarrassed about her apparent lack of knowledge of the new 'top fashion', and demands that the girls hand them over to her. She then dresses in her new 'outfit', becoming the laughing stock of the Maul as passers-by take pictures on their iCoffins.
Draculaura says that Nefera will never be able to show her face at the Maul again, to which Cleo replies that it is the best day of her life. Just then, Frankie points out that Toralei and her friends have indeed copied Nefera's new look, to which the girls all laugh. Nefera Again
The webisode opens with Abbey Bominable, the new student, walking down the hall, dropping snowflakes wherever she goes. Heath Burns attempts to flirt with her, but she "coldly" shrugs him off, freezing him solid in the process.
At their lockers, the ghouls discuss being back in school when another text from the Ghostly Gossip, showing a picture of a frozen Heath. When the first bell rings, Frankie questions where Lagoona is, which Cleo replies that she's probably with Gil, as the two haven't seen each other all summer.
Meanwhile, Toralei is assigned to an advanced math class by the guidance counselor, much to the joy of the Fear Squad. Clawdeen asks Toralei outside the counselor's office a very advanced maths question, which Toralei answers. The ghouls cannot help but laugh at her. As Toralei makes her exit, Lagoona walks out of the girl's bathroom, sobbing. She states that Gil's parents sent him to another school and runs off crying. Jackson comes out of the boys bathroom he nervously shrugs off Frankie's questions about Cleo's party, saying that he didn't go because he needed to "change" he then walks back into the boys bathroom leaving Frankie a bit confused, as she walks off, slightly disappointed, Spectra snaps a picture of her. Back-to-Ghoul
Frankie and Abbey both go into stalls, and they see Toralei and her gang come into the bathroom. Toralei says that she couldn't believe that Frankie and Abbey were unaware that she started the snowball fight. Frankie and Abbey plot revenge when they hear that they're planning to throw the rest of the Fear Squad in the pool. After Lagoona's swim meet, with the Fear Squad there to congratulate her, Toralei and her friends are just about to push them in, only to slip when Abbey freezes some water on the ground, causing them to slip and grab a lamp to avoid the water in the pool. The bracelets then come off, and Frankie invites Abbey to come with her and her friends to the Coffin Bean at the maul. Abbey says she would love to go with the ghouls. Frankie leans in to hug Abbey but gets frozen solid and the episode ends with the Fear Squad laughing. Frost Friends
Frankie notices Jackson in the hallway, but she is blown off yet again, leaving her confused and slightly hurt. Then Toralei shows her a text from the Ghostly Gossip stating that she was dating two boys at once (Jackson and Holt), and that there was the possibility of a third. This leads her to accuse Draculaura as being the Ghostly Gossip, which turns into a fight between the ghouls until Lagoona shows up and tells them that the Ghostly Gossip is the one tearing them apart.
They hatch an idea to leave their diaries on the ground, and the one that remains untouched is the traitor's. As they turn around, Spectra floats in from under the ground and attempts to snap a few photos before Lagoona and Ghoulia, who had been hiding in the bleachers, point her out. The girls question her motives, but Spectra explains that she wasn't ever trying to hurt them.
She says that she idolizes them, and writing stories about them was her way of showing it. She wanted to let others live their lives through their exploits, and because she only heard half of what they said, it was up to her artistic side to make up the rest. Frankie says that she could've just asked them, to which Spectra replies that she was much too shy for that. They decide to be Spectra's friend but just as long as she didn't write anything about them anymore.
As Frankie shrugs off the rumor of her dating three boys and not even having one, a heartbroken Hoodude appears and beats on his chest, hurting many other male students in the process behind him. Ghostly Gossip
Frankie, Lagoona, Draculaura and Clawdeen are brought to tears by Deuce's story. Hiss-teria
Lagoona Blue breaks out in tears over Gil; Clawdeen Wolf and Draculaura completely ignore her while favoring a conversation about when Clawd Wolf can go out with Draculaura, and Cleo de Nile is too preoccupied spying on Deuce Gorgon and Operetta, in which she finds "evidence" that Deuce Gorgon was legitimately cheating on her. The Bermuda Love Triangle
Here Comes Treble Rising From the Dead Monster Mashionals Part 1
While the ghouls are performing, Nefera attempts her idols and charms, to which all are blocked by the ghoul's friends. The first sends a magic spell at the ghouls, but Abbey freezes it in mid-air. The second turns out the stage lights, only for Heath to provide light with his flames long enough for Ghoulia to turn the lights back on. The third summons a royal guard who throws a disk at the Fearleaders, but Clawd catches it before it reaches them. The fourth summons a shadow-like monster that flies toward the stage, but Operetta shatters the idol with her voice causing the monster to vanish. Monster Mashionals Part 2
Special webisodes
Cleo and Ghoulia are walking up the steps to Monster High when Nefera appears from the doorway and casually ridicules Cleo's fashion sense. This hits Cleo deeply, and in her anger she insults Clawdeen's choice of new lip gloss. Clawdeen in turn lashes out at Draculaura by claiming her look is outdated, and Draculaura subsequently calls Frankie nosy when the latter asks if she's okay. Ghoulia witnesses all of these and many more fights between girls break loose as a chain reaction of negative feelings. When her friends finally gather in the creepateria yet still won't stop fighting, Ghoulia requests help from the Kind Campaign founders.
The duo gathers all the girls at Monster High in the auditorium and presents them with two questions: 1.) Have they ever been treated badly by someone else?; and 2.) Have they ever treated someone else badly? Everyone present, except Cleo, confesses to both, and the Kind Campaign founders make it a point that each of them has the ability to put an end to the negative feelings. They present the crowd with a special booth which they can enter one by one. Inside is a mirror to which they can confess their true feelings, after which each reflection comes alive for a moment to explain that harsh treatment always hurts but that they can choose not to hurt others. All take the message to heart.
Cleo is the last one to enter the booth, which she does reluctantly, and also the one who stays in longest. When she comes out, she breaks down at the sight of her friends and apologizes. Monster High is back to being a pleasant place, just like Ghoulia hoped it would be. Later that day even, she and Cleo come across Nefera again and rather than insult her back for the earlier remark, Cleo calls her a great older sister. Nefera is actually moved by this enough to act polite to the Kind Campaign founders in return. Kind: The Shockumentary
TV specials
Frankie, Draculaura, Clawdeen, Clawd, Lagoona, Ghoulia, and Cleo have an appointment at the Maul to go see TwiHard IV: Abs of Intrigue. While waiting, Ghoulia buys herself a smoothie, but Cleo takes it from her and drinks it herself. Draculaura is late because she and Clawd discovered a sale and Draculaura just had to buy some of the outfits and accessories. Amused, the group makes their way to the theatre where a long line has formed by then, mostly consisting of Belfry Prep vampires and Crescent Moon High werewolves. All of them react oddly on the sight of the group and Clawd theorizes it's because he, as a werewolf, and Draculaura, as a vampire, are friends. Frankie resolves to say something about it, ignoring Lagoona's and Clawdeen's protests. She loudly tells the vampires and werewolves present that Clawd and Draculaura are dating, causing even more muttering, at which point Lagoona finally gets to say she thinks the initial attention was because Draculaura has toilet paper stuck on her boot. The theatre opens and the vampires and werewolves rush inside, trampling the Monster High students, who decide to catch a later show.
Later, as the Fear Squad prepares with the help of Ghoulia, Lagoona, and Gil, Frankie is both made clear that everyone is pessimistic about their chances of making werewolves and vampires get along and made leader of the project, as she remains positive and enthusiastic about the matter nonetheless. The group promises to help her as well as they can, including Abbey, who comes in to return Frankie's right arm after she threw it through the window by accident.
The next day, the Fear Squad welcomes the new students and all goes as disastrous as predicted. Cleo finds that the Belfry Prep student body doesn't respect her like the Monster High student body does, and the vampires and werewolves nearly get into a fight with each other. Frankie tries to argue they don't have to, pointing out that Clawdeen and Draculaura are best friends, which only makes the situation worse. Eventually, conflict is avoided by the appearance of Romulus, pack leader of the Crescent Moon High group, who tells his friends that they should not cause trouble on their first day. While this seems like a positive development, it is not. Cleo is deeply insulted by the way she was treated by Gory and refuses to let her and the other vampires on the Fear Squad. As she takes a drink from Ghoulia again, Frankie convinces her that if she accepts the new students, the rest of Monster High will follow her example. Cleo obliges, on the condition that she remains captain, which Frankie agrees with but Gory and her team disagree with. Later at the gym, Clawd and Romulus are playing a match of casketball and catching up on old times. When the vampires enter, Romulus's mood sours and gets worse when Clawd introduces Draculaura as his girlfriend. Again later, the group notices that the Belfry Prep vampires are manipulating the Monster High zombies into their service and that the Crescent Moon High werewolves are marking parts of Monster High as their territory. A minor incident over Draculaura brings two werewolves and three vampires nearly into a fight, causing Frankie and Abbey to rush to Bloodgood to discuss a plan before the situation escalates. They come up with a party at the cemetery—neutral ground—to get all groups to socialize.
Though Clawd broke up with Draculaura, the rumor that the werewolves have harmed her infuriates him and he demands Romulus to tell him what happened. Romulus denies involvement and points out that, if anything, Clawd should be worried about what has happened to his little sister. Clawdeen joins him then, revealing that she went to talk with the vampires and that they swear they haven't harmed Howleen. With Frankie also missing and Bloodgood's statue gone, Clawdeen figures that Frankie was right and that Van Hellscream is behind all the disappearances. She and Clawd decide to first find their friends and family using their superior olfactory abilities. This leads them to the catacombs, where they get Operetta to be their guide. The captives have freed themselves meanwhile and are making their way outside when they are attacked by scargoyles. With combined strength, they manage to hold the creatures off just until Clawd, Clawdeen, and Operetta find them.
Aboveground, the fight is soon to break out. Cleo stops caring about her ill feelings towards the vampires and confesses she just wants her Monster High back. Again, she takes a drink from Ghoulia, but as she looks at her friend and considers how the vampires treat the zombies, she breaks down and tells Ghoulia that she is sorry and that the only reason she sometimes takes her for granted is because she can't imagine a life without her best friend.
Right before the fight can commence in the gym, Howleen and Draculaura burst in to tell both sides to stop. The werewolves and vampires are surprised to see their kin well and free, so Bloodgood and Frankie explain Van Hellscream's plan and why Monster High is such a threat to him. Realizing they've been manipulated for awful goals, the vampires and werewolves agree to peace and the entire student body gets together to quickly put up a party to leave a good impression with the Skullastic Superintendents. The plan succeeds, and after they've left, the students and Bloodgood confront and corner Van Hellscream and Crabgrass. Van Hellscream threatens to use one of his many potions and charms against the monsters, but Deuce beats him to it, petrifying both him and Crabgrass. Following this little interruption, the party continues. Fright On!
Volume 3
Webisodes
Lagonna and Frankie pull Ghoulia aside, arguing with her that she did the right thing to stand up for her pals but that there is no way the zombies are going to win. At that moment, Manny turns up the ventilation system as part of another insult to the zombies, which gives Ghoulia an idea.
When the match commences, Ghoulia's team is allowed the first throw and Ghoulia takes it, sending the ball bouncing on the floor away from Manny's team. Her opponents laugh at first, but then Frankie turns up the ventilation system to maximum and Lagoona removes the seal of a pipe. The ball is sucked into the system, hauled upwards and then shot down onto Manny's team with great force. As per Ghoulia's calculations, every member of the opposing team gets knocked down by the ball, ensuring the zombies their victory and permanent captainship over dodgeskull at Monster High. Dodgeskull
Her name is Spectra Vondergeist and she's one of the many fish swimming in a sea of trouble. She thought her shift would be easy, but easy's never around when a man is involved. Heath Burns, the local trouble on the double, stepped into her office that night, begging for help. It seemed that someone was trying to set him up and bring down the blame on him for something he had no part in.
The case was forehead-deep in mystery goop. One statue was taken from the hallways, with only a few scorch marks left to point at the perpetrator. Heath had been a smart kid to seek aid with Spectra and this was a case only her sixth sense for scoops could get to the bottom of. With long, lone years of experience, she went down the list of witnesses efficiently.
Finding many with a pale bone yet to pick with the burning bother, Spectra invited them all to the office of Headless Headmistress Bloodgood, the dame who would decide on Heath's fate. Her audience was reluctant, but Spectra was no quitter, but a deliverer. With a face cast in steel, she interrogated those present on their grudges against Heath, proving that each of them was just a likely to have done away with the statue.
Feeding the tension, Spectra waited for the bubble to burst when Bloodgood received a phone call. Something about statue cleaners, blowtorches and Monday. When the Headless Headmistress was ready to acknowledge the rest of the room again, she gave everyone permission to leave. Spectra left the room content, secure in the knowledge that justice always got the lion's share while she was around. Ghosts with Dirty Faces
The Nine Lives of Toralei Unlife to Live
Frankie and Draculaura meet at the pool where Draculaura shows her the new necklace Clawd bought for her. Draculaura lets Frankie try her necklace on, but before Frankie can even put it around her neck, an electrical charge bolts the necklace to the Deep End (of the Monster High pool). Draculaura becomes frantic and won't even let Frankie consider going down to retrieve it. When Frankie so much as asks about the Deep End, a nearby boy launches himself outside a nearby closed glass window.
Lagoona overhears them and reveals that the Monster High pool is the deepest in the world, and that no one knows what lurks down there. Frankie still accepts the challenge despite Draculaura's frantic pleas to just let it be. Determined to make things right, Frankie dives into the pool complete with heavy scuba gear and Lagoona as her companion.
Inside the Deep End, they come across a monster which has been hoarding treasures, including Draculaura's necklace. Frankie bravely goes into its lair and shocks it, gaining not only the necklace but various other items lost by students, and the monster returns all the items that have been lost. Abyss Adventure
The trio goes to see Cleo, because as the most popular girl at Monster High, her popularity allows her to influence the students in a way none of them can. Though Cleo wants to help, but thinks that associating herself with trash would sooner harm her popularity than boost the will to recycle in the other students. She elaborates they need to make recycling seem cool, to which Clawdeen suggests a fashion show.
The girls get to work recycling trash into fashionable dresses, and with the help of some friends they turn the creepateria into a fashion hall. Heath hosts the show, which easily sways the students' mindset on recycling. At the end of the show, the trash in the creepateria is all sorted in the appropriate trashcans, and Venus is happy. Unearthed Day
Frankie and the other ghouls receive detention from Mr. Rotter, but aren't given a reason why. Instead, Mr. Rotter interrogates them one by one, expecting them to confess something. Cleo goes first, which she confesses that she used an idol to cut in front of everyone in the lunch line, but it cursed her pizza, bringing it to life. That wasn't the confession he was hoping for.
Then, Frankie confesses about a perfume induced sneeze caused her to accidentally shock students in the hallway, but that wasn't what Mr. Rotter wanted to hear either. Lagoona admitted to her crime of passion due to the frogs almost being dissected, and Clawdeen admits that her brother ate her homework. Heath confesses to burning several items, and Draculaura's confession is so full of mixed information that Mr. Rotter, frustrated, dismisses her.
Finally giving in, he admits that he believes that one of them stole his glasses, but in reality, they were on his head the entire time. As he dismisses the students, he yells about someone stealing his pen, but Clawdeen points out it was still in his pocket. As Mr. Rotter sits down in the interrogation chair, the cursed pizza activates it and shocks him. Creepfast Club
Lagoona's frisbee is borrowed, which Toralei in a pretend-game throws into a cactus field for Hoodude to catch. Needless to say, Lagoona felt the needles.
Lagoona goes to her friends and relays what happened to her and Frankie points out she had a similar experience. Draculaura questions why Toralei has been hanging out with Hoodude, and the ghouls get their answer when Toralei pushes in one of Hoodude's needles as he holds Cleo's Biteology book, causing her chest pain. Lagoona then gets an idea and, after giving Hoodude Toralei's bracelet, lets him practice off the high dive of the pool as a test for Swim Team membership. This causes Toralei to get splashed with water for the next three hours. Hoodoo That Voodoo That You Do
I Know What You Did Last Fright
Mr. Hackington showcases a powerful device of science to his class, but before he can show what the device does, he's called away by Headless Headmistress Bloodgood because of a dragon fire. Before leaving, Mr. Hackington says that he'll be back in five minutes and that if anyone touches the device, the whole class gets detention. Like always, Heath gets into trouble when he's bored, so he pokes around with the device until he turns it on, thereby shrinking the whole class.
Frankie tells everybody that Mr. Hackington is coming back to the class in four minutes and if he sees them like that, he is going to freak. Abbey says that there must be a reversal button on the machine, but Lagoona says it is too far to jump across. Heath thinks that he can fly the paper airplane, but the excitement gets to him and he burns the paper airplane. With one minute left Abbey uses a lab baster (with help from Clawd and Heath) and her ability, to make an ice bridge. Before they could use the device, a spider blocked their way, so Frankie had an idea where they would use Draculaura's fearleading skills to get to the ladder on the right setting.
Mr. Hackington returns and gives everybody detention. The ghouls are trying to find out how Mr. Hackington knows they played with the machine when the now-giant spider says that it wasn't him, thus revealing how Mr. Hackington found out their not-so-small secret. Honey, I Shrunk the Ghouls
Cleo calls Clawdeen about a party at her house, to which Clawdeen Wolf calls Frankie, Frankie calls Lagoona and Lagoona calls Abbey. However, Clawdeen mentions that she can't get a hold of Draculaura and that she's more stressed than any of them about her finals, so she goes to her house only to find her sobbing. Clawdeen calls the other ghouls over and tries to comfort her, to which Draculaura reveals she has polka dots all over face, claiming she has 'polka-dot fever', which is caused by stress. The real problem, though, is that Draculaura is saddened that she's going to miss the party, but Clawdeen exclaims that if she's not going to make it then they weren't throwing it at all, to which everyone agrees except Cleo.
Draculaura disagrees and says to go on with the party without her, before breaking out in tears once more. Clawdeen then says her great-great grandwolf Harriet had an amazing home-remedy to cure polka-dot fever. The girls agree to try her cure, but it only works for a split second. Abbey tries to apply one of her village's century old cures, and again, its gone for a moment then comes directly back to her. Lagoona Blue puts frogs around her, but that doesn't even work at all. Finally, Cleo then tries to cure it by using one of her ancient powders, but predictably the dots only disappear for a second. As Draculaura walks away still depressed, Frankie's bolts spark and she exclaims she has an idea.
Outside Cleo's party, the ghouls have Draculaura blindfolded, and when it's removed Frankie says since they couldn't get the dots off they decided to make the party polka-dot themed. Overjoyed, Draculaura wipes away a tear as she says they're the best ghouls any vampire could ask for, and that her stress is gone. And at that moment, so were her dots. The webisode ends with all the ghouls dancing and having a good time at the party. Night of a Thousand Dots
Spectra floats through school, sadly mentioning that it is a slow news day and that she needs a new story, when she suddenly overhears Frankie on her phone saying she has tickets to a concert. Not refusing a gossip chance, Spectra reports the story, she says as she is speaking aloud before her laptop computer: "She gets to take her best friend", then while typing says: "Her choice to go with will reveal her BFF."
Once the gossip goes live, Cleo assumes it is her, but Clawdeen and Draculaura assume the same thing, following up with Ghoulia, Jackson, Lagoona, and Abbey. An argument starts between all of them, and they confront Frankie, all saying that they are her best friend and they should go to the concert with her.
Confused, Frankie states she's not her best friend, which they all groan sadly to, and Frankie then says she's taking her best friends. Thus ending the feud between all of them, the ghouls then confront Spectra, who admits she only heard half the story and, like always, forgot to hear the important facts, the infamous reporter of the Ghostly Gossip disappears through the wall. Best Ghoulfriend
Nefera walks up to her sister and the current fear squad in the Maul and asks where they're going. Frankie explains that every year the fear squad works at the Coffin Bean for free, with Clawdeen adding that all the proceeds go to a children's charity. Nefera brags that she still holds the record for the most money earned, but Cleo jumps in and says "until today." Draculaura, knowing what's going to happen, says, "Here we go."
The next scene shows Frankie and Cleo standing next to a device that Frankie explains will keep track of how much money they earn for the charity. It has a tag on it that shows Nefera's record, and Frankie says they need to get a little bit above her record, but Cleo says they should put their goal twice as high as Nefera's. Draculaura's then shown at the counter, getting excited about their first customers of the day, who are Lagoona, her boyfriend, Gil, and Ghoulia. Lagoona and Gil take their orders while Cleo and Frankie make the orders.
Later, Frankie says they've almost beaten Nefera's record, to which Cleo excitedly responds that her sister's record is going to be ancient history. With a line out the door showing a big chance of victory for Cleo, Nefera's shown spying on her sister's success until Toralei comes up to her. Toralei teases that Nefera's record is going to be broken, but then Nefera brings out an amulet that she calls, "Cleo's bad luck charm." Nefera activates the amulet and it does its job, causing much damage in the Coffin Bean, which ends up making the fear squad owe a bunch of money for the damages, and they're back to where they originally started.
Nefera then walks into the shop and says that her sister's attempt was an epic fail, laughing at their failure to break her record. Cleo then says it's over, and Lagoona asks her if she's really giving up. Frankie points out to Cleo and the others that to actually achieve Cleo's goal, they'd have to serve at least 500-customers within at least an hour––when Frankie laments that she herself doesn't even know 500-monsters, Lagoona assures her and the rest of the squad that together, they do. They all start texting their contacts, showing Spectra, Ghoulia, Slo Mo, and Clawd getting some of the texts.
The Coffin Bean is then shown again, full with customers and a line out the door. Nefera, not realizing what's going on first, sees what's happening now, and is angered by her sister's success. Draculaura's then shown giving orders to some of the customers, and then Nefera's shown again when a mob of zombies comes by towards the Coffin Bean. At first, Nefera tries preventing them from entering, but she gets trampled by them. Frankie goes to the device that's keeping track of all the money earned and excitedly shouts that they've actually exceeded way beyond Cleo's goal and made it way past the top of the device.
Everyone celebrates the fear squad's success. Nefera's then shown, the aftermath of getting trampled by the zombies, and Toralei walks up to her. Toralei then jokes that it seems that the amulet was actually her "bad luck charm" rather than Cleo's. Nefera accidentally drops the amulet and it breaks, and then Nefera's shown with a troubled expression, knowing what's going to happen now that the amulet's broken. Bean Scare, Done That
The Dance of the Dead is next Friday and Draculaura, Abbey, Cleo, Clawdeen, and Frankie are full of excitement about it. During their conversation, it comes up that Abbey won't go to the dance because no boy asked her to be her date. The girls are flabberghasted, but before they can react properly, Heath approaches. He requests their attention, and specifically Abbey's, for a juggling act. He does well for about two seconds, after which he fails to catch all balls and two even land on his hand. Abbey's amused, but Draculaura sends him away. The girls suggest that Abbey tries speeddating to find herself a date for the dance, to which Abbey agrees.
The girls arrange everything for Abbey, and soon a long line of boys has formed for a chance to be her date. Cleo spots Heath in the line and gets the others to remove him, as none of them believe that he is not trying to pull a prank. Abbey, meanwhile, is rejecting one candidate after the other. With the line growing smaller, Heath returns and burns the clothes of the last candidate, which has him running off to extinguish the flames and the others distracted. Heath sneaks past to Abbey. He has just enough time to ask her to pick him before Abbey's friends send him away. Dejectedly, Heath makes his way to the door but trips, making Abbey laugh. As such, she accepts him as her date. A Perfect Match
Rochelle catches Frankie, Jackson, and Lagoona reviving a dead creature. She tells them that it is not allowed. Frankie, Jackson and Lagoona beg Rochelle to let it slide, but Rochelle rejects the request. She hands them the passes and warns them not to commit such an act again. Rochelle is alone in the hallway later on and admits that it does not feel good to be giving passes to her friends and believes that the job of a safety officer is probably not the job for her.
She returns to the Headmistress's office and is about to return the badge, when suddenly, the ghouls yell, "Surprise!" and yellow balloons fall. The headmistress congratulates Rochelle on passing her test and she promotes her to the head of her new safety team, which consists of Heath, Manny, and Slo Mo. Heath announces, "Deputy Burns, reporting for duty!". His hair ignites when he tries to salute, thus causing his sleeve to catch fire. Manny then grabs a book and tries to put out the fire. Rochelle, shocked, questions how she'll protect the school from the safety team. The Halls Have Eyes
Cleo, Lagoona, Frankie, and Clawdeen sit at a lunch table when Cleo asks if anyone saw Brain Dead Beach the previous night, and Clawdeen replies she was howling about it. Then, Draculaura comes running and screams, "Cooties!" in which she warns the ghouls that one of the students has cooties.
Cleo, Lagoona, and Clawdeen freak out and follow Draculaura, saying they gotta get out of there. They exit the cafeteria and into the hallways. Frankie tells them to wait and says even she knows cooties don't exist. Draculaura then says they are real, and Cleo backs her up, saying nobody would go near her to make sure they don't catch it themselves.
Clawdeen then explains that if she does, then she has to pass them on to someone else before she becomes an outcast. Frankie then makes a comeback by saying it's a myth they use to scare little kids. Lagoona then comments that they are real and they're scary. Some of the backgrounders are then shown running away, and Simon Clops has it. He then passes them onto Invisi Billy, who turns invisible and passes them off to Gory. Everyone backs away from her, but then Howleen and Romulus are walking out of the catacombs, talking, unaware of what was going on. Gory, taking the chance, turns into a bat and passes them on to Howleen, who passes them on to Romulus. Romulus then gets upset at her and calls Howleen a traitor to her own pack for giving him cooties.
Cleo, remembering that, grabs her teleportation amulet and she transports to Toralei. She gives Toralei the cooties and teleports away. Purrsephone and Meowlody back away from Toralei, and Toralei remarking they are supposed to be her best friends and gets sad. Frankie then says for everyone to stop and walks over to Toralei. Cleo tells Frankie to not do it, but Frankie says they may be real, but that doesn't mean they have to play along. Frankie asks Toralei to give them to her, and Toralei gives them to her without questioning.
Frankie then says that if they want to banish her, then go ahead. Lagoona then realizes and agrees with Frankie that it doesn't matter if she has cooties, she's still herself. Clawdeen follows Lagoona's action and says she's still her friend. Cleo then agrees, and Frankie then begins sparking and the cooties get annoyed with her electric power, causing them to leave, and everyone rejoices over the cooties leaving the building. Scare-born Infection
All the guys and ghouls of Monster high are frightfully ready for a night of celebration, everybody seems to have a plan for the new year. Everyone except Frankie.
Frankie is sitting on her own worrying about her non-existent plans when suddenly her bolts go slightly array with only four seconds left till midnight and she freezes everybody in time. Getting up she sees Heath entering the room apparently exiting the bathroom and asks Frankie "What is going on?" Frankie immediately tells Heath not to touch anything and Heath falls into two pots, ending up with one on his head and the other on his right hand.
Frankie then walks over to her friends marveling that they are so excited for the upcoming year. She wishes that she was too and sparks on Clawdeen who bursts into life and claims how excited she is about launching her own clothing line and quickly falls back into submission. Frankie then zaps Cleo who announces 'her word of 2013' then finally Frankie moves onto Ghoulia who moans and Frankie translates "Of course you're gonna cure Skulliosis" and giggles. She then angrily glares at Heath and asks what he is doing. Heath declares that he is building a fort out of zombies and creates an imaginary finger gun and pretends to shoot some 'frozen' friends.
Frankie then walks around describing what other monsters will be doing including Operetta, Venus and Robecca. However, Frankie still feels upset that she has no plans and Heath cheers her up by saying that the idea of 2013 means that there are so many surprises waiting for her. Frankie suddenly feels much better and wonders how Heath suddenly became so smart and Heath tells her that is was a secret. Finally, Frankie is ready for the new year and reverses the freezing by feeling so happy. The students count down from three and all shout Happy boo year! Heath salutes and promptly falls over as Spectra catches a picture of him falling. Boo Year's Eve
Gil is preparing for a date with Lagoona, and he did not expect his parents to try talk him out of it last minute. Exasperated to have this talk again, Gil rejects their claims that sea monsters are ill-mannered and selfish. He recalls the time he and Lagoona took care of an egg and the time Lagoona helped frogs escape death-for-dissection to put strength behind his words.
Next, Gil gets to the accusation that Lagoona can't be trusted on account of her species. Declaring Lagoona the best friend anyone could ever ask for, he recounts incidents with Frankie and Slo Mo in which Lagoona went out of her way to comfort or help them.
Gil's parents are still not convinced, but Gil can't be bothered. He tells them he won't stop seeing Lagoona or cancel the date before leaving his room angrily. To his parents' relief, he comes back a moment later, but to their disappointment, only to get the bouquet for Lagoona he had forgotten. Promising to be back early, Gil leaves his parents to wallow in their disapproval alone. Defending Your Lagoona
Mr. Where is holding auditions for the lead role in an upcoming dance performance. Five girls are striving for the part, but that doesn't stop them from being supportive of one another. Operetta's and Howleen's attitudes are the most competitive and become swiftly aimed at Rochelle Goyle, who, due to her weight, is not secure about her dancing skills.
The first round of the auditions has all five girls dancing on stage at the same time. A combination of her downed confidence, her own clumsiness, and Howleen and Operetta impulsively deviating from the prescribed choreography to draw attention has Rochelle performing awfully. Robecca helps her up and off stage while Lagoona is asked to stay as the first candidate for the second, solo round. The others prepare for their own calls, but not Rochelle, who is crying. Invisi Billy, one of Mr. Where's assistants, tries to cheer her up. Rochelle laments she is too heavy and clumsy to have any chance at the role of lead dancer, but Invisi Billy disagrees and comes up with a plan.
When Rochelle is called up, Operetta and Howleen speculate on how bad she'll perform this time. What they don't know is that Invisi Billy has invisibly gone on stage with Rochelle. Rochelle starts dancing, aided by Invisi Billy for extra balance and strength. Mr. Where is impressed, remarking that Rochelle defies gravity, and giver her lead role. Rochelle thanks Invisi Billy for all his help, who leaves quietly to enjoy the disbelieving look on Howleen's and Operetta's faces. Fright Dance
Venus rushes across school to request various objects from her friends: bandages from Cleo, distilled water from Lagoona, and a thermometer from Abbey and Frankie. Curious, the four girls follow Venus to discover she needs the items to nurse a sick tree. And not just any tree, but the oldest, still-living tree at Monster High. Venus confides that something is wrong with his roots, but she doesn't know how to help him. Frankie suggests they ask around for someone who does know how to help a dying tree, which reminds Venus of Mother Nature.
The group, sans Cleo, go to a quiet pond in the middle of a forest so Venus can communicate with Mother Nature. The old entity imparts that Venus and her friends are to recall their good memories of the tree and love it back to life. The girls immediately call Cleo and get her to gather the entire student body around the tree.
The students are initially skeptical about their need to be there for the tree, until Venus reminds them that the tree symbolizes their history. Spectra remembers the great stories she wrote under the tree, Manny notes he lost five soccer balls to the tree's branches, Ghoulia thinks back on all the times she studied under the tree, and Draculaura and Clawd recall how the tree was part of their first date. As the students share their individual experiences with the tree, his roots plunge back into the soil and leaves sprout from his branches. With no doubt that the tree has been revitalized, the students celebrate. Tree of Unlife
Cleo is not surprised, elaborating that Deuce told her he and Clawd had promised Hackington to help repair his hearse. This confuses Lagoona, who corrects that the boys are going to Gil's house to work on a rap album. As if the three differing stories weren't enough of a clue they'd been lied to, the 'rap album'-part convinces all present that something fishy is going on.
The girls, along with Frankie, confront the guys and are finally told they'd been planning their Guys' Night Out for tonight and that they don't want to cancel that. Cleo asks them what they are planning to do if they were so secretive about it, but Clawd replies a girl wouldn't understand. Just then, Jackson passes by and makes an intimidating gesture towards Clawd, which Clawd responds to just as intimidatingly. As the guys walk away, the girls decide that they need to find out what the guys are planning to do. To this result, all of them outright spy on their male friends throughout the day, noticing talk about battle strategies and more intimidating behavior. Their conclusion is unanimous: the boys are planning a fight. The girls thus decide they have to stop them.
They get Ghoulia involved to help them track the boys, which brings the group to the cemetery. Following the noise of tough talk, the girls find the boys... playing a board game and playing it pretty seriously no less. Perplexed but also relieved, Cleo proposes to leave them to their game, but Lagoona objects, saying that the spectacle is hilarious. As the boys continue with their play-battle, unaware they're being watched, the girls get themselves popcorn. No Ghouls Allowed
A party is held at Monster High and Frankie helps out with catering, creating and distributing smoothies to her fellow students and the teachers present. Frankie's Joltin' Juice
Ghoulia attempts to invite Toralei, Meowlody, and Purrsephone to her party, but is met with mockery because she can't voice the purpose of her interruption fast enough on account of being a zombie. Ghoulia's friends come to her aid, but this does not stop the werecats from mocking Ghoulia. Ghoulia retorts that she's just as fast as Toralei, so Toralei proposes a race: Whoever gets to Hackington's classroom at the other side of the school first wins. The loser will help with the catering at the winner's party. Ghoulia accepts the challenge, after which the werecats swiftly run off.
Ghoulia's friends contemplate how they can help Ghoulia win the race and if they have a right to interfere, but before they can reach a conclusion, Ghoulia has already left. She makes her way to the catacombs, while aboveground the werecats have run out of breath and decide to walk the rest of the way, as even then a zombie can't possibly be faster than they are. They even take the time to discuss a headline for the race as it can be written about in the Ghostly Gossip with Spectra. Meanwhile, Ghoulia reaches the zombies' highway in the catacombs, where the zombies tickle large dragons' noses so the resulting sneeze will launch them in a pre-decided direction to elsewhere in the school. As such, Ghoulia easily reaches the classroom before the werecats do, much to their horror.
Ghoulia and her friends have the time of their unlife at Ghoulia's party. The werecats provide catering as promised, if reluctantly and with a bite to it. Toralei offers two zombies another slice of pie, but trips and gets the pie on her head. The others laugh, but Toralei takes it in stride because the pie is delicious. Tortoise and The Scare
Fierce Crush Invasion of the Ghoul Snatchers
Ghoulia solves a difficult equation, earning her much admiration from the Mr. Rotter and the class. Slo Mo admires her too, but sorrowfully, as he thinks that he is not smart enough to fit Ghoulia's preferences for a love interest. When he later finds her the center of attention as she earns a million points on the Dead Fast video game, Lagoona notices his distress and insists he's not too unintelligent for Ghoulia. Slo Mo refuses to believe her and inquires about the magical artifacts Cleo has access to. Lagoona thinks Cleo will have something to help Slo Mo, but discourages the plan. Slo Mo pulls a puppyface though, which convinces her to help him ask Cleo for aid.
Cleo does not have Lagoona's reservations and quickly hauls up an intelligence potion and its antidote from the artifact collection. Slo Mo eagerly drinks it and not only is the change in his intelligence immediate, but also the change in his personality. This worries both Lagoona and Cleo, but they let him be.
The next day, Ghoulia and Frankie witness Slo Mo playing an simultaneous exhibition chess match and winning each of games. Shortly after, he, Ghoulia, and Don are part of a debate competition and, ignoring Ghoulia's wish to do the next rebuttal, Slo Mo launches a long-winded insult at the opposing team's debate qualities. While most in the auditorium are impressed, Ghoulia is angry that Slo Mo did something arrogant and mean like that. Her anger only grows mere hours later, when Slo Mo checks the details of the equation she solved and publicly criticizes and improves it.
Aware he messed up, Slo Mo goes to Lagoona for help to talk with Ghoulia about his actions. Lagoona answers that Ghoulia doesn't want to see him because he's become a jerk. Slo Mo defends himself by saying he now is what Ghoulia wanted, but Lagoona corrects that he now is who he thought Ghoulia wanted. She hands him the intelligence potion's antidote then, leaving the choice to Slo Mo. Slo Mo chooses his old self, making both him and Ghoulia happy in the end. Flowers for Slow Moe
Finnegan Wake (Rider), the new guy at Monster High, is racing through the hallways in his wheelchair with little regard for other people. He is looking for Frankie Stein, who is to welcome him to the school and guide him around. When he finds her, she is in the company of Draculaura and Lagoona Blue. The three girls had been reading Finnegan's blog and figured him to be all about extreme sport, but when they see he is wheelchairbound, they quickly decide to keep him far away from anything too physical. Unfortunately for them, Toralei and her buddies overhear their plans.
The first activity the girls show Finnegan is Penmanship Class, which he is not at all impressed with. They suggest the Library Club, Yarn-collecting Club, and Rock & Pebble Society as alternative things to do, at which point Finnegan ditches them, furious that Monster High doesn't offer him anything exciting. As the trio loses sight of him, they ask Toralei if she's seen Finnegan, and she replies that she not only saw him, but also told him about the Skultimate Roller Maze track in the catacombs.
The girls make their way to the track, where Clawd's letting Finnegan use the track. They berate him for letting Finnegan do something this dangerous, but Clawd counters that not too long ago girls weren't allowed to play SKRM either because others believed it to dangerous for them. As Clawd continues that Finnegan can decide for himself what his limits are, Finnegan crashes during a jump. Frankie asks if he's okay, to which Finnegan enthusiastically replies that he'll do that jump again. As the girls hesitate, Finnegan argues that if Monster High is about being yourself, they should respect his choice to do what he wants to do. He promises that if he needs help, he'll ask for it. Frankie and co. finally agree to stop getting in Finnegan's way, even when he asks them to light his wheels on fire for the second jump. Ready, Wheeling and Able
Lagoona objects to Hackington getting the award, as she remembers his anti-phibian sentiments from when she and Gil had to take care of a gargoyle egg all too well. Cleo also objects on grounds that Hackington enjoys to torment his students by laughing at their misery and threatening they'll fail his class. Bloodgood is shocked to hear this and notes that the award will go to Rotter then. Cleo objects to that candidate too, stating that he is too hard on the students. Frankie adds to that the time he accused several students of taking his glasses, while they were only gone due to his own inattentiveness.
Bloodgood agrees that neither candidate is the kind she wants to hand the Creature of the Year award. Readying herself to start her selection anew with Nightmare's help, Frankie suggests to award her steadfast assistant. And so, Bloodgood announces Nightmare as the Creature of the Year during the ceremony, much to the chagrin of Rotter and Hackington. Everyone else cheers and Nightmare proudly leaves the stage, though not before happily snorting some flames towards the two disqualified teachers. Creature of the Year
Student Disembodied President Field of Screams Angry Ghouls The Stich-uation Scarah-Voyant
Special webisodes
After winning the Gloom Beach tournament, the girls take their time to relax on the beach. The same is true for Ghoulia, who arrives with a large amount of books she intends to gain knowledge from. Cleo is appalled by this, certain that her friend does not know how to have a good time. As such, she and the rest of the girls organize a day of fun for Ghoulia, despite Ghoulia's insistence she already was having fun.
First of, the girls get Ghoulia dressed in appropriate beach attire. Next, the girls go on to build sand castles. Ghoulia starts work on a sturdy, real-life scale castle of sand, but her design stand is knocked over by Heath. Next, Frankie and Cleo take Ghoulia aside for some archery practice. Slo Mo and Don watch as Ghoulia prepares her bow, upon which Cleo takes off Ghoulia's glasses to make her look prettier. As a result, Ghoulia misses the target and accidentally hits Hoodude, whose pain is transmitted to Heath.
Distraught about the depressing experiences, Ghoulia walks off to cry. Cleo and the girls come after her, and Cleo apologizes for insisting that Ghoulia has fun their way instead of her own. Ghoulia accepts the apology and goes back with the others. First, Ghoulia completes her sand castle, which all of the girls find fun. Next, she tries archery again, but this time with her glasses on, and hits the bullseye. As the others are cheering, Cleo admits that Ghoulia's definition of fun is pretty fun. Zom-Beach Party
Draculaura and her friends were hanging out when Cleo came to them with the news that Emily Anne, a beloved anti-hate campaign and blog icon, would visit Monster High that day. The girls rushed to the bathroom to make themselves presentable for her arrival. However, in their eagerness to meet the celebrity, Draculaura's need for assistance with her appearance because she can't check herself in the mirror was ignored. A particular mean remark by Cleo made Draculaura's feelings go from helplessness to being unwanted. Ghoulia still tried to help her, but Draculaura was too emotional to still accept any help and told Ghoulia off. When she left, the water monster, who had seen the entire scene in the bathroom, approached Ghoulia and comforted her.
Draculaura ends her diary entry by acknowledging that she treated Ghoulia awfully and that that is not like her at all. The water monster approaches her and asks what Draculaura ís like, coaxing a few acknowledgements of positive traits out of Draculaura. This makes her feel better, and Draculaura agrees to come with the water monster to greet Emily Anne. It isn't until they are at the main entrance of Monster High that Draculaura realizes the water monster is Emily Anne, who had been walking around incognito to see the special monster school herself. Due to the confidence Emily Anne gave her, Draculaura is capable of facing and apologizing to Ghoulia. Emily Anne gives a small speech that having flaws and acknowledging them is a good thing, because flaws are what gives people their individuality. With Draculaura's story of the day as illustration, the crowd cheers at Emily Anne's positive message. We Stop Hate
Frankie just passed the theory portion of her driving test and has the road test scheduled for the afternoon. Her friends are happy for her, but their mood turns sour when they find out her instructor is Mr. Fenderbender. Knowing Frankie needs it, they each offer to help her prepare.
Cleo invites Frankie over to her place and offers her a potion: the Essence of Scario Fangdretti, a race car champion. Frankie is uncertain and accidentally drops the bottle, setting the essence free to speed off. She suggests she'll just study with her book, but her friends disagree. In the gym at school, Abbey has created a course and car made of ice for Frankie to practice with. This session goes decently until Heath Burns stops by and involuntarily melts the setup. Frankie's suggestion to study the old-fashioned way is shot down again when she invited over to Gil's house, along with Lagoona and Jackson, to play Extreme Graveyard Derby. Jackson claims the video game taught him how to drive, but Frankie doubts that when the in-game police motions her to pull over and Jackson argues that you never pull over. Being urged to drive faster, Frankie crashes in-game, which startles her and makes her shock everyone present.
That afternoon, Frankie returns to the Department of Monster Vehicles for her road test. She witnesses Fenderbender treat another student harshly, making her fearful of her own odds. Taking strength from the fact her friends are present to support her, Frankie goes for it and passes the test easily. Her friends want to know which of their plans was the deciding factor and are unamused that Frankie replies her own studying was what had helped her through the road test. Department of Monster Vehicles
Rochelle usually is the one to take Frido, the class pet, home with her during the weekend, but she has the Gargoylympics to go to this particular weekend. As such, she's looking for someone who can take care of him this time. Draculaura wonders aloud who would say no to "such a luxurious coat", which Cleo overhears. She immediately volunteers, thinking she'll get a coat, but doesn't back out when that turns out not to be the case. Rochelle instructs her to abide by three rules: never give Frido cheese to eat, keep him warm, and never let him near electricity. Cleo is a little overwhelmed, but her friends offer to assist her.
At Cleo's house, Draculaura and Frankie are enjoying a cheese table when Frido comes begging for treats. Frankie warns Draculaura not to give him cheese, but Frido proves the kind of pet that just takes what it wants. Assuming he's thirsty, Abbey gives him a bowl of water, which is frozen by her powers. Lagoona tries to call her back, but Frido has already taken a sip and is feeling the effects. Frankie tries to wrap a blanket around him to get him warm again, but Frido tackles her, provoking a charge from her.
With all three rules broken, Frido gets hyperactive. Cleo gets a call from Rochelle, whom she lies to that everything is going well. To her horror, Rochelle announces she'll come get Frido in a moment. The girls quickly run after him, only to find him in the middle of the living room as a skeleton motionless lying among his shedded fur. As the girls are mourning, Rochelle steps into the room. They try to apologize and console her for the loss of Frido, but Rochelle assures the rest of the girls that Frido's perfectly fine--as it would seem, Frido's not dead: he's just hibernating (basically sleeping). Rochelle elaborates by explaining that since the girls had (unintentionally) broken the rules she had set out for them, it just made Frido start his hibernation process a week earlier than he normally would've (Frido then briefly wakes up, revealing that Rochelle's telling the truth). The girls, especially Draculaura, are relieved by this. Royal Pest Sitter
The girls are preparing cookies for a bake sale, but Cleo is late. She arrives just before the bell, unashamed of her lack of commitment and proud of the new giant mutant octopus polish adorning her fingernails. Her friends aren't amused and tell her to get to work immediately. Cleo does so, if warily of what damage baking may do to her nails. However, due to her lateness, the bell goes when she's barely even touched an unbaked cookie. The group leaves to continue baking later.
What no one noticed is that a bit of Cleo's nail polish stuck with the cookie dough she touched. It becomes sentient, absorbing the other cookie dough and growing in size and hunger rapidly. Its first victim is Mr. Hackington, who sneaks into the kitchen area to steal a cookie. Next, the girls enter. The first thing they notice is that all the cookies are gone and the second that there is a cookie dough monster on the loose. They flee the room screaming.
The boys in the corridor, waiting in line to be the first bake sale customers, try to fight the creature, but even Deuce's gorgon stare doesn't stop it. Almost all of them are subsequently eaten by the cookie dough monster, but when it's Heath's turn to become a snack, the monster's weakness is found: heat. Heath quickly bakes the monster to death, after which all his friends and Mr. Hackington emerge alive from the cookie spill. Frankie spots the nail polish bit that caused all the trouble, revealing that Cleo is to blame. When Headless Headmistress Bloodgood arrives and orders the mess to be cleaned up, everyone agrees that to be Cleo's job. Cleo takes solace in the fact that at least the cookie spill contains chocolate chips. Cookie Creeper
TV specials
Lagoona is with Frankie during most of their attempts to help Draculaura with her Sweet 1600th Birthday celebration. When she learns of Valentine's plans for Draculaura, she turns to C.A. Cupid for help with stopping him. When Toralei causes chaos upon getting a hold of Cupid's bow, Lagoona teams up with Frankie and Abbey to disarm Toralei and leave her dangling above the Pit of Eternal Body Odor as punishment for her actions against Draculaura. Why Do Ghouls Fall in Love?
Lagoona invites some of her friends to join her on a trip during Spring Break back home to Australia to visit the Great Barrier Reef and her parents. During the trip, the boat is wrecked by a kraken, stranding the ghouls until they are rescued by Bartleby Farnum and taken to Skull Shores. Sensing something not right with Farnum, Lagoona and Gil try to infiltrate his boat to find evidence of his true intentions, and learn of his search for the Beast of Skull Shores. When Lagoona decides to try and get help, or gets injured, Gil leaves, apparently out of cowardice, but secretly goes to warn her parents and get some backup, including the kraken who sunk the ghouls' ship. With the kraken's help, along with the other reinforcements that Lagoona's parents sent back to Skull Shores with Gil, Lagoona and the others are able to return to Monster High. Following after Farnum tries again to capture the Beast of Skull Shores, now known as Andy, wrecking the school in the process, Lagoona returns to Skull Shores with the rest of the students to enjoy their extended Spring Break for the week needed to repair the school alongside the locals of Skull Shores, the Tiki. Escape From Skull Shores
The ghouls are skating against a rival team in Skultimate Roller Maze (SKRM); highlighting the following players as they skate; Clawdeen, Draculaura, Frankie, Lagoona, Abbey and Ghoulia, then finally Cleo. It is then shown Lagoona crosses the finish line and wins the game for Monster High. Her teammates skate over to congratulate and then the scene flips to Frankie, introducing what SKRM is all about, stating that girls are some of the best players, although it wasn't always that way. Last season was an example and then the film flashbacks to said time. The flashback begins with an unseen announcer welcoming all to the Skultimate RollerMaze game between the Nightmares of Monster High and the Gargoyles of Granite City, and both sides of the crowd are cheering for their team. The four fearleaders; Frankie, Draculaura, Clawdeen, and Cleo; are cheering for MH.
Abbey, who is in the crowd with Lagoona, Jackson, and Ghoulia, along with others, states that she does not see the point in 'skate game' seeing how she's known how to skate since she was up to the height of a yak's knee. Lagoona then points out that Skultimate RollerMaze is so much more than just a skating game; that it's a course full of twists, turns, obstacles and so much more; the whole point of the game is how you react to what's thrown at you. She also states that the Gargoyles are Monster High's biggest and oldest enemy, saying that every time one school wins, they get the other team's school crest, saying that it's been a tradition that has been going on for centuries. The scene then flashes to and stays at the race between Monster High and Granite City, in which Rocco, the leader of the gargoyle team, grabs one of the camera bats, and Gary, his fellow teammate, sneaks up from behind Deuce, taking his glasses off and they turn the camera bat to stone, to leave no evidence of their cheating. Rocco and Gary then knock over Deuce and Gil, leaving them in the dust whilst chasing after the rest of the team.
The school continues to fall apart, everyone even more miserable than before. Abbey, Draculaura, and Frankie realize this and then, out of the blue, Frankie hatches up a plan to recruit new members for the SKRM team, so that way MH can beat Granite City and win back the crest! After a bit of reluctance, the ghouls round up almost every boy in the school and judge them for the skills needed in Skultimate RollerMaze; agility, strength... and the ability to skate, most importantly. Whilst doing this, Ghoulia is in the SKRM track, looking for evidence that the Gargoyles cheated, however, a certain something distracts her. A tiny piece of metal, and as of now, it's unknown as to what it is. However, back to SKRM tryouts, where the ghouls judge the mansters carefully, only to the news that most of them can't stand in rollerblades. Lucky for them, Lagoona attempts to teach them, only to be taunted by the fact that a girl of all monsters is teaching them how to do 'their' sport. Nonetheless, she wows them and at first, she's skeptical once Frankie suggests she participate on the team, especially once the boys continue to say that ghouls don't play SKRM, however, Lagoona recollects a memory of a certain SKRM superstar... Robecca Steam! The first ghoul to play SKRM over 100 years ago. Despite this fact, the boys stick to their motto that Skultimate RollerMaze is for guys and they all leave the ghouls to fend for themselves, however, they team up together and vow to win, for Monster High!
The movie ends with a roll call of the new co-ed team: Clawd, Operetta, Manny Taur, Gil Webber, Lagoona Blue, Heath Burns, Rochelle Goyle, and Robecca Steam. Friday Night Frights
Lagoona is among the students who decide to visit New Salem High to pay them back for the damage to Monster High. She later befriends Chad and Clair, a couple of the students, before having to return to Monster High, and be punished with detention for visiting the human school. When learning that Jackson Jekyll is still over at New Salem, Lagoona joins Frankie, Deuce, and Abbey with trying to rescue him, only to fail as Lilith Van Hellscream exposes him as Holt Hyde to the New Salem Sheriff, causing Holt to be arrested, and Lagoona to return to Monster High to receive detention again from Bloodgood. Lagoona helps to distract Mr. Hackington, the detention teacher, while Frankie goes to get Cleo and Lilith to confess to the Sheriff on their parts in the actions that have Holt facing the Trick-or-Treatment. Afterwards, she helps with saving Holt and joins everyone in the Hall of Halloween to celebrate. Ghouls Rule
Clawdeen Wolf plans a 'Flashion Mob', a surprise fashion show starring herself and her friends at school. Meanwhile, Rochelle Goyle chases after a rose petal given to her by Garrott du Roque, her boyfriend from Scaris, which was knocked from her hand by students attracted by the attention from Clawdeen's show. However, thanks to a 'mix-up' from Toralei, Heath is put in a dress and heels and ends up clumsily tripping and abruptly ending the show.
Thanks to Ghoulia, however, the fashion show was put on FrightTube (with the awkward ending edited out) and had gotten quite a large amount of views, including Moanatella Ghostier, a renowned fashion designer. Clawdeen urges Ghoulia to remove the video, as fashion is about rules and Clawdeen herself believes she broke most of them with her outfits. But it had already caught Moanatella's attention, who had a very unique problem. She needed a protégé to carry on her designs, as she was running out of ideas and when people stop paying attention to her, she fades away. So she sends for three students, Jinafire Long from Fanghai, Skelita Calaveras from Hexico and last but not least, Clawdeen Wolf. Bloodgood calls in Clawdeen and her friends to explain the good news, and with a little begging, agreed to let her friends, consisting of Frankie Stein, Draculaura, Abbey Bominable, Cleo de Nile, Ghoulia Yelps and Lagoona Blue. She also let Rochelle Goyle accompany them, as she is from Scaris.
Finally in Scaris, the ghouls drop Clawdeen off at Moanatella's headquarters, and Frankie, Rochelle, and Ghoulia Yelps go look for Garrott in secret while the remainder of the group take in the sights.
In the cafe, Cleo, Abbey, Draculaura, Lagoona and Toralei talk about frightseeing only to see Ghoulia very sad about her scooter. Ghoulia says it's worth about a jillion and sees an idea on how to get money nearby.
Clawdeen was shouted at by Moanatella for the third time for not following the rules of fashion. Later on, she finds courage to look for inspiration on her old sketch book but Moanatella comes and tells her to throw it away, so she does after Moanatella goes through the floor. So, she starts designing like her the same time Toralei seems to make the frightseeing less fun for the other ghouls. After that, Moanatella tells the three designers that if they hear her ring the bell for three times, it meant she made a decision. She leaves after saying this.
Clawd, Deuce and Heath wander the streets of Scaris (passing by Ghoulia without noticing her) looking for the ghouls. Clawd smells Clawdeen's scent and follows them into the catacombs. Using their powers, they rescue the ghouls and Garrott. Clawdeen announces a desire to 'beat Moanatella at her own game.' Skelita and Jinafire show up, having sensed that something bad was going to happen, and give Clawdeen her old design book back. The rest of the ghouls get to work designing a full fashion line of clothing, while Moanatella sets up her own fashion show across town.
Despite having lots of help, the ghouls aren't going to get finished it time, so Clawd reveals that it's a full moon, which causes Clawdeen to work double-time. At last, the show is finished, so they gather it up to take it to the fashion show. Ghoulia (who has bought a car with the money she's earned!) offers to help them get to the show.
They crash Moanatella's show and show off Clawdeen's real fashion line. The people love it and cheer Clawdeen, causing Moanatella to vanish forever because no one is paying attention to her. Skelita and Jinafire express a desire to transfer to Monster High, while Garrott tells Rochelle that he will stay in Scaris. The movie ends with the Monster High group posing at the fashion show. Scaris: City of Frights
Clawdeen Wolf and the ghouls have had a major blast exploring the wonderful 'City Of Frights'. Clawdeen found out that her fashion book came alive the more she wrote fashion designs in it. But their fun has just begun when they took separate planes. Frankie took Clawdeen's bag by accident and the book came to life and ran away. After Frankie found out about the book, Frankie and the ghouls travel around the world—from Scaris to Fangladesh to the Himalayas to Haunt Kong to the Scarehara to Transylvania to Doombai—to get it back before Clawdeen finds out about the book missing. They get it back at the end and they found out that the book was teaching a lesson to them. The lesson was that chasing the book led them to many places, and that they need to enjoy the trips. From Fear to Eternity
Monster High welcomes back the students for the new scaremester. Everyone talks about the upcoming events for the year such as the upcoming occultation (eclipse) while expressing what they wish would happen throughout the new school year. Howleen Wolf, who no longer wants to be an outcast, plans to take more action as so far as to arrange her name in lights while her shadow friend, Twyla, protests against it. Frankie Stein, Clawdeen Wolf, Lagoona Blue, Draculaura and Ghoulia Yelps spot Howleen and attempt to stop her, however they are too late and are later punished to clean the school attic by Headless Headmistress Bloodgood. Howleen apologizes as they clean while Clawdeen tries to understand her little sister's reasoning, but is dismissed by Howleen very quickly. As she moves away and cleans more of the attic, Howleen unknowingly eventually finds the lantern and releases Gigi. The pink genie introduces herself and explains that Howleen is her new finder and therefore is granted thirteen wishes. Howleen uses her first wish to wish the ghouls and herself out of detention. As Gigi grants the wish, they disappear in a flash of light and unintentionally free Whisp. The shadow genie sees the opportunity of another eclipse and follows the ghouls unseen.
The ghouls later arrive at the Maul to fang out as Gigi elaborates on Howleen's twelve remaining wishes and warns her there is a 'dark side' to using them. However, seeing Howleen excited about using her wishes, Clawdeen advises Howleen to take Gigi's words seriously. Howleen, however, takes it defensively and runs off with the lantern while annoyed at her sister's words. Later, back at Monster High, Draculaura helps Abbey Bominable run against Slo-Mo for Student Disembodied President while Frankie shows Gigi around the school. Despite the argument earlier, Howleen took the advice to heart and uses some of her wishes to help her friends: Lagoona turns into a freshwater monster to convinced Gil Webber 's parents to like her, Clawd Wolf along with Heath Burns and Manny Taur get casted on the show 'Die Trying' and Abbey becomes the new disembodied president. Before Howleen can congratulate herself, Gory Fangtell torments her in the bathroom and leaves her crying alone. Watching from afar, Whisp uses this opportunity to take advantage of Howleen to wish for things more for herself. She summons Gigi, who is alarmed by Whisp and warns Howleen about the wishes. However, Whisp reminds her about the rules and Howleen uses her next wish to become popular.
As days pass, some of the side-effects of the wishes begin to take effect around the school and cause problems such as Lagoona becoming obsessed with being freshwater, the obstacles of Die Trying becoming very dangerous and Abbey's ideas as president not being taken well by the school. Twyla then tells Frankie and Gigi that Howleen is beginning to not act like herself and she senses something strange within the shadows. Frankie asks if Gigi knows anything, but Gigi sadly tells them that she cannot say anything due to the Lantern's magic. Frankie and Twyla then try to find out on their own what is wrong with Howleen, but are dismissed by her thanks to Whisp's influence. Cleo encounters Howleen and irks her enough to wish for Cleo to be turned into a nobody. Clawdeen later sees how Howleen dismisses her friends and finally confronts her on what she was doing. Howleen listens and is about to help after summoning Gigi but is disheartened when she hears Clawdeen tell Gigi that she doesn't think she's mature enough to use the wishes. She then uses her next wish to make Clawdeen disappear into the lantern, leaving her shadow behind and giving Whisp more power.
Frankie, Draculaura and Ghoulia successfully find Clawdeen, but not without being confronted by Whisp, who lets them know that she has power within the lantern. Clawdeen then shows the ghouls the 'Genieology' telling of Gigi's story and why she was reluctant to interfere. They use a map to search for the missing shard of the mirror. Meanwhile in Monster High, Twyla is watching from the shadows, trying to think of ways to help Howleen while reluctantly helping Cleo regain her popularity and Deuce Gorgon's love. The shadow ghouls then make their move and help Howleen take over the school by replacing Bloodgood with herself as Headmistress and banishing Abbey and Cleo to the lantern, who then join the other ghouls to find the mirror pieces. The monsters prepare for an eclipse party where Whisp is setting up for Howleen to use her next wish to grant all power to the shadow genie. Twyla follows Howleen and sees that Whisp is the one controlling her. After finding twelve pieces, the ghouls find Whisp's room and realize she has the last piece. After nearly losing the exit orb, Frankie gets it back and returns to Monster High with the other ghouls on magic carpets in time for the eclipse. Whisp tries to influence Howleen to make the wish, but Twyla steals the last mirror shard and assembles the mirror to break the spell. Howleen awakes in time and rejoins the ghouls without making the wish, causing Whisp to fail once again as the eclipse ends.
The ghouls rejoin Howleen, grateful that she is alright. Howleen is glad that her friends never gave up on her as Gigi assures her that it is safe for Howleen to use her last two wishes. Howleen uses the first one to undo all of her previous wishes, much to the delight of Monster High. Gigi is joined by a defeated Whisp, explaining the last wish will send them both back into the lantern. The monsters are reluctant to let Gigi go and plead for her to stay. Gigi expresses she would love to, but cannot as long as she's bound to the lantern. Howleen then suggests another way as she explains to Whisp she understood her plight before making her last wish for Gigi's freedom and for Whisp to become what she always wanted to be: a real genie. Gigi happily grants the wish, freeing herself and allowing Whisp to become the new genie of the lantern. Whisp leaves with the lantern and falls down into the deep end pool where it will be found again someday.
A party is then held later that night to celebrate the eclipse, featuring a concert performed by Catty Noir. Gil is relieved to have the old Lagoona back, and not the Lagoona his parents wanted her to be. Cleo is happy to have Deuce and her popularity back while inviting to share it with Howleen and Twyla. Clawd, Manny and Heath almost win on 'Die Trying', though have somewhat a traumatic experience. Frankie closes the story with the moral: Everyone has something they wish for, but it might not turn out to be what you really want. 13 Wishes
Lagoona stays behind at Monster High when Draculaura and some of the ghouls travel with her back to Transylvania, having to deal with the bickering between Toralei and Howleen over two actors that each of them thinks is more handsome than the other. She stays out of taking sides alongside Frankie and the rest of her friends, but agrees with Operetta with holding a Cute Court to settle the conflict. She attends Elissabat's coronation and debut for her latest movie as Veronica Von Vamp in Hauntlywood alongside the rest of her friends and the school, and is happy for Draculaura when she gets her full vampire powers at long last. Frights, Camera, Action!
Volume 4
Webisodes
It is the first day at Monster High for both the viewer and a werecat by the name of Catrine. Catrine proposes that the two of them familiarize with the new environment together, which the viewer agrees to. Their first new acquaintances are two girls who introduce themselves as Clawdeen Wolf and Lagoona Blue and hand them their class schedules and locker assignments. The four of them are soon joined by a girl named Frankie, who suggests that she and the other two older students show the viewer and Catrine around.
Their tour starts at the gym, where the local fearleading team is rehearsing. Clawdeen runs up to the door and closes it, informing them that the routine isn't for public view yet. Lagoona then asks their attention for the many forms of sport available at Monster High, pointing at the window that gives a view on a casketball game going on outside. A werewolf, apparently a friend of the others, takes a moment to wave at them, which earns him a casketball in the face. Catrine, at least, finds this amusing and giggles. Next they are introduced to a teacher, Mr. Rotter, who warns them he doesn't give A's before closing the door to his classroom. After this, they are shown the Creepateria and introduced to a number of other students.
This would seem like a good start of their time at Monster High, but both Catrine and the viewer don't feel like everything is as it seems. It is almost like their new schoolmates are hiding something from them and that can't be good, right? But as they share their worst fears, Frankie runs up to them and tells them to follow her. She takes them to the main entrance of the school building, where just outside the headmistress and many students are gathered with a banner that reads "Welcome!". As they chant their welcome, the fearleading team joins them with the routine Clawdeen interrupted us from seeing earlier. Catrine and the viewer are both relieved that they were wrong and honored that all this was organized just for them. As the entire school assures them, they are Monster High. We Are Monster High
TV specials
Lagoona is among the friends tasked with performing Mr. Where's play on Monster High's history to celebrate the school's bicentennial. She is also among the friends who travel with Frankie back to 1814 and meet, unknown to them at the time, Frankie's grandfather, Victor Frankenstein, known by his nickname Sparky, and Hexiciah Steam, Robecca's father. When Sparky damages the time portal before they jump in to return to 2014, due to having jumped in together with Jinafire, Lagoona and Jinafire are accidentally fused together into the freaky fused hybrid, Lagoonafire, with access to Jinafire's fire-based abilities and Lagoona's swimming skill, but a physical appearance of a cross between both ghouls in clothes, hair, everything. Sirena Von Boo becomes a tutor to Lagoonafire, helping her to see how doing activites that both sides of her family agreed on could help Lagoona and Jinafire become more used to their hybrid form as they could do things each of them both liked. Lagoonafire soon becomes a prisoner of Sparky's Creation 4.0 when it attacks her and the other freaky fused hybrids of Frankie's friends. When Frankie uses her own life force to electrocute and deactivate Creation 4.0, Lagoonafire is freed and defused back into Lagoona and Jinafire, but her actions fatally drain Frankie, and she dies soon after.
Using her good times she had with Frankie, Lagoona is able to help revive her. Afterwards, she helps finish the play on Monster High's history, and welcomes Avea and the other hybrids to Monster High with open arms. Freaky Fusion
Volume 5
Webisodes
On her last swim practice before she leaves for her exchange trip to Madread, Lagoona visits the pool and chats with Sirena, admitting she'll miss her friends and Gil once she travels. They see Gil chatting with Lorna, and Lagoona asks him if he wants to go shopping with her. But Lorna says that Gil promised to help her out with a problem. Lagoona lets them go, and Sirena is surprised that she doesn't feel jealous about them hanging out. Lagoona states she's fine, but looks at the two suspiciously...
Throughout the day, Lagoona sees Gil and Lorna spending time together, and becomes increasingly distressed. She admits to Sirena that she really does feel jealous, especially since she knows Gil's parents would be glad if Gil dumped her for a freshwater monster like Lorna. Sirena suggests she just talks to Gil about it, but she doesn't want to look like she doesn't trust him. Even though she's starting to lose that trust as she sees Gil and Lorna head for the pool.
Lagoona and Sirena decide to follow the two to an underwater submarine. Sneaking up to the windows, Lagoona grabs a conch shell and presses it to the glass to hear what they're saying. When she hears Lorna say "I don't care if we come from two different worlds, we belong together!", Lagoona jolts in surprise and accidentally breaks the window with the shell, sending water - and the two of them - flooding into the house. They confront Gil, and he tells them what's really going on; Lorna has a boyfriend she talks to online named Finn, who is a saltwater merman, and Gil has been helping her find a way to tell her father about their relationship, since he knows all about the problems she faces from his time with Lagoona. Embarrassed, Lagoona claims she knew all about what they were really doing, and gives Gil the conch shell, claiming it's a gift for him to remember her by when she leaves.
The next day, Lagoona is at her host school, Don Queijote High, in Madread, talking to Gil via their iCoffins. Gil is glad that Lagoona is enjoying herself, and shows he's still thinking of her by showing off the shell she gave him. Looks Gil-ty
Lagoona suggests Direland, Scargentina and the Doominican Republic, but Draculaura is worried that she'll miss out on something good if she picks the wrong place. A ghost samurai appears and suggests she visits Shibooya, Japan, as it has a bit of everything: Modern cities, serene zen gardens, and amazing fashion. Draculaura daydreams about touring the city, walking on the runway in a fashion show, and even having an anime version of herself on TV. She decides that Shibooya is the best destination for her. Lagoona also points out that it's the only destination she can pick; because she spent so much time imagining her travels, all the other booths have packed up and gone home. Sayonara Draculaura
Just as Gil wishes aloud that Lagoona was here to join them, Lagoona suddenly appears, and is shocked to see Gil and Lorna together. Draculaura also appears, just returned from her trip to Shibooya, and notes the very awkward atmosphere... Gloom and Bloom, Part 1
The story returns to where the last episode left off, with Lagoona returning from her trip to Madread early to attend the dance with Gil, only to find him dancing with Lorna. Gil and Lorna attempt to explain, but Lagoona runs off in tears. Gil chases after her, while the other students realize the Corpse Flower is about to bloom...
Gil finds Lagoona at the swimming pool, and explains he only took Lorna to the dance as a friend to help cheer her up. Lagoona apologizes for making a scene, explaining she had been looking forward to surprising him and watching the Corpse Flower bloom. Realizing there's still time, she leads Gil back to the garden.
They join the other students just as the Corpse Flower blooms open. To everyone's surprise, they discover a plant ghoul is resting inside the flower. Gloom and Bloom, Part 2
TV specials
Lagoona joins Sirena on the swim team, making very good marks from the judges during the competition between Monster High and a rival school. Later, when Principal Revenant has her Hall Moanitors invade Monster High to turn the students into ghosts to enslave in Detention Chains back at Haunted High, Lagoona and Gil nearly are the Hall Moanitors' next victims before Vandala intervienes and takes back Twyla's father's Boogey Sand, saving Lagoona and Gil. After peace is made between Haunted High and Monster High, Lagoona joins Sirena and another student in doing some diving and swimming during the party celebrating the newfound friendship between the two schools. Haunted
Volume 6
Webisode
The students are playing and running around in Decomposition Class. Mr Rotter comes in and stops it, yelling that it's decomposition class, not "Greet Social, in which to 'party down'". He tells them that he has no idea how lucky they are to go to a school like Monster High, and Frankie tells him that they do appreciate going to Monster High. Rotter tells them all enough, and that they have to write essays on why they think they belong at Monster High, puts a smoke bomb down, and comes back to remind that they he doesn't give A's. Clawdeen says she guesses they better get writing. Frankie then says she thinks she has a better idea. When they pose for the camera, Lorna McNessie does a photobomb. Frankie gives why she belongs at Monster High, then all the other ghouls give why they belong at Monster High, but when it comes to Gory Fangtell, she says she's welcomed enough though she's been a "teensy bit mean", which Cleo corrects her on. Next up is Kjersti Trollson, who says she belongs because here, she gets noticed. Next is Quill Talyntino, who says she collects shiny things. She says she belongs at Monster High, because when she thought people were going to laugh, they didn't. Next up is Rider, who says he belongs because people get him. He says if he sets his mind to it, he can do anything, and Finnegan says this while spinning around in his wheelchair crazily. Frankie is then up, saying "we" belong at Monster High because every monster is welcome, freaky flaws and all. Mr Rotter at the end gives A's to everyone after watching that heartfelt, warm video. Decomposition Class
Notes
In Volume 2 of the webisodes, Lagoona no longer wears her hood up.
In the TV special "Why Do Ghouls Fall in Love?", Lagoona is first seen in fiction wearing the earrings that the 'Basic' doll has. Lagoona also has her hood up.
Gallery
Webisode gallery
Generation 1
Generation 2
Special webisode gallery
TV special gallery
Generation 1
Generation 2