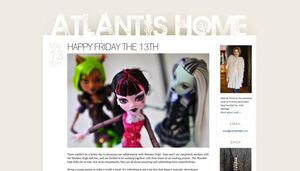 On May 13, 2011, fashion/style bloggers Judy Aldridge and her daughter Jane announced on their sites that they are working on a collaborative project with Mattel , and Jane shared some behind-the-scenes photographs of the process.
Read the Atlantis Home post here.
Read the Sea of Shoes post here.
Quote
"There couldn't be a better day to announce our collaboration with Monster High. Jane and I are completely smitten with the Monster High doll line, and are thrilled to be working together with their team on an exciting project. The Monster high dolls are so cute–but more importantly, they are all about accepting and celebrating their imperfections.
Being a young person in today's world is hard–it's refreshing to see a toy line that doesn't promote stereotypes.
I would have loved a line of dolls like this when I was young–actually, I was pretty excited to receive our box from Mattel. (how great is it to get to play with dolls when you're 48?) Frankie is my favorite!"
-Judy Aldridge, Atlantis Home
Behind-the-Scenes Photos
Community content is available under
CC-BY-SA
unless otherwise noted.