To better cover the various aspects of the subject matter, this article has been split into one main page and several subpages. Select which one you wish to read.
This article or section is a stub. You can help the Monster High Wiki by expanding it.
Jackson Jekyll was trademarked on January 15, 2009 and his first doll came out in Late November, 2010. As of January 01, 2015, his doll number totals 4 and makes up 1.18% of the entire Monster High doll collection. Other merchandise of his is not yet available.
Dolls
Gloom Beach

Jackson wears a yellow and white diagonally striped button-up sleeveless shirt, with black and white striped accents at the collar and pockets. He wears black shorts with one patterned leg in black, yellow and green squares, and black flip flop sandals with yellow straps. He wears orange shutter sunglasses. His outfit comes with a black and white beach ball with a ying-yang symbol.
Between Classes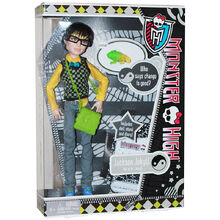 Jackson wears a button up yellow shirt (which he has untucked) and a green, black and grey checkerboard sweater vest with black trim. He wears a blue bow-tie and black square glasses, and wears blue and green high-top sneakers in the same fashion as Holt wears his own black pair and wears grey denim pants with white stiching. His belt is black with a silver buckle and he has an eyebrow piercing in his left eyebrow.
Picnic Casket for 2
Doll:
Clothes:
Accessories:
Extras:
Notes:
Freaky Fusion - Save Frankie!
Doll:
Clothes:
Accessories:
Extras:
Notes:
Gallery
Community content is available under
CC-BY-SA
unless otherwise noted.