To better cover the various aspects of the subject matter, this article has been split into one main page and several subpages. Select which one you wish to read.
Holt Hyde
debuted in the
cartoon series
in the Volume 2 webisode "
Hyde and Shriek
", which premiered on June 23, 2011. He is voiced by
Cindy Robinson
in the English version of the cartoon.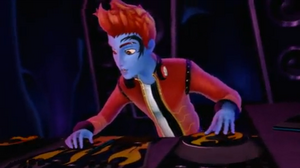 Volume 2
Webisodes
TV specials
Volume 3
Webisodes
TV specials
Volume 5
Webisodes
Volume 6
Webisodes
Notes
In the cartoon series, he has a habit of screaming his words in like a heavy metal musician.
In the webisodes, Holt's transformation is green, and resembles light, but in the CGI specials, it is a fiery orange red, resembling fire.
Gallery
Webisode gallery
TV special gallery
Community content is available under
CC-BY-SA
unless otherwise noted.