To better cover the various aspects of the subject matter, this article has been split into one main page and several subpages. Select which one you wish to read.
This article or section is a stub. You can help the Monster High Wiki by expanding it.
Holt Hyde
debuted in the
cartoon series
in the Volume 2 webisode "
Hyde and Shriek
", which premiered on June 23, 2011. He is voiced by
Cindy Robinson
in the English version of the cartoon.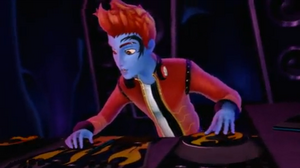 Volume 2
Webisodes
Jackson, unbeknownst to anyone else, is outside trying to talk himself into joining the party. When he's finally ready, however, the doors of the De Nile residence swing open and the loud music gets to him. Minutes later, Jackson still is nowhere to be seen, but the party is livened up by the arrival of a DJ by the name of Holt Hyde. He openly flirts with Frankie, who enjoys the attention greatly after feeling stood up. Meanwhile, Clawd finds Draculaura and promises he'll improve his table manners for her. Draculaura merely laughs and explains that that isn't what she wants from him - the problem is that the pizzas had garlic topping on them. All he has to do is brush his teeth and they can dance. Hyde and Shriek
Also the party was DJ-ed by Holt Hyde. The ghouls then tease Frankie a little about her crush on Holt. Draculaura notices that Jackson is at the Maul and the ghouls urge Frankie to "shock some sense into him" about standing her up at Cleo's party. Jackson tells Frankie that he remembered he was going to the party and he was outside and got nervous because Frankie was there and then he blacked out. Frankie then tells about the party and about Holt and asks if he knew him which he says no (and Heath gets super hyper about it). Jackson then asks Frankie for another chance and asks her out on a date to a silent movie at the Revival House. She says yes and the ghouls plan to accompany her on her 1st ever date. At the movie, everyone else besides Frankie and Jackson are bored out of their minds. Clawd then decides to play some music which everyone dances to. Jackson is seen shivering and apologizes to Frankie then leaves. Frankie is hurt once again to be stood up by him again. Draculaura then tells her "what do you expect from a normie" and Frankie says that she thought Jackson was different. Holt then comes in and sits next to Frankie and flirts with her. Frankie, not in the mood, tells him that she's on a date to which he replies with himself. Frankie then leaves and is outside looking for Jackson. Holt is seen getting kicked out the theater and steps into a puddle saying "Not cool!". Holt then transforms back into Jackson and he sees Frankie looking for him. He hides behind the dumpster questioning what is happening to him. Hyde Your Heart
Ghostly Gossip Phantom of the Opry The Bermuda Love Triangle Here Comes Treble Dueling Personality
TV specials
TBA Fright On!
Volume 3
Webisodes
TBA Ghosts with Dirty Faces I Know What You Did Last Fright Night of a Thousand Dots Best Ghoulfriend Boo Year's Eve Tree of Unlife Frankie's Joltin' Juice Angry Ghouls
TV specials
TBA Why Do Ghouls Fall in Love? Escape From Skull Shores Ghouls Rule Scaris: City of Frights 13 Wishes
Volume 5
Webisodes
TBA Gloom and Bloom, Part 1 Gloom and Bloom, Part 2 Lochness Lorna The Agony of D'Feet
Volume 6
Webisodes
Notes
In the cartoon series, he has a habit of screaming his words in like a heavy metal musician.
In the webisodes, Holt's transformation is green, and resembles light, but in the CGI specials, it is a fiery orange red, resembling fire.
Gallery
Webisode gallery
TV special gallery
Community content is available under
CC-BY-SA
unless otherwise noted.