To better cover the various aspects of the subject matter, this article has been split into one main page and several subpages. Select which one you wish to read.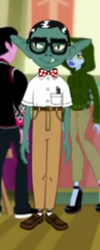 Herbert East debuted in the cartoon series in the Volume 1 webisode "Mad Science Fair", which premiered on November 04, 2010. His voice actors are unknown.
This article or section is a stub. You can help the Monster High Wiki by expanding it.
Volume 1
Webisodes
Herbert is pulled inside a water tank and eaten by his own science fair project. Mad Science Fair
Volume 2
Webisodes
Herbert is one of the Nekrocon attendants in Ghoulia's dream. Daydream of the Dead
Volume 3
Webisodes
We Stop Hate Best Ghoulfriend Boo Year's Eve Herbert attends Penmanship Class. Ready, Wheeling and Able The tentacles have a hold on Herbert, but quickly drop him and retreat when Johnny Spirit floats by. Playing the Boos
TV specials
Why Do Ghouls Fall in Love? Escape From Skull Shores Friday Night Frights Ghouls Rule Frights, Camera, Action!
Volume 4
Webisodes
Herbert hears of Veronica Von Vamp's presence at school just before the tentacles pull him away. Master of Hiss-guise Creepateria
Volume 5
Webisodes
Volume 6
Webisodes
Freak Du Chic Act 2 Decomposition Class
TV specials
Community content is available under
CC-BY-SA
unless otherwise noted.