To better cover the various aspects of the subject matter, this article has been split into one main page and several subpages. Select which one you wish to read.
This article or section is a stub. You can help the Monster High Wiki by expanding it.
Gillington "Gil" Webber was trademarked on February 18, 2011 and his first doll came out in Late October, 2011. As of January 01, 2015, his doll number totals 3 and makes up 0.88% of the entire Monster High doll collection. Other merchandise of him is not yet available.
Dolls
Skull Shores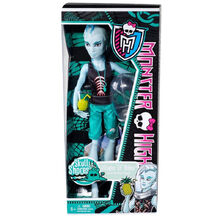 Gil wears a black singlet with a white fishbone running down the middle, he wears turquoise board shorts with a wave motif in a Japanese style. He has black flip flops with a fish scale thong. The doll comes with a clear helmet that aids in breathing, a pineapple cup with a drink and a picture card from Skull Shores. The artwork shows the singlet with small red fishbones and turquoise bubbles and a small turquoise shell necklace.
Dance Class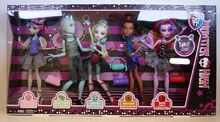 Gil wears an aqua scale and ripples shirt with dark grey shorts with teal and white trim with black cords and his signature water helmet. His shoes are black with a white tounge and outsole, and teal laces and jagged trim that resembles waves. He also comes with a black duffel bag with a tsunami wave detailing the side. He is available in a five pack with Rochelle Goyle, Lagoona Blue, Robecca Steam, and Operetta.
Manster
Doll:
Clothes:
Accessories:
Extras:
Notes:
Wheel Love
Doll:
Clothes:
Accessories:
Extras:
Notes:
Notes
Skull Shores Gil was the first male doll to have articulated wrists.
Gallery
Community content is available under
CC-BY-SA
unless otherwise noted.