Wiki Targeted (Entertainment)
Play Sound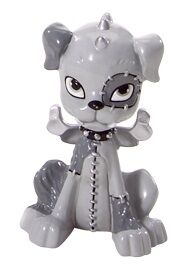 With the first dolls released under the Monster High banner came an equal amount of figurines: the characters' pets. Compared to doll releases, figurine releases are a rarity, rarely occuring more than once per character. By far most figurines are released with the first 'Signature' or 'Signature'-style doll released of their owner.
Like a character's dolls, a pet's figurines differ between releases, even if only a little. Some figurines differ in color, others come with an accessory, and in a few cases, sculpts differ.
History
Main article: Dolls
The first six pet figurines were released in July of 2010 with the first six dolls of the 'Basic' assortment. The first pet figurine released outside a 'Signature' subline was Watzit, who, repainted in greyscale, came with the SDCCI 2010-exclusive Frankie Stein, herself a greyscale version of her 'Basic' doll.
Up until December of 2011, each character had a pet according to their profile, which figurine was released with the first 'Signature' doll released of the character. This changed with the introduction of C.A. Cupid, whose pet entry states she has none, although it would take six months before she'd receive a 'Signature' doll. The first 'Signature' dolls to be without figurine were Meowlody and Purrsephone in February of 2012. Invisi Billy was confirmed to be without pet too in April, but the 'Between Classes' series continued to feature a figurine for each doll.
The turnaround came in Late 2012, when the Scaris: City of Frights dolls hit stores. Both Jinafire Long and Skelita Calaveras have pets, Qing and Nati, whose existence isn't quite resolved. They are mentioned in the characters' sketchbooks and Qing even has a picture in Jinafire's sketchbook, but both the characters' profiles deny them to have pets. Prior to the website's big update of 2013, the text-only version of Jinafire's profile even featured a different pet entry that did acknowledge Qing. Neither pet has gotten a figurine yet and as is it's unclear if they ever will.
Pets have become a rarity since then, to the point that currently only half the cast has one. Figurine numbers haven't dwindled as hard because there's been an increase in pets with multiple figurines, with Count Fabulous leading in numbers. Since Late 2013, the pets have gotten a new marketing strategy with the releases of the Secret Creepers - Pets and the Secret Creepers - Critters, which are toys that are a little bigger than the figurines. What this means for the figurines is yet to be seen.
Figurines