To better cover the various aspects of the subject matter, this article has been split into one main page and several subpages. Select which one you wish to read.
This article or section is a stub. You can help the Monster High Wiki by expanding it.
Don of the Dead debuted in the cartoon series in the Volume 2 webisode "Fear-A-Mid Power", which premiered on February 24, 2011. His voice actor is unknown.
Volume 2
Webisodes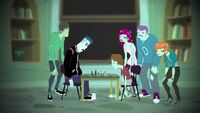 Don attends a chess match and a debate.
Fear-A-Mid Power
Don is one of the people approached for a FrightTube view by the Fear Squad.
Falling Spirits
Don is among the onlookers rooting for the Fear Squad to get their one million hits on FrightTube.
Fatal Error
Clawdeen Wolf shows up hyped about two zombie boys, Slo Mo and Don of the Dead fighting over Ghoulia Yelps. Frankie Stein soon realizes that the same thing might happen between Holt Hyde and Jackson Jekyll over her. The Bermuda Love Triangle
TV specials
TBA Fright On!
Volume 3
Webisodes
TBA Dodgeskull Uncommon Cold Ghosts with Dirty Faces Creepfast Club Undo the Voodoo Aba-Kiss Me Deadly Bean Scare, Done That The Need for Speed The Halls Have Eyes Mauled Boo Year's Eve Freaky Fridate Frankie's Joltin' Juice Tortoise and The Scare Fierce Crush Flowers for Slow Moe Student Disembodied President Angry Ghouls
Special webisodes
TBA Zom-Beach Party We Stop Hate Department of Monster Vehicles
TV specials
TBA Why Do Ghouls Fall in Love? Escape From Skull Shores Friday Night Frights Ghouls Rule
Community content is available under
CC-BY-SA
unless otherwise noted.