To better cover the various aspects of the subject matter, this article has been split into one main page and several subpages. Select which one you wish to read.
Volume 2
Webisodes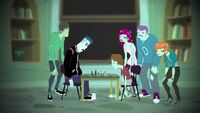 Don attends a chess match and a debate.
Fear-A-Mid Power
Don is one of the people approached for a FrightTube view by the Fear Squad.
Falling Spirits
Don is among the onlookers rooting for the Fear Squad to get their one million hits on FrightTube.
Fatal Error
The Bermuda Love Triangle
TV specials
Volume 3
Webisodes
Special webisodes
TV specials
Community content is available under
CC-BY-SA
unless otherwise noted.