Wiki Targeted (Entertainment)
Play Sound
To better cover the various aspects of the subject matter, this article has been split into one main page and several subpages. Select which one you wish to read.
This article or section is a stub. You can help the Monster High Wiki by expanding it.
Deuce Gorgon was trademarked on July 11, 2008 and his first doll came out in Early July, 2010. As of January 01, 2015, his doll number totals 6 and makes up 1.76% of the entire Monster High doll collection. Few other merchandise of him is available.
Dolls
Basic
Deuce wears a red sleeveless shirt with a grey skull and cassette graphic on it, with a gray and white striped vest or a gray hoodie connected by a chain at his neck. He has black pants with silver diamond pattern, a black fingerless glove on his left hand, a silver ring earring, silver belt with red tape cassette buckle and a black wristband with the Monster High logo on his right wrist and wears classic checkerboard Vans. He always wears red sunglasses to prevent turning friends into rocks. The doll comes with a diary, Perseus figurine and fellow Cleo de Nile doll.
Scream Uniform

Deuce's basketball uniform is a black sleeveless top with a pink and white trim and a pink v-neck, with shorts with the same trim. He also wears black sneakers with green laces and green scale pattern, white socks with black argyle at the top, and green sunglasses. His uniform number is 13.
Dawn of the Dance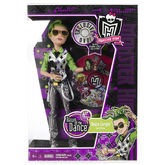 Deuce wears a green collared shirt with darker green squares, a black tie, and a black and white argyle vest with a hood lined with purple, purple zippable pockets and purple scale buttons and black and grey pinstriped pants. His whoes are white with a scale pattern and grey sole. He has a twisted black bracelet and a black belt with gold buckle, white straps hang from the belt. Instead of his usual red sunglasses, he wears a pair of gold-rimmed black aviator shades. His snakehawk is swept sideways. The doll comes with a neon-green iCoffin.
Scaris: City of Frights

Deuce wears a lime green hoodie with lemon yellow scale patterns on it, and green, grey, white and black argyle shorts. His black loafers have motifs of a green snake skeleton curled around a skullette, and his shades are wrap around, forest green, with scales at the sides. He has a black and green rectangular snakeskin bag with his skullette on the front.
Ghoul's Alive!
Doll: TBA
Clothes: TBA
Accessories: TBA
Extras: TBA
Notes: TBA
Manster
Doll: TBA
Clothes: TBA
Accessories: TBA
Extras: TBA
Notes: TBA
Boo York, Boo York - Comet-Crossed Couple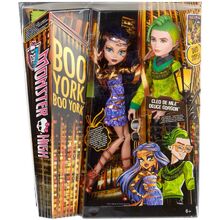 Doll: Deuce has his usual snake mohawk that is now swept to the right, and he has his usual sultry green eyes and nude lips.
Clothes: Deuce wears a green patterned sweater overtop of a black dress shirt, black snakeskin leggings, and brown boots.
Accessories: Deuce has a pair of rose gold opaque sunglasses.
Extras: Deuce does not come with an extras.
Notes: This doll is only available in a 2-pack with Cleo De Nile.
Merchandise
Friends