To better cover the various aspects of the subject matter, this article has been split into one main page and several subpages. Select which one you wish to read.
Hey, this is our turf now! Got it, vam-poser?
—Dee in "Fright On!"
Dee O'Gee is a 2011-introduced and cartoon-only character. He is a werewolf and a student at Monster High. He used to attend Crescent Moon High before the school merged with Monster High and though the transition wasn't easy, no one would consider him and his fellow werewolves not a part of the school these days. He's the werewolves' tough guy, acting as an enforcer to other dominant wolves that use their brains more than their brawn, such as Romulus and Howleen Wolf.
Character
Personality
Dee is the kind of guy who lets his fist do the talking, in such a way that earns him respect from the pack. Through this, he is the quintessential beta wolf, holding authority on his own, but knowing his place compared to others with a balance more favored to their intelligence.
Apperance
This article or section is a stub. You can help the Monster High Wiki by expanding it.
Relationships
Friends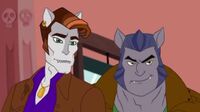 Dee is a close friend of Romulus and can usually be found hanging out with him.
Romance
Dee O'Gee isn't dating or looking to date anyone as far as it is known at the moment. However, during the first party scene in "Fright On!", he was seen dancing with one of the backgrounder girls. Moments later, Toralei Stripe ends up stealing him away from her, which he didn't seem to mind.
In "Fierce Crush" Dee O'Gee is shown giving a werewolf girl a collar, trying to be romantic. 
Community content is available under
CC-BY-SA
unless otherwise noted.