To better cover the various aspects of the subject matter, this article has been split into one main page and several subpages. Select which one you wish to read.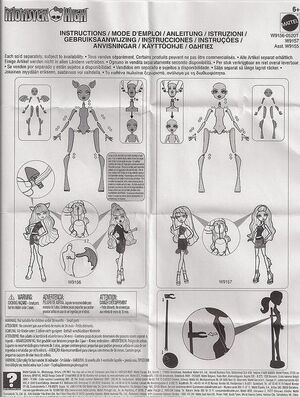 Create-A-Monster is a line of materials to create custom dolls with and comprises three sublines of three, two, and three types of products. The three sublines are the standard line, Design Lab, and Color Me Creepy, which respectively were launched in 2011, 2012, and 2013.
The standard line contains starter packs, add-on packs, and a torso pack. Regular starter packs contain two sets of parts for dolls of different species. Originally, the starter packs come with only one set of shoes, one wig, and one torso, meaning that only one doll at a time can be made from the materials in one starter pack. Half a year later, the starter packs were changed to include two torsos, which isn't enough for a full doll still, but makes it easier to finish up the second doll with own means. Add-on packs contain one set of parts for one type of monster. These packs contain no upper arms, upper legs, or torsos, meaning that a starter pack has to be purchased to make a doll with add-on pack parts. Mattel also shortly made a special torso set available only through their website. This set contains matching torsos and upper limbs for the first two starter packs and the first three add-on packs.
Design Lab is a subline containing two types of products: the Design Lab itself and add-on packs. The Design Lab was created to enhance the Create-A-Monster experience. With it, not only can a custom doll be created by selecting parts, but the faceup and skin decoration can be decided on too with the use of tattoos. This does mean the dolls do not have sculpted faces, though, and the tattoos aren't easy to place or always stick that well either. The Design Lab comes with all the parts for one doll and the add-on packs come with two heads, but no upper limbs.
Color Me Creepy follows on Design Lab, but replaces the tattoos with temperature-based design potential. The Color Me Creepy Design Chamber provides one full doll and outfit, both of which coloration responds to temperature. The playset also comes with the tools needed to decorate the doll as desired. Color Me Creepy starter packs containin one full doll worth of doll parts with an outfit and the add-on packs are fashion-only. Most items in theadd-on packs can be made to change color with temperature adjustments, but the clothes of the starter packs can't change color. The starter pack dolls, like the one with the playset, can change color.
As of 2014, Create-A-Monster has come to an end. It is succeeded by Inner Monster and the Monster Maker, which utilize many of the concepts introduced by Create-A-Monster.
History
During Monster High's first year, Mattel took note of the numerous Original Characters and custom dolls the fanbase enjoyed to make and work into the Monster High student body in personal play. The company set out to work accommodations to that into their product lineup, which resulted in Create-A-Monster.[1] It is a product that principally targets the less-experienced part of the fanbase, encouraging people to make and remake their own dolls from the parts sold.
In November of 2011, the first Create-A-Monster packs arrived in stores: two starter packs and three add-on packs. Though the concept was embraced readily, there was initially much criticism on its execution. The add-on packs lacked torsos and upper limbs, so no full doll could be made with them, while the starter packs came with a full set of parts for only one doll, lacking a torso, a wig, and a pair of shoes for the other one. This setup meant that most of the dolls that could be created with the packs required the purchase of two products and even then the colors of the various parts would be mismatched. Meanwhile, two almost-full sets of parts are rendered useless this way. Mattel has responded to the discontent by adding a second torso to the starter packs of 2012, including the re-releases of the original starter packs. Though this does not solve all problems, it does allow for two dolls to be made at a time from a starter pack and add-on pack combination. The final two regular starter packs uniquely do include two wigs: one rooted and one molded.
In August of 2012, a torso pack was released that contained all five torsos and upper limbs missing from the 2011 Create-A-Monster releases. The pack was only available for a short while and re-released only once in May of 2013. The Insect torso, at least, was made available a third time in Late 2013 as part of the store-exclusive Skultimate Set, which includes parts randomly selected from all the previous Create-A-Monster releases to create four full dolls.
During American International Toy Fair of 2012, Mattel revealed the next development in the Create-A-Monster assortment: the Design Lab, which ended up released Mid 2012. The Design Lab is a short-lived subseries built around the Design Lab playset. The dolls of the series are simplistically designed to the point there's no sculpted face, but they come with a large amount of tattoos. These tattoos are to be picked from and applied to the dolls as one sees fit to give them a face and skin decoration. The playset is meant to be used to apply the tattoos, but they can also be applied manually. While an interesting concept, the Design Lab series is held back by the user-unfriendly nature of the face tattoos. Even when using the playset, there is no guarantee the face tattoos will be applied fully, smoothly, and/or correctly. While practice makes perfect, the patience required for that is much to ask from children of the age the product is intended for. Also, the applied tattoos are not as sturdy as regular paint, but they are still a lot harder to remove than the instructions claim them to.
A year later, Mattel used American International Toy Fair again to reveal what would be the final addition to Create-A-Monster: Color Me Creepy, which hit stores in Mid 2013. Color Me Creepy consists of dolls and clothes which color depends on the temperature. For instance, the werewolf's room temperature skin color is pink, but when near the freezing point, it is orange. With the aid of temperature pens, patterns can be custom-created on the temperate-sensitive surfaces. The patterns don't last, as the material will reach common temperature again eventually, but they can be recreated over and over again, or replaced with a new design. The Design Chamber is the central item of the subseries, but because all dolls of the subline come with a full set of parts and pens, it is not nearly as essential as the Design Lab is for its own subline. However, the doll that comes with the Design Chamber is slightly more play-efficient than the other two Color Me Creepy dolls because it has rooted hair instead of molded hair.
It was in 2014 that Create-A-Monster officially came to an end, when Mattel showed its successor line, Inner Monster, at American International Toy Fair. Inner Monster utilizes many concepts introduced by Create-A-Monster, but improves on some of them, like using masks and integrated rotating eyes to customize a doll instead of relying on a finite amount of tattoos or temporary temperature. All of its starter pack dolls come with the full set of parts, which follows from the final developments of Create-A-Monster. Inner Monster also allows people to customize inside the doll's torso, which takes the Create-A-Monster experience another step further. Later that same year, Monster Maker was introduced, which also improves on many of the Create-A-Monster concepts by letting users program a design to be applied to the doll rather than put the pens in the instability of their own hands.
Other than a product on its own, Create-A-Monster seems to have served an introductory function if not an experimental one to the regular dolls. Unicorns, dragons, skeletons, arthropodians, blobs, mermaids, witches, and harpies all debuted doll-wise in the Create-A-Monster lineup. On average, it took about half a year for each type of monster to receive a character-based doll release after debuting as a Create-A-Monster doll. As well, Create-A-Monster introduced many new sculpts and design variations before they'd be used by regular dolls, like (plug-in) wings, phosphorescing body parts, bone limbs, scale limbs, and mermaid tails.
Fiction
Create-A-Monster has only gotten limited fictional support and most of what it got was continued cartoon presence of the backgrounders turned into Create-A-Monster dolls. In all, there are three versions of fictional support for the line: cartoon appearances, doll-sized magazine appearances, and comic appearances.
| | |
| --- | --- |
| Cartoon | Several backgrounders have been turned into standard Create-A-Monster dolls or, in a couples of cases, vice versa. These are the 2011 female vampire, the 2011 female werewolf, the 2011 three-eyed ghoul, the 2012 cat girl, the 2012 male vampire, and the 2012 male puma. Though more difficult to say, the 2011 female sea monster may have been designed after the hooded girl backgrounder. |
| Doll-sized magazines | Thrice a miniature Monster Beat magazine was included with a regular doll release and in each case the art depicted one or more Create-A-Monster designs. 'Maul Session' Spectra's issue contains art of an adaption of the 2011 female insect. The Coffin Bean's issue contains art of the 2011 female dragon, the 2011 female three-eyed ghoul, and an adaption of the 2012 male vampire. Dead Tired Draculaura's issue contains art of the 2012 cat girl. |
| Comics | In Hopes and Screams, various Create-A-Monster designs are used to fill out the Monster High student body. The designs used are the 2011 female insect, the 2011 female three-eyed ghoul, the 2012 female ghost, the 2012 female mummy, and the 2012 female blob girl. |
Index
References