Wiki Targeted (Entertainment)
Play Sound
The Classroom assortment consists of two sets of characters dressed up for a specific class, of which the first features Lagoona Blue at Mad Science, Frankie Stein at Home Ick, and Ghoulia Yelps at Physical Deaducation. The three dolls of the set were released in Mid July, 2011 and re-released with fewer accessories as Walmart exclusives in Early October, 2012. The second set consists of two 2-packs: one features Abbey Bominable and Heath Burns as attending Home Ick, the other features Cleo de Nile and Ghoulia Yelps as attending Mad Science.
Name
The Classroom line is somewhat of a nameless line insofar that the name is not printed on any individual boxes. The shipment boxes are labeled Classroom Doll Assortment, though, and Mattel's own channels refer to the dolls as Classroom the same way on-box names are used.
Characteristics
As a class-themed assortment, Classroom precedes Dance Class.
The Classroom accessories are mostly exclusive to the Classroom line, but a few are shared with other lines.
Doll logs
Each 2011 doll comes with a survival guide, a booklet with notes on the relevant class and a short biography on the class's teacher. The 2013 dolls have class notebooks, in which the process of their projects is described.
Fiction
None of the Classroom outfits were ever seen in the webisodes, but some accessories are, while in other cases small references were made. The frog and egg with Lagoona's doll played a role in the webisodes "Freedom Fight" and "Hatch Me If You Can". Frankie's Home Ick class was mentioned in "Fear Squad". Ghoulia's doll would be the only one without a feature webisode, but curiously, a webisode playing on several points of her survival guide was released in Volume 3: "Dodgeskull".
Notes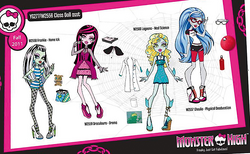 Gallery