To better cover the various aspects of the subject matter, this article has been split into one main page and several subpages. Select which one you wish to read.
This article or section is a stub. You can help the Monster High Wiki by expanding it.
Ari Hauntington was trademarked on October 16, 2015 and her first doll came out in Late May, 2016. As of October 01, 2017, her doll count totals 06. Most other merchandise of her available are Minis.
Dolls
First Day of School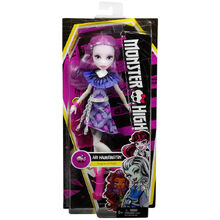 Doll: Ari has white skin that glows a sparkly rose/lavender shade. She has pink and lavender hair, and a braid that starts at the sides of her hair and goes to the back. She has lavender eyebrows, and sports lavender eyeshadow on her top lid and a purple/blue-ish shade on her bottom lid. She has magenta lipstick.
Clothes: This version of Ari wears a lavender dress with squares of musical notes and chains printed on it, and a purple piano key ruffle at the neckline. The bottom hem is purple, and has a black lace ruffle.
Accessories: Her accessories include a hot pink bracelet, hot pink ankle boots, and a hot pink purse with a chain handle and long fringe. Her belt is a bar of musical notes with two chains hanging on it that both have fringe at the end.
Extras:
Notes: Her promo photos show her as having red accessories, but on the actual doll, they are pink.
Welcome to Monster High - Singing Popstar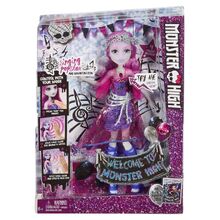 Doll: Ari has mixed purple and pink hair, translucent white skin, and only some articulation. Her lips are lavender and her eyebrows are pink to match her hair.
Clothes: This version of Ari has a plastic underdress to hold the electric parts for her to sing and light up. She has a translucent overdress that's pink with silver chains printed on it and a blue hem.
Accessories: She has a silver hairband that's made of chains, a silver microphone with some chains on it, a silver belt of 3 chains with musical notes on them, and blue chain sandals that go up to her knees.
Extras:
Notes:
Welcome to Monster High - Popstar Fang Ghouls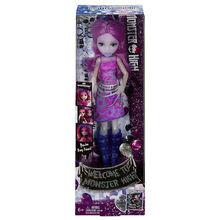 Doll: This Ari Hauntington is from the budget line, so she has less articulation in her arms and neck. She has the same translucent white skin, purple eyes, and purple lipstick as the singing Ari. Her hair is the same pink and purple, but a little shorter than the other dolls.
Clothes: This Ari comes with a short pink sleeveless dress with chains printed on it and a blue hem.
Accessories: This Ari has the same silver belt and blue sandals as singing Ari, but nothing else.
Extras:
Notes:
Electrified - Hair-Raising Ghouls

Doll:
Clothes:
Accessories:
Extras:
Notes:
Music Class

Doll:
Clothes:
Accessories:
Extras:
Notes:
Dessert Ghouls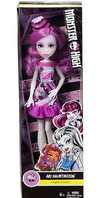 Doll:
Clothes:
Accessories:
Extras:
Notes:
Community content is available under
CC-BY-SA
unless otherwise noted.