To better cover the various aspects of the subject matter, this article has been split into one main page and several subpages. Select which one you wish to read.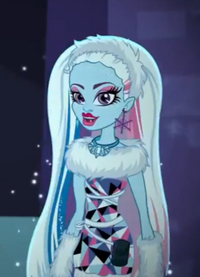 Abbey Bominable debuted in the cartoon series in the Volume 2 webisode "Back-to-Ghoul", which premiered on August 25, 2011. She is voiced by Erin Fitzgerald in the English version of the cartoon.
Volume 2
Webisodes
TBA Back-to-Ghoul Abominable Impression Frost Friends Monster Mashionals Part 1 Monster Mashionals Part 2
Special webisodes
TV specials
In "Fright On!", The group promises to help her as well as they can, including Abbey, who comes in to return Frankie's right arm after she threw it through the window by accident.
The next day, the Fear Squad welcomes the new students and all goes as disastrous as predicted. Cleo finds that the Belfry Prep student body doesn't respect her like the Monster High student body does, and the vampires and werewolves nearly get into a fight with each other. Frankie tries to argue they don't have to, pointing out that Clawdeen and Draculaura are best friends, which only makes the situation worse.
Frankie and Abbey decide to talk with Bloodgood about Van Hellscream's presence, but Bloodgood won't listen to them. Frankie, however, notices that Nightmare panics in her presence and realizes that the woman she spoke to is not Bloodgood. During the unveiling of a statue, Frankie and Lagoona notice Bloodgood drinking with her finger, and along with other evidence, Frankie realizes the woman is actually Crabgrass. As the students wonder where the real Bloodgood is then, the statue is unveiled... leaving no guess as to what has happened to Bloodgood. Frankie seeks out Deuce to ask if there's an antidote to being petrified, and Deuce answers he'll ask his mother.
Frankie realizes that the suspicious box she saw earlier in Bloodgood's office must contain the powder, and she enlists Abbey, Lagoona, and Spectra to help her get Van Hellscream and Bloodgood away from the office. With the unexpected help of Nightmare, they succeed in their mission.
Later she is capture with Howleen and Draculaura telling them to stop fighting as their acting the baby goats during meal time.
The captives have freed themselves meanwhile and are making their way outside when they are attacked by scargoyles. With combined strength, they manage to hold the creatures off just until Clawd, Clawdeen, and Operetta find them.
Right before the fight can commence in the gym, Howleen and Draculaura burst in to tell both sides to stop. The werewolves and vampires are surprised to see their kin well and free, so Bloodgood and Frankie explain Van Hellscream's plan and why Monster High is such a threat to him. Realizing they've been manipulated for awful goals, the vampires and werewolves agree to peace and the entire student body gets together to quickly put up a party to leave a good impression with the Skullastic Superintendents. The plan succeeds, and after they've left, the students and Bloodgood confront and corner Van Hellscream and Crabgrass. Van Hellscream threatens to use one of his many potions and charms against the monsters, but Deuce beats him to it, petrifying both him and Crabgrass. Following this little interruption, the party continues.
Volume 3
Webisodes
TBA Game of DeNile Uncommon Cold No Place Like Nome The Nine Lives of Toralei Unlife to Live Unearthed Day Honey, I Shrunk the Ghouls Night of a Thousand Dots Best Ghoulfriend Aba-Kiss Me Deadly A Perfect Match Hiss-toria Franken-Styled The Ghoulest Season Tree of Unlife Tortoise and The Scare Flowers for Slow Moe Party Undead Student Disembodied President Clawbacks The Stich-uation
Special webisodes
TBA Super Fan Department of Monster Vehicles Royal Pest Sitter
TV specials
Abbey appears helping Frankie with trying to stop Toralei and Draculaura's old crush from Transylvania, Valentine, from breaking Draculaura's heart during her Sweet 1600th Birthday celebration. When their first attempt with C.A. Cupid's help fails due to Toralei's intervention, Abbey takes over Cupid's radio show since Cupid was incapacitated for the time being, and later helps retrieve Cupid's bow from Toralei with Frankie and Lagoona by freezing the water that Lagoona spills on the catwalk, causing Toralei and her sidekicks to slip and lose their balance, allowing Frankie to break Cupid's spell so Clawd Wolf could break Valentine's over Draculaura. Afterwards, Abbey helps out Cupid with her radio show during the rest of Draculaura's celebration, although the advice she gives annoys Cupid somewhat. Why Do Ghouls Fall in Love?
Abbey is among the ghouls invited by Lagoona on a Spring Break trip to the Great Barrier Reef in Australia, only for a kraken to wreck their boat and leave them stranded until they are rescued by Bartleby Farnum and taken to Skull Shores. When they learn of Farnum's real plans, Abbey and Ghoulia are trapped in a sinkhole trap and watched over by the Tiki Chief. After Frankie is kidnapped by the Beast of Skull Shores, Abbey is able to convince the Tiki Chief to rebel and turn against Farnum, befriending them in the process. Later, when Farnum's next attempt to capture the Beast, now known as Andy, at Monster High fails, but the damage incurred to the school as a result forces Headless Headmistress Bloodgood to close the school for a week to get repairs done, thereby extending Spring Break in the process, Abbey is able to return to Skull Shores to celebrate with the Tiki alongside the rest of the Monster High students. Escape From Skull Shores
Abbey appears in the Halloween special as, alongside Frankie and several other Monster High students, she is able to befriend Chad and Clair, a couple of the human students from New Salem High, but ends up with detention for violating the rules when it is believed she was seeking revenge on the New Salem students for the earlier pranks on Monster High by two of the New Salem boys. When Abbey attempts to rescue Jackson Jekyll from New Salem without being caught alongside Frankie, Lagoona, and Deuce, they are caught red-handed by Lilith Van Hellscream and the New Salem Sheriff, who take Jackson, after forcing him to transform back into Holt Hyde, into custody, but allow Abbey and the others to return to Monster High to face punishment from Bloodgood. When it is revealed that Holt is to be executed by the Sheriff with the Trick-or-Treatment, and the Monster Elder Council forbids Bloodgood from interfering, Abbey helps to distract the detention teacher, Mr. Hackington, while Frankie goes to get Lilith and Cleo to confess to the Sheriff. When the Sheriff still decides to carry out the execution, Abbey helps Frankie with rescuing Holt and returning to the Hall of Halloween just in time to dress in their Ghouls Rule attire and shows the New Salem students the true meaning of Halloween. After everyone boogies down to enjoy the party, Abbey is shown one last time with Frankie, Draculaura, Clawdeen, and Cleo, all decked out in their Ghouls Rule attire. Ghouls Rule
TBA Scaris: City of Frights From Fear to Eternity
While Draculaura takes Clawdeen, Cleo, and Robecca home to Transylvania with her, Abbey remains behind with Frankie, Lagoona, and the others as they avoid getting into the argument between Howleen and Toralei over which of two male movie actors is more handsome than the other. Once the matter is settled in Cute Court, Abbey is impressed by the result. Later, at Elissabat's coronation and debut of her latest movie as Veronica Von Vamp, Abbey subdues Howleen and Toralei when they fight over the actor who portrayed the two they were originally squabbling about, and takes him to sit with her instead. Frights, Camera, Action!
Volume 4
Webisodes
Abbey frequents Art Class, where she is sculping Heath in ice. She is frustarated with Heath non commitment to the project and freezes him when he is about to sneeze and ruin the art class yet again. Eye of the Boo-holder
TV specials
After Frankie is chewed out by Mr. Rotter for her pathetic presentation on her scareitage project, Abbey is next up. She has brought a yeti, frozen in ice, to start off her project, stating that her family history dates back to the Ice Age, before warning everyone to prepare for a very long presentation. Later, she gets Ghoulia's text regarding bringing Frankie back from the dead, and lends her support to revive Frankie with all the good times she's spent at Monster High with her. Freaky Fusion
Volume 5
Webisodes
Abbey is representing The Himalayas in a booth and suggests it as Draculaura's destination. Sayonara Draculaura Abbey oes to Peru to get her cousin Marisol, who carries her around through Monster Pichú, and decides to stay there an extra week. Meet You In Monster Picchu Gloom and Bloom, Part 1 Gloom and Bloom, Part 2
TV specials
Abbey is amongst the crowd as they cheer on Sirena and Lagoona during the swim meet, and when they get Spectra's latest blog from the gossip she was told by Toralei. After that, she has more of a minor role until the end, when she joins in the celebrations of the newfound friendship between Monster and Haunted High. Haunted Boo York, Boo York
Volume 6
Webisodes
TBA Freak Du Chic Act 1 Freak Du Chic Act 2 Freak Du Chic Act 3 From Fear to There Part 1
Gallery
Webisode gallery
TV special gallery
Community content is available under
CC-BY-SA
unless otherwise noted.